Welcoming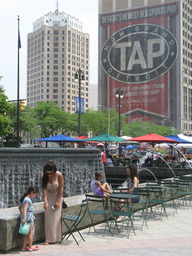 Campus Martius Park

Detroit, USA
June 24, 2013

I took my time leaving the rally. Camera in-hand, I walked unpurposefully up Woodward Avenue stopping anywhere that happened to look interesting. After I paused to admire the architecture of an old department store a woman struck up a conversation.

"I saw you looking at that building. You just visiting Detroit?", she said.

"Yeah, it's my first time here," I said. "I came in yesterday. Are you coming from that rally at Hart Plaza?"

"I was down there. I walked in this morning on the march before the rally, too."

"Oh yeah? What did you think?", I asked her.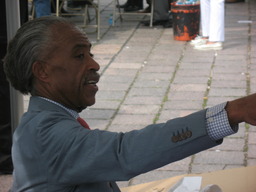 Rev. Sharpton Prepares
to Address Rally

"I'm not so sure. I was actually on the original march 50 years ago, too. That was when Dr. King gave his speech for the first time. This march was supposed to commemorate that one. But, you know, Detroit was actually a lot better back in those days... "

"Sounds like you all have been marching for a long, long time," I said.

"Exactly!", the woman said. "We have been marching a long time. And for what?"

We walked along chatting together for a few more blocks. Just before she headed off on a side street she bade me a friendly farewell and confirmed that I was following the right road to my destination, the Detroit Institute of Arts:

"You just keep on walking up to Warren. It'll be across the street on the right. Have a good visit to Detroit!"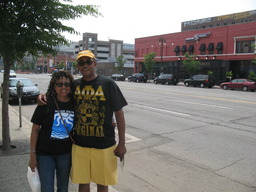 Friendly Couple -
Woodward Avenue

I thanked her and kept on heading north along Woodward. This was just the first of many, many informal conversations started by welcoming locals I would go on to have over my three days visiting Detroit. A few blocks further another couple struck up a conversation with me.

I asked them if they'd been to the rally, too. They said they had been there and had also participated in the long march to the plaza that morning. These two had a more positive take on the speakers and gatherings than the first woman I'd spoken with had. We kept walking along in the same direction up Woodward Avenue. As the subject evolved, I asked them a standard question I often ask locals when I travel:

"Is there there any local dish or type of food you have here that's unique to this area?"

"A Coney," the couple answered immediately and in-unison. I didn't know what that was.

"Have you had a Coney?", the man asked me.

"No, I don't think so... ", I said, wondering if it had something to do with the only meaning I knew for "coney". Was rabbit a popular choice of meat in Detroit?

"What's a Coney?", I asked.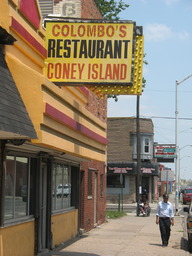 Coney Sign, Mexicantown

He described Detroit's signature dish. It sounded neither exotic nor like very good eating. It is evidently properly known by its full name, a "Coney Island". He detailed a hot dog smothered in chili, cheese, and choice of additional condiments such as sauerkraut, mustard, and onions. It reminded me of the chili-cheese dogs they sold at the convenience store down the hill from where I grew up. Not really enticing fare, I thought. But, there must be something special to the way they make them here. Since that passerby introduced me to the concept of Coneys, I've seen them advertised on every other cafe and small restaurant I've seen around Detroit.

Unfortunately, I haven't had the opportunity to sample a Coney on this visit. And I probably won't have time to try one before my bus onward to Chicago leaves, either. I guess that gives me something to seek out whenever I make my next trip to Detroit.

I parted ways with the couple who recommended Coneys a couple blocks outside the Detroit Institute of Arts then walked in and bought myself a ticket. It's a shame that I had only about four hours inside. The permanent exhibitions alone seemed worth a full day. I spent most of my time viewing a temporary exhibition of works by Shirin Neshat, the same Iranian artist whose work I first came to know when passing through Denmark five years ago.

Along with the temporary exhibition the other highlight of my museum visit was a beautiful reading room set in a central atrium. It was decked out with plush armchairs and long tables upon which were set large glossy books and small shiny iPads presenting images and descriptions of the museum's exhibitions. I guess I have one more place to pause and budget time to spend on some future return visit to this city.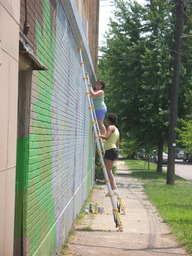 Mural Painters -
W. Vernor & Ferdinand St.

But really though, it's not just a good museum, the friendly people all around town, or an unusual local dish that will bring me back here. This whole city has a character different from anywhere else I've been. Throughout Detroit the neighborhoods have a real mix of people recently arrived from interesting places. Mexicantown is alive with bakeries selling pan dolce and taquerias serving up cheap tacos. I'm staying in an area called Hamtramck which was over 90% Polish not that long ago but has recently become dominated by Yemenis and Bangladeshis. I have been to many ethnically rich places before, but I don't think it's possible to have more diversity than Detroit has.

Best of all, over my three days here I've been guided around town and hosted by the perfect person to introduce me to Detroit: Bill, a professional jazz musician. He's lived here his entire life; we connected through CouchSurfing. Pushing 70, Bill is somehow still far more active and energetic than I am, playing jazz several times a week at weddings, restaurants, bars, and clubs around Detroit. He and his wife are extremely engaged in social justice causes. In addition to taking me to the sites visitors gawk at such as cute Belle Isle and the desolate square miles of town that now lie abandoned, Bill has also invited me along to several activist events he organizes and brought me to his favorite Syrian restaurant off the Wayne State university campus. It's been great to have a local who knows the city so well along to introduce me to this town.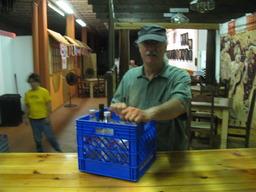 Bill Cleans up after Event

Yes, the city is blighted by the urban decay presented in the majority of recent images of Detroit I'd seen before coming here. But, going around town doesn't feel like being out in the post-apocolyptic wasteland that stark black-and-white photos of ruin impart. Some of the blocks where homes have wasted away or burnt down have become so overgrown with the return of vegetation that they feel less like a state of dilapidated decay so much as being out in the woods or the countryside.

I think there's a lot more of this town I have to discover. Coming to Detroit had been an afterthought, an attempt to find a new stop along the overland route I've previously followed between Québec City and Chicago. But, I've found this city has some of the friendliest people I've met in the U.S. and a unique dynamic of decay and regrowth. I'm pretty sure I'll be back again someday for a longer visit.

Next stop: Chicago