Baseball, Bikes, and TV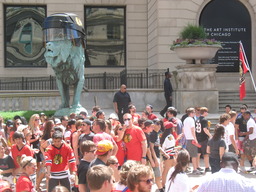 Blackhawks Victory Rally,
Michigan Avenue

Chicago, USA
July 02, 2013

We pedal throughout the city. We attend a baseball game. We catch up on past series of TV. Over repeated visits to her hometown, Megan and I have developed a routine how and where we spend our time whenever I pass through Chicago. On this visit:

We biked to Millenium Park to catch a Monday evening summer concert. We biked to the beach just north of the Loop to take a picnic together. We biked to the Chicago History Museum (which would not honor the "family pass" we'd checked out from the local library, insisting that the rules had changed and we now had to have at least one under-18 in our party.) We biked more than once to the Boiler Room, the local pizza parlor near her apartment off Logan Square.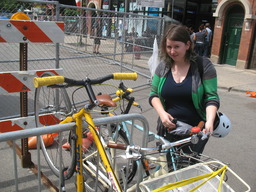 Megan Locks Bike

We broke habit in going to our baseball game. We left the bikes at home and rode the L to the stadium. Old friends of Megan's were making a family day at the ballpark; bleacher seats cost $5. But, in further deviation from our regular routine we went to see the White Sox play rather than the Cubs.

Our TV bomb-out picked up right where it left off. When I last visited Chicago one year ago Megan introduced me to the Game of Thrones serial. I asked specifically whether she had the next series cued up and ready to watch on some device. Of course, she had... and the next block beyond. We began making our way into the first episodes of the second season but had to abandon early when Megan suggested another recent favorite show. Fringe became an even more compelling distraction, dividing our time in front of the small screen.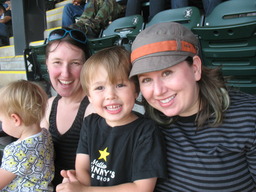 Watching the White Sox

Megan herself continues to do well. Since I last came through Chicago she's continued to leverage her talent as a graphic artist in a lucrative, niche role. I'd never heard of this type of work before she told me how she was regularly getting sent around the U.S. and, on occasion, to events abroad in the capacity of "knowledge worker".

From what I gather, a "knowledge worker" is an artist who works at corporate conventions and conferences as notetaker and illustrator. Rather than have the attendees trouble themselves to focus their attention on the topic at hand by taking notes, Megan does it on-the-fly for everybody. She captures the gist of the speech, simultaneously taking notes and improvising accompanying illustrations on an enormous whiteboard at the front of the conference hall. These accompany whatever corporate keynote or breakout session has brought executives and employees together. Her interpretation is recorded and sent out on DVD after the conference. Megan receives amounts between hundreds to over a thousand dollars for each day's work.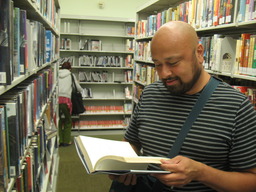 David in Stacks of Harold
Washington Library Center

This is not the kind of travel Megan prefers. She tends to journey independently in remote parts of Asia: Outer Mongolia, Burma, the countries whose names end in "-stan". Knowledge workers are sent not to countries whose names end in "-stan" but again and again to the same suburbs that host corporate conferences: Northern Virginia outside Washington D.C., Northern New Jersey outside New York City. Occasionally, she does get work in further-flung and more exotic locales. Wherever she goes, Megan is sensible enough to milk the trips by staying on and adding days to explore the city and its attractions after each conference.

Good to hang out and see you doing well, Megan. Thanks for hosting me yet again. I hope there will be some gig that brings you up to Montréal once I'm settled in there...

Speaking of moving on: it's time now for me to leave Chicago. This is as far west as I'll travel on this trip. I'm turning around and heading back to where I started: Québec City. At the moment, I'm at Union Station waiting for an overnight train. Ordinarily, I prefer to travel by rail but this Amtrak waiting hall has to be one of the least-pleasant places possible to kill time. The ceilings are low, there are more passengers crowded in than available seats, and the fluorescent lighting above does nothing to mask the worn, grubby state of the fixtures. I've spent a great week in Chicago. It's a shame that this has to be my last taste of the city when moving along.

Next stop: Buffalo