Crosstown Move II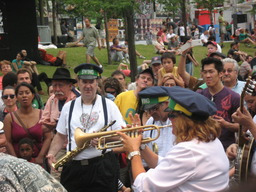 Montréal Jazz Fest

QUÉBEC, Canada
July 15, 2013

The second week of my final term began today. That leaves just over three weeks before I finish intensive French, quit Québec City, and move on to grad school in Montréal.

Things are wrapping up in the right way. Université Laval is a familiar and comfortable place for me to roam. Right after the first session of this term I found one of my required textbooks available at the campus library. I've continued working out at PEPS, the university gym, though have trimmed down my routine of laps in the pool. I've instead signed myself up for informal after-class sessions of team sports I enjoy--arranged just for us FLÉ students. A Frisbee afternoon is scheduled for next week. Last Friday, I played volleyball for what must have been the first time since I was a middle-school student. I was happy to find myself still in fair form for that game--though never did figure out how to say "spike" or "dig" in French.

I have something else new to keep myself fit. Silvia gave me a spare bicycle that had been lying around her family's apartment. It's an old 10-speed back from the era when they still made 10-speeds. It's in decent condition: the brakes work fine (though do screech, horribly) and all the gears shift to where they should. All I had to do was pump each tire up with a little air to find it rolls as it should. I rode my new bike in to and on back from school, today. That took a little over 30 minutes in each direction (with a large uphill portion on the morning leg.) I suspect that I'll be getting a lot less use out of my bus pass this term.

A daily commute to and from Université Laval makes this final term different from my previous existence living in Québec City over this past year. (It makes life different from my existence living anywhere over the past ten years, now that I think about it.) Before, I could just walk. Before, the distance from bedroom to classroom took me just 15 minutes to cover on foot. But, after the landlords of the house I'd been living in decided to sell it, I had to find somewhere new to stay. I considered finding some similar room to rent also close to campus for my few remaining weeks in Québec City. But, pretty quickly, I came up with a far better--if somewhat farther--solution.

I asked Annie if she could use a paying tenant for my final 5 weeks in town. I knew that her kids wouldn't be staying on at her crosstown apartment over the entire summer. Even with two spare rooms, I didn't presume she'd have either want or desire for a roommate. But, when I broached the subject sometime back in late spring Annie accepted immediately.

I cannot think of a better place to finish my time living in Québec City. The neighborhood itself, Vanier, is as different as can be from the posh Sillery quarter where I lived until mid-June. Annie's apartment is smack in the middle of a large community of recent immigrants. Several of my former classmates from Colombia are now my neighbors. Mornings I ride the bus in to campus, route 185 is filled with refugees from Bhutan on their way to francization courses of their own at Cégep Ste.-Foy. The local supermarkets stock spices and sauces that I had been bringing back from trips to Montréal or New York.

Of course, there's the incalculable benefit of having a French teacher as roommate. Homework points that would have previously stumped me on into the night have become casual questions thrown across the dining room table. The one required textbook I couldn't find at either the Université Laval library or at any branch of the Québec City libary system just happened to be a grammar Annie had a brand-new copy of lying on her bookshelf. That saved me from shelling out fifty bucks on a book that I would probably rarely look at after classes finish come mid-August.

I confess. I felt like something of a language leech at first. Then, I thought about it more. Annie and I have become good friends. She happens to be more educated, intellectual, and experienced than I am both in ways measurable by the letters and titles following one's name as well as in general life experience: just the type of person I prefer to spend my time with. I realized that I'd be just as happy to spend my final weeks in Québec City living in an otherwise identical situation--even if that same friend spoke no French at-all.

Moreover than having lots of time to spend with a close friend, moreover than the benefits of a live-in language teacher... what secretly makes me happiest about my new living situation is a wholly random aspect of where I happen to be spending my final weeks in Québec City: I once again have a pet where I live. An energetic and friendly cat (whom I have rechristened "Bad Cat" for want of a more appropriate name) constantly demands my attention and insists every night that my bedroom is her bedroom as well.

La vie passe bien...