Graduate School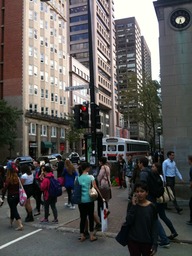 Campus Exit -
Sherbrooke Street

MONTRÉAL, Canada
September 3, 2013

The beginning of graduate school was as I expected: a full shuffle of busy activities.

I began the first day of my new life began by finally taking that Arabic placement exam I'd been cramming for the past couple weeks. My allotted time was up all too soon, leaving me unsure whether I might have done reasonably well or blown it, completely. I had just enough of a break to chow down a quick lunch before running off to attend a departmental meeting welcoming us newly accepted M.A. and Ph.D. students. As soon as that meeting was over I went directly to a campus-wide graduate orientation in Thomson Hall.

By the time the orientation session was over it was already approaching evening. I was walking to the metro station to take the train back to my new home when I received an e-mail message on my cellphone. The department coordinator, Adina, sent news that my Arabic exam had just been marked. Which of two regularly-scheduled class hours would I prefer to sign up for? I hadn't yet stepped off campus so decided it would be easiest to work all the registration matters out, in-person. I returned back to the very same building where I'd started my day.

Naturally, given my propensity to sleep in, I'd be inclined to sign up for the latter of the two sections. As it turned out, that was the section that didn't conflict with another of my existing courses, anyway. I indicated my preference. Based on my results, Adina toggled something in the computer that allowed me to register for... the second-year course. I had held out a small hope that I'd done well enough on the exam to have the departmental language requirement of two years of Arabic waived entirely and wouldn't have to re-take courses that I last covered long decades ago. Contradictorily, I was relieved that I hadn't bombed the test completely. I figured they could have just as easily rated me all the way back at the beginning, given how many years it's been since I last looked at the language.

So, my autumn class schedule is now in place. This term I'll attend two language classes, Arabic and Urdu,--thankfully neither at the introductory level--along with a Research Materials course.

It seems like my living situation has fallen into place, as well. The day before yesterday, I moved here from Québec City. I've landed in a neighborhood I don't know well enough to be sure the name of. On-line maps refer to it as Côte-Saint-Paul within the administrative borough of the Sud-Ouest. It's about a 15-minute walk to either the Jolicœur or Monk metro stations. I agreed (all of my tenant leases since coming to the province of Québec have been verbal agreements signed with a handshake) to a minimum tenancy of three months in an apartment with three roommates. None of them seem to speak English, which was the situation I specifically sought out. I'll need practice to keep my French active given how my graduate studies will be at an entirely English-medium school.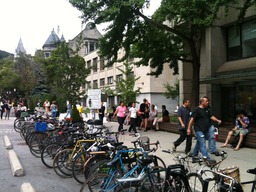 Campus Bicycle Parking -
Rue McTavish

I am getting around town on the metro this week though hope that will be my method of transport for this week, only. My new place is not far from Canal Lachine. I hope to ride my bicycle along the south bank of the canal up into school after I've brought it back here from Québec City. I haven't ridden it directly yet though route calculators map out a path that should take under 30 minutes from my house to campus.

Knowing how it will likely be similarly exhausting each of the rest of the days this first week of grad school, I've laid advance plans to force myself to make the run back to La Capitale Nationale, this very weekend. I've borrowed a bike rack from Professor Gwen and booked a rental car to stick it onto. I'll make a 24-hour dash there and back to retrieve my bike. I know that if I don't go and fetch it now, I'll either never get around to bringing it to Montréal, or not do so until some date after I've missed the remainder of fair cycling weather this year.

I'm tired, but pleased. Constantly moving about; constantly changing living situation; and constantly studying whatever area of interest as I may, today marked a significant life change. I know that by embarking on graduate studies, Montréal is where my life will be focused for at least the next few years.