Snowy Springtime II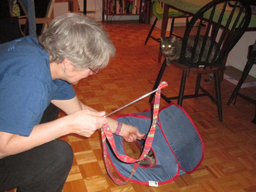 Professor Gwen Plays with
Temu while Oggie Looks On

MONTRÉAL, Canada
March 30, 2014

Ugh. It snowed overnight. There are still small flakes blowing around outside. April arrives Tuesday and I don't believe winter will have left by then.

Professor Gwen is away for a conference. That's given me another week of cat-sitting at her NDG apartment located on the opposite side of Montréal from my Parc LaFontaine studio. I've been taking advantage of her better-equipped apartment to eat lots of ice cream (my studio doesn't have a full-sized freezer) and to bake up cheesecakes (my studio doesn't have an oven, at-all.) Though, I really ought to be devoting what time I have not to dessert, but to my studies.

These are the final two weeks of the academic year. My routine homework assignments have given way to term papers, exams, and oral presentations that I have to perform in English, Arabic, and Urdu. At the moment it all feels like too much to possibly accomplish in such a little time. But, I know that once the term is passed and finals are over I'll forget all the pressure, immediately.

I'm not sure if my post-term plans will pan out quite the way I'd hoped. My only final exam is scheduled for April 15. I had planned to spend the week after that back in Québec City calling on friends before heading down to New York. However, it seems that the schedule for presentations in my Chinese Brushwork class might be delayed until the 18th. I would enjoy having the additional time to prepare for the presentation. But, I had been planning to give up my studio and stash all my stuff for the summer at Chez Gwen right after taking my final exam. I guess I could nix the Québec City visit... though it has been several months since I was last there. If I don't make the trip now I probably won't have another opportunity to do so until autumn.

Oh well. Everything will come together, I'm sure. In a little over three weeks moving woes and the end of term of crunch will all be behind me. My studies will be done and I'll be out visiting with friends around New York. That's a motivating thought.