Winter Blues II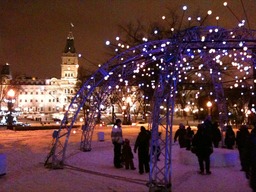 Festival des Lumières de Québec

QUÉBEC, Canada
December 23, 2013

I've discovered a quick cure for the winter blues: drink multiple mugs of hot chocolate, go ice skating, and play old-fashioned parlor games with as many friends possible.

Well before I fell into a recent funk my cure was already charted. Back at the beginning of December, a classmate from days of Free French sent me an invitation. Silvia asked if I could attend a party her family would be hosting later on in the month. Other former classmates were to come, as well. Could I make it? Though that would be the perfect excuse to get myself back to Québec City I wasn't sure whether or not I'd go. The date hadn't yet been fixed. Silvia mentioned hosting at a time that might conflict with my exam schedule. On top of that I wasn't sure if would I want to make the 3-hour trip out from Montréal and then another back again from Québec City at the beginning of winter.

I'm glad I accepted. Time together with familiar friends has been the perfect way to lift my spirits. One long weekend back here wasn't time enough to call on everybody I would have liked to have seen. But, I did manage to catch the greater part of friends who live out here: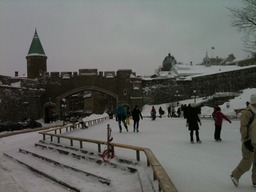 Ice Rink - Place D'Youville

Annie hosted, turning that same spare room I rented out over my final months of intensive French study back into my own familiar place once again--if for just three days. Our timing meshed perfectly. The very evening I arrived happened to be her last day of work before a two-week break in parliamentary proceedings at the National Assembly (Annie's day job.) A couple weeks ago she finished a term teaching yet another specialized, technical French course to recent immigrants, this one at a level far higher than anything I myself ever covered. (Annie's night job.)

I don't think I have ever met anybody who maintains the level of energy Annie does. She's always active, always running around doing something, and holding two jobs down is the least of it. She is vigilantly focused on nutrition, healthy eating, and exercise. Annie saw the fierce snowstorm sweeping through Québec City yesterday as an invitation to go out running. To me, high winds, low temperatures, and paths covered high in mounds of snow make for a compelling reason to stay inside. But, Annie swears her daily run is better when the weather makes it more of a challenge.

Though I wasn't up for hopping around through a winter tempest we did get some outdoor exercise in together. Knowing how active Annie keeps herself I brought my ice skates with me from Montréal. I'd skated at various sites around Québec City but there was just one specific place I wanted to return: the rink at Place d'Youville set up along the old city walls. The lights, the Christmas carols, the old city setting: I had such fond memories of all of those. I can't believe it was exactly one year ago that I was skating around the same place.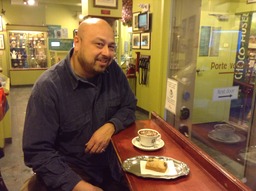 Cocoa and Cake

Before skating at Place D'Youville I squeezed in time to spend most of yesterday afternoon with Siliu--much of it spent drinking mug upon mug of cocoa together. She and I didn't need to cover as much ground bringing each other up to date as I did with other friends around Québec City over this visit. We've gotten together for coffee or dinner several times when she came to Montréal for various job interviews in recent months. (Good luck, there Siliu!)

We started at Paillard Bakery over pastries and a big, steaming cup of hot chocolate. Our time together finished several hours later over a couple more cups of cocoa at a small chocolate factory and "museum", Erico, several blocks down Rue St. Jean. I'd been there once before when my twin cousins from California came to visit. Siliu was curious to go as I'd mentioned that I'd once bought a chocolate bar crafted with Szechwan peppercorns there.

The retail space was mostly a small shop with side gallery set with images and artifacts outlining the basics of chocolate-making. There was a window into the back room where workers in white aprons and caps drizzled chocolate into molds. Set at the front away from the displays were high seats and ledges along the windows from where we could sip chocolate and watch people passing by, more than a few dressed up with Santa Claus caps or full-out Father Christmas robes of all colors offering holiday cheer.

We each chose a concoction from a menu offering drinks of varying levels of cacao and ranges of sweetness. Mmm. That was some good cocoa. Was all I needed to kick the winter bleahs a few cups of hot chocolate? Maybe. Though I'm not sure if it would be as much fun to have made a lone cocoa crawl without friends along.

My whole reason for coming back to Québec this particular weekend--the party with classmates--was ideal for getting myself out of the winter doldrums. About a third of the students I sat alongside over my first French course were on-hand. Not a bad percentage given how it was nearly two years ago we all met. There was lots of good food reflecting the national origins of the students: Persian, Ukranian, Colombian. There was just the right amount of drink on hand: not the centerpiece of the event but a steady-enough flow to maintain holiday cheer. There were family-friendly games that allowed everybody (some former classmates brought their children along) to participate.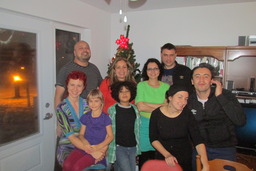 Class Reunion

One game familiar to all the Colombians was something called "Tingo-tingo-tango". I think it's sort of like "hot potato" as everybody quickly hands off an object to others sitting in a circle. (In our case we used a toy unicorn one of the children had brought to the party.) While the stuffed animal was being foisted from one hand to another one player stood apart from the group with back turned repeating the same word "tingo" over and over. When the announcer decided to arbitrarily stop repeating "tingo" and switch to a final "tango" whoever happened to be holding the object was considered the loser of the round.

Whenever anybody lost two rounds that person had to carry out some silly action agreed upon by the others. This was meant to be something slightly embarrassing but nothing mortifying. Friends were commanded to sing a song in a second language, imitate an animal, or perform a dance in front of the rest of the group. My suggestion that one unfortunate be required to conjugate the verb être in all forms of the subjunctive met with hearty laughter by all my former classmates--but nobody was cruel enough to actually mete that task out as punishment.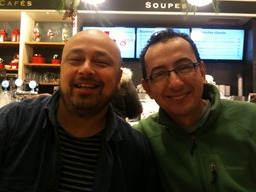 David and Andres
This return visit to Québec City finished with lunch with Andres and Rosa. I hadn't made separate plans with them beforehand presuming they'd also be at the party with other classmates. When they didn't come I sent a last-minute note, last night. Could they meet sometime today before I returned to Montréal in the late afternoon?
The family had an early appointment but we were able to synch our schedules in the late morning. Their first task of the day had been at (of all places) the U.S. consulate. In the past we had talked about how useful it would be if they had American visas despite the high issuing fee. Times they might need to return to Colombia airfares would be far cheaper departing from the U.S.. The occasional cross-border shopping excursion alone would offset the visa cost. It could be fun for all of us to make a trip to Boston or New York together, some day: I'd be happy to play tour guide for their first visit to the U.S.. Before seeing them I hadn't realized they were actually going through with the visa process.
After their interviews we met in the lobby of Château Frontenac (a short walk from the consulate) then worked our way down to Paillard on Rue St. Jean. (My third visit to the bakery over this short visit.) Over sandwiches and hot chocolate we adults reminisced about old times and briefed each other on where we all are in life. I tried to keep the two children entertained by showing them how to fold paper into origami animals.
Both of my former classmates are still studying at Université Laval so are relieved to be on semester break. Both expressed that they would rather be working than still in school--but the choice isn't entirely theirs. It's not solely a question of whether their level of French is functional enough or adequate to work. It's in-part a matter that few educational credentials from outside Québec are accepted at face-value, here. Andres reminded me how this year at university is still considered preparatory work for him to ensure that he has the language capacity to take on his program of study, next year. Once he begins that he'll be pursuing another degree in the same field in which he already has a graduate degree--but that not recognized at-all here.
Though the grown-ups did seem school-weary and ready to focus on other things than perfecting their French the whole family was clearly doing well, overall. Definitely let me know when your U.S. visas are issued, Andres and Rosa! I'm always down for a roadtrip.
This has been a great visit. Just what I need to kick the winter blues.
Next stop: Montréal