Taste of Maine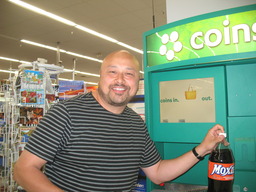 David has Moxie

Portland, Maine - USA
May 4, 2013

Our weekend getaway started off with sweet associations.

"What is that?", Annie asked me in a dubious tone. Big grin on my face, I was holding up a plastic two-liter bottle. We'd stopped into the supermarket not to buy soda pop but for the sole purpose of replacing a forgotten bar of soap.

"It's Moxie!", I answered. "I've actually never drunk it before. But, I remember hearing about it as a kid. It must be something I've read about in stories. I think they make it only here in New England. I didn't know it still existed."

We paid for our items and returned to our rental car in the parking lot outside. Before getting in I dumped out the rest of whatever was left in the travel mug that I ordinarily use to drink tea in class. I re-filled the cup with the new beverage.

"How is it?", Annie asked me as I took a sip.

Old Orchard Beach

"Yuck! Ick! Yuck! It is really, really bitter... ", I said, wondering if I might have somehow poured the cola over dregs of stale coffee left in my travel mug.

Annie took a sip.

"I know this!", she said. "It has the same flavor as something I drank when I was a kid. But that wasn't called 'Moxie'."

It was my turn to be dubious: not just that anything so foul-tasting could continue to be manufactured but that anybody could have even further decided to market a knockoff of the same formula to sell across Québec.

"Maybe it's an acquired taste... ", I said unconvincingly while bringing the mug up to my lips once again.

But, knowing what to expect this time, it actually didn't taste so bad on second sip. I took a third sip. I finished the cup. It was indeed an acquired taste. Over the next two days I managed to drink the entire bottle.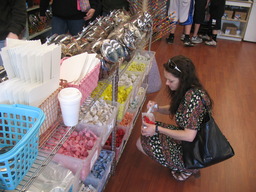 Annie Bags Salt-water Taffy

The next morning, Annie and I were strolling around the shops at Old Orchard Beach. Carnival rides, souvenir shops, pizza sold by the slice. Though we were staying farther up the coast I was curious to see what was down in Old Orchard. I'd heard from several people in Québec that this was the place they came to "go to the beach".

I rinsed my hands in the waters of the Atlantic and took in the salt air--but it was too brisk out to swim or stay out on the beach for very long.

"Let's go to that candy factory over there," Annie directed us after we left the shoreside. "I want to pick up some candy to bring back to my co-workers at the National Assembly."

Once inside we were both excited to see familiar sweets.

"Necco wafers!", I exclaimed.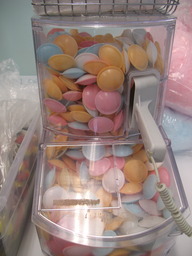 UFO Eucharist Wafers

"Oh, I used to love these, too," Annie said. "Necco? I never knew what these were called."

We each reached for rolls of the pastel chips wrapped up in paper. Annie became even more excited to see something else also in pastel colors inside a jar across the candy shop.

"Remember these?", she asked me.

"No, what are they?", I said, deciding not to share that what I thought they were most resembled were oily "shrimp chips" my family bought from Chinese markets and fried up when I was a child.

"They taste like eucharist wafers but they have something sweet inside," Annie answered my question.

I wasn't sure which sounded less appealing: a jar of stale shrimp chips or one filled with candied eucharist wafers. Still, I plucked several of them out and into a small plastic sleeve, just to buy them and taste whatever it was they were. Each piece rattled with some sort of beads inside as I moved it.

Anybody else remember this candy? While I didn't find them as revolting at first taste as Moxie, the experience was underwhelming as described: eucharist wafers with what were probably decorative cookie sprinkles inside.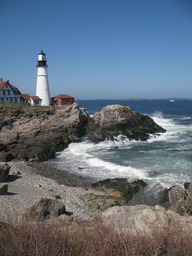 Fort Williams Lighthouse

This excursion wasn't meant to be about sampling sugar-based treats that evoke memories from childhood. My original idea had been to get out to explore areas near Québec City before I move away this August. I'd never been anywhere in Maine. I'd recently discovered how cheap it was to rent a car over the weekend. With luck, paying rideshare passengers might bring the final cost down even further. I asked Annie if she wanted to drive down together for my first visit to Portland.

It's been a pleasant getaway. The two of us speak only in French while up in Québec but we speak only in English here on this side of the border. We're staying in Cape Elizabeth, near Portland, with an extremely accommodating CouchSurfing host. Originally from Tashkent, Alex has cooked us breakfast and taken us to see the sights all around the area.

More exotic to me than seeing all the rocky beaches and old lighthouses was meeting our host's talkative next-door neighbor. He has a big beard; a pickup loaded with lobster cages that he took out to sea, yesterday; and a thick, thick Maine accent that twists every 'r' and all his vowels into rounded 'w' sounds. I find it amusing that there are native speakers of English in this country where I grew up whose language sounds unfamiliar to my ears.

But, it will be back to all French, soon. We're turning around and heading back to Québec City tomorrow afternoon. Unlike our last jaunt into the U.S. when I drove the whole way it's Annie who wanted to be behind the wheel for the entirety of this trip. Is it because neither of us own cars we both enjoy driving so?

I suspect this won't be the last visit I make to Maine.