Advance Nostalgia III

Lunch with Classmates

QUÉBEC, Canada
March 26, 2013

My plans moving on from Québec City are solidifying. I asked a couple of my classmates what they'll be doing after the end of our writing class. Both of them said they're enrolling in a program known as the "FLÉ": français langue étrangère. I've looked into it myself and this seems like the perfect way to finish up my time living in Québec City.

This FLÉ would be two five-week intensive sessions of French grammar taught in the same school where I am now, Université Laval. I dropped into the campus Department of Loans and Scholarships and enquired about funding. Seems like there would be money available to me as a regular, matriculated student that would be comparable to the amount I received as a student in the francization program, a little more, even. Not that I need these language courses on my academic record, but I'd receive university credit as well.

This feels like the right way to depart. Doing it this way would allow me to stay on here in Québec City until mid-August: right when I need to make my move to Montréal. I'd love to have a second summer here attending performances of both the Cirque du Soleil and the musical extravaganza that is the Festival d'été de Québec. Just soaking up all the energy this town exudes in fair weather and spending more time with people I've become closer to sounds better than the trek across Asia I was considering.

So, I'm filling out the forms and trying to line up all the documentation I need to enroll myself. It's a bureaucratic process. For example, establishing myself as a Québec resident to the university ought to be a matter of course. But as with all other required paperwork it'll take some doing. They request certain documents I never imagined I'd need to have on-hand (e.g., an original birth certificate.)

I'm not yet certain though am heavily leaning toward taking these intensive French grammar courses. Before I decide, I want to first ask my future academic advisor at McGill whether he thinks it's really necessary to go back to Asia this summer to prepare myself for the beginning of grad school in autumn.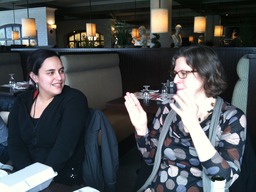 Lunch with Classmates
and Madame S.

In happy events du jour, most of the classmates from my final term of Free French gathered again today at Casa Grecque. It was a repeat of our farewell luncheon--but this time with Madame S. in attendance. She's recovered well from her leg injury and is back for the new term teaching French as a foreign language--though yet walks with a slight limp.

In upcoming good news, Québec has four days off around Easter, starting tomorrow. My Friday phonetic class is cancelled, which frees me up to take advantage of all four days. A former classmate, Siliu, and I are going to make a dash down to New York City for the long Pascal weekend.

In even better news, we've listed our Easter excursion on ride-sharing website Amigo Express and found two takers at $50 each from Québec City to New York. If we get passengers for the return trip as well our costs for fuel and car rental will be nearly nil.

Next stop: New York City