Field Trip III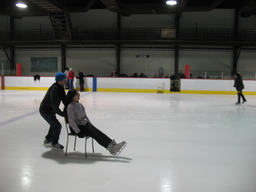 Ice Skating at PEPS

QUÉBEC, Canada
January 23, 2013

Our class went on another field trip, yesterday. This time we didn't have to leave campus. We went ice skating at the campus gym, PEPS.

I hadn't realized there was a skating rink, let alone two of them, on campus. Rather, I've been going out on my own to the open-air rink at Place d'Youville on the edge of the old city. Even though I've found this indoor location is far closer to home and has far smoother ice, I think I'll continue taking the bus into old Québec to do my skating up next to the city walls. Atmosphere of rink at Place d'Youville = Old World. Atmosphere of rink at PEPS = old sweatsocks.

I must be getting accustomed to being out on the ice. I felt steady, limber, and perfectly balanced--as opposed to my shaky attempt when I went just last month. Though I may be pretty new to the sport myself, this was the first time skating ever for most of my classmates (the majority of whom hail from Colombia.)

Previous times I've skated in Québec I'd seen children clutching plastic frames in front of them to support their weight while gliding about. The adult substitute for those who hadn't yet perfected balance on blades: wooden chairs procured from a nearby classroom to double as crutch.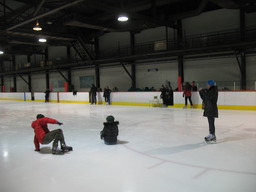 Ice Skating at PEPS

I tried to skate backwards for the first time, bringing myself right back to the newbie level of my classmates.

"How do I move backwards!", I asked our classroom activity coordinator, Monsieur M.

"Make a semi-circle with each foot," he instructed.

I tried. I failed to move in either direction. At least I didn't fall down. I'll have to try skating backwards again the next time I go to Place d'Youville. I am getting better at this.

After our field trip I rode route 7 from PEPS to Avenue Cartier for dinner with Madame G. She knew of a Vietnamese/Thai restaurant where it's possible to "Apportez Votre Vin" or BYOB. That was a far better locale in which to talk shop than anywhere on campus. We ordered similar menus of curries both finished off with fried bananas for dessert. It wasn't purely a social call. I'd asked my former teacher if she would be willing to compose a letter of recommendation for a program in Montréal that I've applied for. She wanted to confirm that the format and the content of her letter were what I hoped for. Thank you, Madame G.: for AVV and reference, both. And thanks to the other instructors who have also written letters backing my application: Kurban and Professor Gwen. Whether or not I am ultimately admitted, you have all three supported my attempt.

Yes, I do still hope to take that composition course en français come February. All the same, I'm looking into my options in this province beyond French language study, as well.