Family, Friends, & Food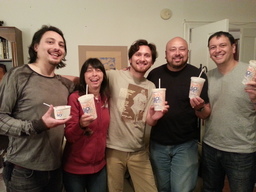 Siblings and Shakes: Ben,
Jen, Alan, Greg, & David

Seattle, USA
May 30, 2014

I'm at the end of the perfect visit. Four weeks have been just long enough to ensure spending time with everybody in the family and to catch others around town without feeling rushed.

Over this past month family and friends have indulged me by meeting up at the particular restaurants around Seattle where I most miss eating. A couple days ago it was my final return (the third time in under two weeks!) to my favorite among what must be at least four Ethiopian restaurants within a block of the intersection of 28th and Cherry. My final Ethiopian experience over this visit was shared with old friends Thatcher and Christine, a couple who conveniently live just three blocks away. That allowed us to cap our kitfo and doro wot off with a drink in their cozy home. Thanks, Thatcher & Chris!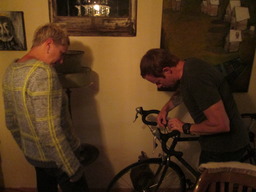 Christine and Thatcher
Lend Me a Bike Light

This past month also saw multiple runs to beloved local Seattle institution Dick's Drive-in Hamburgers. My final burger run, made just last night, was to pick up milkshakes for an impromptu gathering of all of us siblings. Alan was too busy to go out and be sociable, in the thick of simultaneously preparing for both a contract job in the Bay Area and the crush of his final days of the academic year. (Like me, Alan returned to school this past year to pursue a master's degree.) He was too busy to spare time for any company at-all, really. But, this was the only opportunity for all five of us siblings to have any informal get-together over my visit. Greg and I rallied Ben and Jen to join us in briefly descending upon Alan and Devon's apartment then staying just long enough to drink up a milkshake before letting Alan continue his packing and studying.

The sweetest gathering had to be down at Dad's house. After all those home repairs, renovations, and dump runs spearheaded by the uncles at the beginning of the month Dad invited all Seattle family to come back down for a "re-housewarming". It had been many years--probably sometime in our childhoods--when we would have all last gathered in that house. I hope there's a reason to do so again before long--and that I can be around whenever a family gathering next happens at the old hometstead.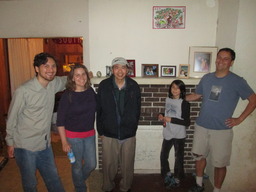 Gathering at Dad's: Alan,
Devon, Dad, Mai Linh, & Greg

Everything is now squared away for me to say goodbye to Seattle once again: I've sorted through what things I store down in Greg's basement, grabbed the odd book or article of clothing out of there that might be of use further on down the road, then put my remaining possessions back into whichever particular plastic storage tub. I've visited and caught up around town with all the friends I could synch schedules with--though there were some folks with whom it just couldn't manage to come together. Apologies to those who I didn't manage to see; I do hope to be back in Seattle again before long.

I hope that my return might be as soon as Christmas of this year. Though, if my next gap between Seattle visits runs as long as the last... that would mean it won't be until a year later, Christmas 2015, that I next return.

I'm now, I'm at Sea-Tac airport waiting on my flight out.

Next stop: Boulder