65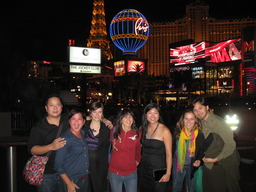 Cousins, Siblings, and Others:
Jason, Jade, Kaitlyn, Jen,
Tina, Devon, and Alan

Las Vegas, USA
October 22, 2012

It felt strange to see everybody together in one place. It wasn't the large amount of family members (over 40 people who came) that struck me. It was seeing familiar people somewhere out of context that seemed odd. I associated all these relatives with other cities spread across disparate points around the globe, with the other places where I've spent time with each of them.

There came Eleanor, my cousin-once-removed alongside her daughter Joyce: they'd flown in from Hong Kong, a city where I've visited them frequently. Next through the door stepped another cousin-once-removed, Polly, and her husband Mike--whom I've called on regularly whenever passing through L.A.. A second-cousin I'd met for the first time in the Philippines, Apple, was on-hand, too. My cousins who live in California, my cousins who live in New York, my cousins who live in Washington, D.C., my paternal uncles along with each of their wives, and my entire family from Seattle were all on-hand. Everybody I'm closely related to on my father's side--as well a fair number of people with whom I share some more distant connection--had come to celebrate.

Word Blur with Cousins:
Apple, Joyce, Devon, Greg,
Marcel, Jordan, and Jen

What occasion could bring so many people from points across North America and Asia to Las Vegas? We all came for a birthday party. Twin uncles Philip and David turned 65 this week.

Most of my time socializing this weekend was spent with others in my generation. I flew out from Quebec City immediately after class to arrive into Vegas at a time relatively early for a Friday night. Within an hour I found all my siblings and cousins congregating at the New York cousins' suite in the Cosmopolitan. Lots of conversation flowed. Lots of drinks flowed. Too many drinks for some? I found part of a regurgitated pickle wedged into the sink drain of our hotel room the next morning.

The next night out with cousins began in tamer fashion. We played word games until midnight. Sister Jen hooked everybody on something called Word Blur which is evidently a prototype created by a friend who designs games. Beginning our next game, exquisite corpse a.k.a., the sentence/picture game, the pens and sheets of paper each player had laid-out in front of them had us looking less like we were all out partying on a weekend so much as hosting a business meeting in the lobby of our hotel. That was followed up by behavior more appropriate for Las Vegas on a Saturday night: a trip to the gambling tables on the Strip.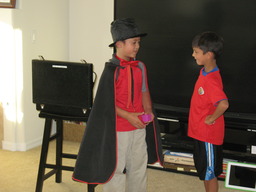 Tai Volunteers for
Eli the Magician

During the day the generations mingled. In addition to their home in New York, Uncle Philip and Auntie Lulu keep a second home in a retirement community in the Vegas suburbs. There, they hosted an afternoon combining hors d'œuvre with a talent show. The latter consisted mainly of freestyle karaoke, magic acts performed by 7-year-olds, and nephew-in-law Isaac playing his clarinet.

Strangely for such a large gathering of people who had all come from far-off places I'd seen everybody somewhere relatively recently in-person. I tried to focus on getting to know the two relatives I'd never met. A cousin of my father's, Angela, had come from Taiwan. I was introduced to a second-cousin-once-removed, Kaye, who I hadn't known previously.

Birthday dinner was at East Ocean, a Cantonese restaurant down the road from Uncle Philip and Auntie Lulu's Henderson home. The couple opened their home up once again the next day for a farewell brunch: most of the attendees either flew out or drove back to California immediately thereafter.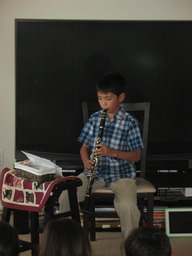 Isaac Plays Clarinet

For me it was those hours post-brunch when the best time began. Though everybody else had just left town all of my Seattle siblings were staying on one more day. I think it was either by coincidence or because airfares cost much less for those who could wait until today to fly out. Whichever the reason, with extra time together, no other activities scheduled, and everybody else on their way out of town, we Seattle siblings ran around Vegas together well into the early hours of this morning.

The only thing I specifically wanted to do on this trip to Vegas apart from the birthday events was to make a return visit to the Hookah Lounge. Not that I don't have a hookah of my own that I could piece together and puff on anytime I please. But, there's a spot off the Strip that has a unique atmosphere. I enjoy popping in there the times I find myself in Las Vegas for some reason. Greg, Ben, and nephew Tai stayed back on the Strip at Circus Circus to engage in activities more child-friendly than smoking hookahs. But, Jen, Alan, Devon, and I went for a happy-hour hookah pipe, drinks, and platters of Mediterranean food.

This was Jen's first time tasting the hookah. She gravitated toward the option of a bowl of jasmine-flavored tobacco. A non-standard selection compared to the more common fruit flavors, but typical Jen. As wildcrafter extraordinaire it made perfect sense a floral flavor would be her choice.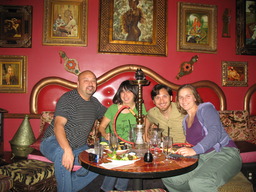 David, Jenn, Alan, and
Devon at Hookah Lounge

Next was a rendezvous with the non-hookah-smoking siblings back on the Strip in front of a faux exploding volcano. We strolled down to Caesar's Palace trying to figure where to go for dinner. Deciding turned out to be a surprising challenge in a city with such abundant menu options. Where could we eat that offered food different from anywhere back in Seattle or Québec City? Was there any particular cuisine Las Vegas was particularly known for other than late-night deals on steak and eggs? Nothing sounded right.

Finally, I came up with something cheap, nearby, and unavailable outside the region. I proposed a stop at a branch of California burger chain In-'n'-Out--a place where none of the others had eaten. It was by no means fancy dining but made sense given our appetite. We'd been gorging ourselves on so many birthday meals and snacks over the previous days I would have been fine skipping dinner entirely. Furthermore, it was something local and unique tasting unlike burger chains elsewhere. The siblings--and Tai--loved their first visit to the restaurant.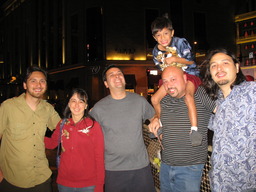 Siblings + Nephew: Alan, Jen, Greg,
Tai (atop shoulders), David, & Ben

Our night concluded with another first for most of my siblings: placing bets at the casino tables. We were equally lacking in extravagance in our play as we were in our choice of dinner. Five-dollar bets at the roulette wheel and blackjack table and minimum deposits into the penny slots were as wild as we got.

I sat down at a blackjack table and forked three twenties over to the dealer. The others watched on as my pile of chips dwindled down to $10. Before entering the casino I'd coached Jen and Devon in the most common situations in blackjack basic strategy so would occasionally quiz them as to what play I should make. Should I hit? Split? Stand? Double down?

"What should I do here?", I asked Devon when dealt an 8 and 2. The dealer showed a queen.

"Hit?", she said.

"You're right. If the dealer had been showing anything else other than a face card or an ace basic strategy says to double down. But here I'm supposed to hit."

On the next hand I was again dealt cards totaling ten. This time the dealer showed a four.

"Double-down!", Devon declared.

I did. I won.

My luck turned around with that hand. I was again dealt cards totaling ten for both of the next two hands. Each hand I doubled-down. Each hand I won. A subsequent blackjack brought me into the black. I was tempted to ride the streak but figured that quitting while ahead (even if my winnings totalled a measly $2.50) would be better than leaving Vegas a loser. I colored-up my chips then watched Devon and Jen playing flashing machines with spinning images of fruit for a few minutes before we all went upstairs for the night.

I think I enjoy playing for low stakes more than I would for real amounts of money. The times I've played as the dealer with nephews and nieces--for winnings of plastic poker chips--has given me just as much enjoyment as playing at real casinos in Vegas. For me, the fun part is just in playing the game itself, not in staking large amounts.

At 5:00 A.M. I slipped out on all the siblings sleeping at the hotel. In a final display of frugality I hopped on city bus route 108 to get myself out to the airport. I've got some time to kill here before my flight then two connections (via Atlanta and Detroit) to get back to Québec City. I know I'll get some sleep on some if not all of the legs.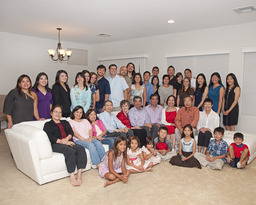 Extended Family (Key
at Bottom of Page)

Back to class tomorrow. What a weekend...
---
Back Row (My Generation): Kaye, Apple, Joyce, Jen, Marcel, Devon, Alan, Greg, David, Ben, Melodie, Ben L., Jordan, Becca, Jade, Jason, Kaitlyn, Kristin, Jeffrey, Cindy, Tina; Jenny
Seated on Sofa (Previous Generation): Eleanor; Polly; Juliet; Dad; Nancy; David; Philip; Lulu; Joseph; Angela
Seated on Carpet (Next Generation): Sage; Maia; Cassidy; Eli; Jada; Isaac; Tai