Sunday Dinner III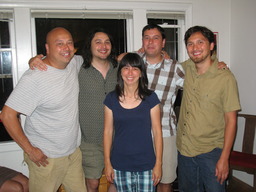 Siblings Reunite: David
Ben, Jen, Greg, and Alan

Seattle, USA
September 11, 2011

I came to the 中秋節 Moon Festival bearing 冰餃子 frozen dumplings, 皮蛋 century eggs, and 鹹蛋 salted-duck eggs.

This wasn't a Sunday Dinner in the manner our extended family used to have scheduled on the calendar every other week. Those haven't been a regular occasion for well over a year.

But, as with the last time I was in town to celebrate the Moon Festival, the family gathered together over a potluck replete with mooncakes.

Getting there, I first drove Dad up to Chinatown where he had errands to run, then along together to Alan and Devon's apartment on Capitol Hill. I want to call it their "new" apartment, as tonight was the first time I set foot inside. But, they've been living there for over a year. I've been away from Seattle for well long enough.

Upon picking Dad up, I asked him if we could speak in Chinese over this visit of mine to Seattle. While I was growing up we spoke only in English. This means that we both have to make a concerted effort not to lapse into that default communication mode. It does take some focus on my part, but I have a couple reasons for trying:
It's good practice to maintain, perhaps extend, my language skills.
It makes our conversation sound fresh and engaging to my ears. Even when repeating the same conversation we've held hundreds of times in English everything sounds far more compelling and interesting to me when we speak in another language.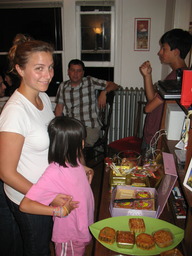 Devon, Mai Linh, Greg
Nick, and Mooncakes

Though this was the first gathering with everybody since my return, I had already managed to catch most, though not all of, the family members in my time since coming back to the U.S.. I met up with Alan and Devon in New York. I brought Dad up to a session babysitting at Greg and Louise's just last night. I happened to ring Ben and Jen at times when they were proximate to where I was, allowing brief rendezvous.

But, there's nothing like being back in a crowded, full house spanning several generations. Dad, siblings, in-laws, nephews and nieces: everybody seemed to be as they were--if another year older than when we last all gathered together.

We didn't play as many games as we usually would over our gatherings. We did get in a round of what we call the sentence/picture game. It was evidently a game played by surrealists in the 1920s, a game which they surreally dubbed, exquisite corpse.

Play is simple and inevitably yields hysterical results. Each player starts off with a blank sheet of paper, atop which they write any sentence they can come up with. They then pass the paper to the player sitting to their left, who has to illustrate the sentence below with a picture. Before the second player in-turn passes the paper along, they fold over the top enough that only the illustration is visible--not the initial sentence. The next player has to compose a sentence based on the picture.

This process, sentence-picture-sentence-picture, continues along until there is no more blank space left on the paper. The way we play, at the end of each round the first and last sentences are read aloud, then the papers are passed around to general snickering and laughter at how the narrative has evolved.

It's so good to be back together with family.

But, I'm already about to step out of the country, again. Tomorrow, I head up to Vancouver to run an errand related to my settling soon in Canada. I've booked a ticket for the morning run on the Amtrak Cascades. It would be quicker and cheaper to ride Greyhound--but I'm still a sucker for travel by train.

Next stop: Vancouver