Five Days with Friends and Family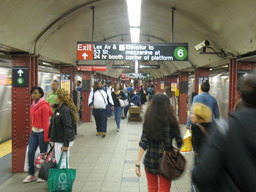 New York, USA
September 15, 2010

I've been busy in the best way: running around New York City catching up with so many friends and relatives. Some highlights:
---
Katz' Deli with Cousin Jade
Cousin Jade and I used to see each other far more often in the days when she lived out in San Francisco--but we'd fallen out of touch. She's been back in New York for something like 10 years now, living down in Chinatown. Over most of those years she's been managing one or another of the family restaurants. Right now, she's running the show at Red Bamboo on West 4th Street. Getting together after so many years without seeing each other I was happy to find that she remains the same: still sassy and full of energy.
Jade and I began our afternoon by splitting a pastrami sandwich and a sausage sandwich at Katz' Deli. That was just what we needed to fuel a stroll around the East Village: chatting, catching up. After leaving Katz' Deli we took the rest of the day wandering around the area and re-connecting over coffee.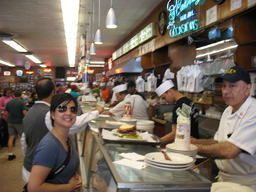 Cousin Jade Orders at Katz' Deli

Jade seems to be steadily following the rhythm of her work running Red Bamboo. Good news: she has started a serious relationship with somebody new: Noel. (Whom I met that same day Jade and I went out and whom I found to be charming, beautiful, and a wholly wonderful person.) But, in addition to this full life in New York, my cousin has further ambitions. When closing up Red Bamboo one evening, Jade showed me a travel-agency brochure offering exotic itineraries.

"I'm considering a couple of the trips they offer. What do you think?"

I flipped through glossy pages of photos depicting lush terrain, rocky deserts, and people wearing colorful clothing. Most offerings were two-week packages bringing clients to far-flung destinations (many of which I had traveled to at some point, myself.) The train from Beijing to Moscow. Kathmandu to Lhasa by road. Ancient cities of Morocco.

"Wow. These all look good. But this agency seems kind of pricey," I said.

"I know," said Jade. "I'm using their catalogue more for inspiration. I'm considering taking a year off just to go out and travel on my own."

That idea sounded good to me. I do hope it comes together. If so, perhaps it won't be such a long time before Jade and I synch up again. Whether she takes some grand trip, it will be a lot of fun to meet up another time with my cousin--be it again here in New York, or anywhere out on the road.
---
Dim Sum with Megan
Megan must be my most kindred spirit in travel. Meandering as our paths may be, we manage to see each other frequently--catching a meal together or hosting one another in some city. The venue is almost always different, dependant on where our paths overlap:
Met for first time in Ulaan Baatar, summer 2006
I host Megan for several nights at my Urumqi apartment, autumn 2006
Dinner in Chicago, summer 2008
Megan hosts me for a couple nights at her Chicago apartment, spring 2010
I host Megan for a few nights in Washington, D.C., summer 2010
The two of us take dim sum yesterday in New York
All this month Megan is exploiting that special jetBlue airpass she bought to the fullest, jaunting throughout North and South America. A change to her travel plans while we were both in D.C. meant she had a free day here in New York. We happened to both leave D.C. around the same time, though I came in via Megabus and she followed on riding jetBlue.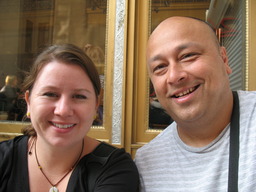 Megan and David Post-Shopping

We spent Monday, her one day passing through New York, visiting different areas around Manhattan. We started in Soho, then walked down to Canal Street. It had been years since I had last been in New York so I wasn't sure where might be good to eat in Chinatown. I consulted with cousin Jade--who lives over on Mott Street--for a dim sum recommendation. Jade suggested Jin Feng on Elizabeth Street.

Jin Feng turned out to be enormous, delicious, and reasonably priced. Megan may well be better-traveled than I am, but she hasn't yet been to Hong Kong. This was her first time sampling dim sum. After gorging ourselves with our fill of dan tat and shiu mai, Megan said that she wanted to shop. We continued along further downtown.

"What are you shopping for?", I asked Megan as we stepped onto a J train together.

"Oh, David... you don't get it, do you? Shopping doesn't mean looking for anything in particular," Megan educated me.

We wound up spending most of our time browsing at discount retailer Century 21 across from the World Trade Center. I came away with an impulse purchase: a 6-pack of socks. I thought those might be useful while out on the road. Megan came away with nothing.

Shopping, indeed.
---
Gatherings with Relatives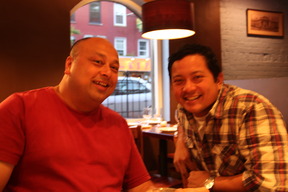 Cousins: David and Jason

Uncle Philip and Auntie Lulu have been hosting me over my entire time in New York. They've been beyond gracious: preparing meals and making sure that my stay is comfortable.

They organized an evening out tonight at another family restaurant, this one run by their son (my cousin), Jason. Along with a partner, Jason has been running Cornerstone in Brooklyn. He describes Cornerstone's menu as "comfort food": shrimp grits, ribs, red velvet cake. Mmm.

Since I last saw Jason he has gotten married to a beautiful girl, Kaitlyn. They're now parents of two.
---
Hookah with Catherine H.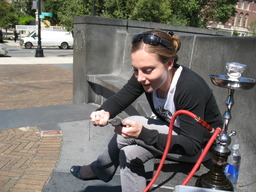 Catherine H. Prepares Charcoal
Catherine H. is madly busy with her first year of law school. The only free time she had to meet for a second rendezvous while I've been here in New York was a one-hour lunch break between classes.
Today was clear and perfect. We met up on 116th and Morningside Drive, where there are stone benches above an entrance to Morningside Park. It seemed very appropriate: two years ago Catherine H. brought me that very hookah pipe on a visit from Oman. We had just enough time to share a bowl of double-apple tobacco before she ran back to class.
Catherine H. has legally changed her name to Catherine Q.--by which I shall refer to her should she make any future appearances in this weblog.
---
The Museum of Natural History with Astrid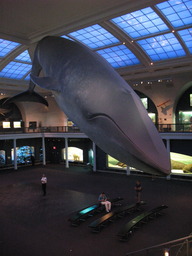 American Museum of
Natural History

Astrid moved to the east coast from Seattle in August. We managed just one afternoon together here in New York. I asked her to meet me in the same spot off of Columbia University where Catherine Q. (nee H.) and I met for our mid-day hookah session. The timing was perfect. Catherine left for class. I packed up the hookah pipe. Then, Astrid popped up the stairway leading up from the park.

Most of our time together was spent at the American Museum of Natural History. I felt strange visiting the exhibitions. Many of them hadn't changed since my last visit to that museum. Among many others, I recalled seeing the same "Colossal Incan Head" on display in one room and the life-sized blue whale mounted from the ceiling of another on my last visit--some twenty years ago.

There were, of course, dozens of collections I didn't recall at-all. There was also something brand-new: an excellent temporary exhibition detailing the stories of the adventurers racing to be the first to arrive at the South Pole some 100 years ago.

Astrid is doing well. She's finished with her Ph.D. and has decided to seek opportunities beyond Seattle. She's laying-low with family in New Jersey while applying for positions down in Washington, D.C.. We may get together down in D.C. next weekend.
---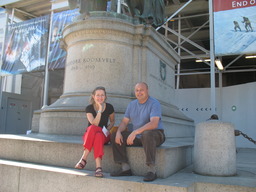 Astrid and David Sit Outside
Museum of Natural History

My time in New York is about to end. Five days has been just enough to see people and re-connect with the city. Tomorrow, I ride the Megabus back down to Washington, D.C..

The first item on my list of things to do once back: pick up my passport from the Vietnam Embassy. Then, I'm hoping to get together one last time with each of the people I know around town.

I'll continue cat-sitting for Dagny, the grumpy kitty for a few days. Then, I'll pick Naomi up at the airport come Saturday night. We'll have just a few days together to catch up. I hope she won't be too busy starting her new job.

Wednesday, I fly back to Asia.