I ♥ NY?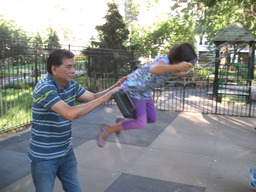 Uncle Philip Swings Granddaughter
Maia in Washington Square Park

New York, USA
August 15, 2012

I surveyed my bearings through the train window. I saw steel pillars sprouting up from a cement platform. I saw colored tiles set into mosaics running the length of both walls repeatedly spelling out the location "23 Street".

"Okay," I thought, slowly placing myself. "Then... I must be in New York... "

For as frequently on-the-move as I keep myself I rarely have moments like these, moments when I lack orientation. "Could I be growing weary of travel?", I questioned to myself as the train set off for the next station, Union Square.

No... it's not quite right to say it's only rarely I have such moments. Now that I think about it there are plenty of times along any journey when I look up and have to process just where on the planet I've arrived. That's just a part of being perpetually on the move. The difference is that past times when I've paused to assess present location doing so always brought a certain charge of excitement. Underlying my thoughts was a sense that wherever I was, I had to be somewhere out on the road exploring. This time I didn't feel any such thrill of adventure when looking up and finding myself in New York. I just felt disoriented.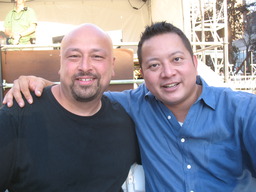 Cousins David and Jason
Outside Lincoln Center

Maybe I've been on the road too long. My whereabouts shouldn't have been any surprise to me. I was on a Brooklyn-bound F train and had already spent a full day around New York. I am five weeks into this current trip: not a long time traveling relative to most trips I've taken, recently. Perhaps my cloudiness on the F train was on account of growing less and less excited about visiting New York the recent times I've passed through? Or, maybe I'm just aging and slowing down, overall.

Familiar or un- ; oriented or dis- --I'll chalk my subway fugue up to eager anticipation of what comes at the end of this summer spent traveling. Term II of my French language courses back up in Québec will commence in exactly two weeks. I am very much looking forward to playing the language student again for another session.

These days in New York have been spent entirely seeing friends and relatives. The people I spent time with on this visit were:
---
New York Relatives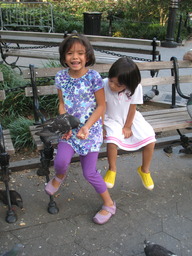 Maia and Cassidy
Feed the Birds

Just as over my last days around Washington, D.C. I again called on an uncle and on a cousin.

I hadn't seen much of Cousin Jason over recent years. I've spent more time with his elder sister, my Cousin Jade, when passing through New York. On this visit I had a bit more time with both Jason and his wife, Kaitlyn.

Their family is doing great. Jason is still managing his restaurant in Brooklyn, Cornerstone. It sounds like business has picked up. Kaitlyn has left one job in the non-profit field (fundraising for Lincoln Center for the Arts) for another elsewhere that will start up in a couple weeks. Life is moving along and their daughters are growing up.

Over one evening while both parents had other engagements to attend to, their children--Maia and Cassidy--tromped all over Washington Square Park: around the playground, in the central fountain, even atop the benches to feed the pigeons. Uncle Philip and I pumped them higher on the swingset and kept enough of an eye on them when they were playing other places to make sure they were safe--but we also took advantage of the time to chat and catch up.

The big news is that we'll probably all get together again in just a couple months. There are plans for a huge celebration recognizing Uncle Philip's and Uncle David's 65th birthday. That's to be held in Las Vegas in October. It sounds like all the relatives on my father's side from throughout the U.S.--and some from further afield--will attend.

It'll be tricky for me to arrange to get away with a tight class schedule up in Québec. Complicating the matter is that fares--especially for a short weekend jaunt--are not cheap. But, maybe I can leverage my last few remaining frequent flyer miles and get out there. It would be fun to see everybody over a big bash.
---
Marven and Bonnie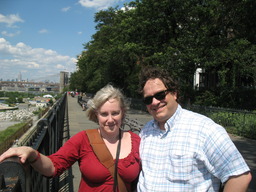 Bonnie and Marven
Along Brooklyn Promenade
I stayed with long-ago former co-workers Marven and Bonnie at their place in Boerum Hill over this time in New York. The two seem more settled into life in New York. When I last stayed here with them they had just moved from Los Angeles. Though in-town for only four days, this stay was twice as long as when I last stayed with them one year ago--that visit got pre-empted by a hurricane blowing through.
I've kept to my "I'll-go-along-with-whatever-you're-doing-so-we-can-hang-out" mode of spending time with people I want to see. (Which one day meant hauling out a TV so enormous Marven and I could barely lift it--let alone get it down three flights of stairs.) Fortunately, all three of us were free on Sunday afternoon so we got out and spent time catching up on opposite sides of Brooklyn, starting over dim sum on 65th Street then finishing with ice cream along the promenade.
Marven continues to work in the tech sector at a good job working for a company that created a system for booking restaurant reservations on-line. Bonnie is presently pursuing hobbies: photography and book clubs. She gripes about the book club she joined last year. Most of the group never reads the book and sessions are often cancelled on a whim.
I asked why she hadn't just quit and found some alternate book club. Her response was that the connections into events and happenings around the city through the book club were too good to leave it--even as much as it pained her how casually all the other members pursued the readings.
So, Bonnie has additionally begun attending another book club. She moonlights with a group created for the sole purpose of tackling "War and Peace". That book club seems to be taking its reading assignments far more seriously. The bookmark in her copy was set some 200-or-so pages deep when I was staying there. Though, given the size of that volume, it was still only about an eighth of the way in.
Thanks for hosting, Marven and Bonnie! Hopefully, you won't still be reading that same book whenever I next blow through town.
---
Astrid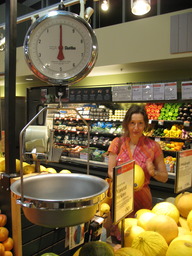 Astrid Contemplates
Melons

It was my turn to take some pains to say "hi" to Astrid. Given that she drove all the way up to Québec the last time we met, the least I could do was to get myself from Brooklyn to New Jersey to spend an evening.

Again, I played the "I'll go along with whatever you happen to be doing to squeeze time in together over my short stay"--which for part of our time on that particular day meant going to a local shopping mall to return clothing. Happily, we shared other activities together as well. A new German bakery had just opened along Ridgewood's main street--that was a pleasant place to grab coffee and catch up. I'd also brought pastries--barbecued pork buns and sesame-coconut "rooster tail" buns--from Manhattan's Chinatown. We devoured those at the end of our time together while waiting in the town square for the next bus I could catch back into New York.

Astrid is carrying on well. When I arrived into Ridgewood she had literally just finished (one hour prior) composing her portion of a book (on Uzbek identity) that she'd been long collaborating on with other professors. With that out of the way, she can now look forward to preparing for the next term of teaching at her college.

I think it's still my turn to come out to where you are the next time we hang out, Astrid. Long and tedious as it was getting from Brooklyn to Ridgewood and back again on buses and trains, I'm sure it was more of an endeavor on your part to get up to Québec City a couple months ago.
---
Catherine Q.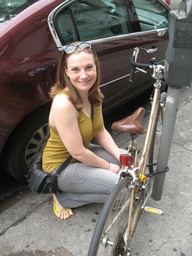 Catherine and
Her 10-Speed

I wasn't sure which place to propose meeting up with Catherine in her neighborhood. I wasn't very familiar with the area so first skimmed nearby places on a map app. About three blocks from her apartment was somewhere that rang a bell: "Tom's Restaurant".

It turns out that Tom's Restaurant was indeed a famous icon of pop culture--but not for the reason I knew of it. I was familiar with the name from a Suzanne Vega song which dubbed the place "Tom's Diner". When I stepped inside I found its walls were almost entirely decked out in paraphernalia from the TV show Seinfeld. Evidently, it was a regular setting in which to shoot episodes over the series.

Catherine and I caught up in a booth seated across from each other with sandwiches and coffee set on the table in between. She's doing great, about to begin her final year of law school. Better still was seeing her in the happily infatuated state of having just begun seeing a new boyfriend--such a recent development that she repeatedly questioned whether it truly counted as being in a relationship.

"He speaks perfect French... ," Catherine said in a detached way with eyes sparkling. "I'm thinking of taking it up as an elective. We do have to take some subject in addition to all of our law courses... "

I decided it wasn't the right time to point out that she has already learnt multiple languages in families totally unrelated to the one English falls into. Whatever excitement she had about learning another language clearly came from the person with whom she might ever speak it. It was sweet to see a friend in the emerging stages of a romance.

"Well, I heartily recommend Québec for learning French if you don't want to pay law-school levels of tuition," I said. "But then, if you did it my way and wanted them to be paying you to attend class you'd have to immigrate first."

Later in our conversation, Catherine's relationship high became tempered by thoughts of upcoming interviews with firms. She had another scheduled for just a couple hours later that afternoon.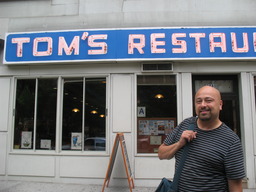 David outside Diner

"I thought that game was all done a year ago?", I said. "I remember when we met up in Washington Square last summer. You were all set to blow them away. You already had offers from several top-notch places."

"I sure did," Catherine said. "I just finished an internship at New York's best law firm. I was at their London office for several months earlier this year as well."

"Uh... doesn't that usually mean they extend you an offer? Unless you really messed up somehow?", I asked.

"They did extend me an offer. But I'm just not so sure if they're the right place for me. So, I'm interviewing other places. It just gets harder to land interviews as a third-year student."

"I guess that puts us both in the same boat! Neither you nor I have the least idea where we'll wind up working after finishing up school next year," I laughed. "Only I've been away from the world of résumés and interviews for well longer than you."

Good luck with your decision where to work after being graduated, Catherine. Good luck with the new relationship. And bonne chance should you decide to begin studying French. Come up to Québec some day and we can see how far we've each progressed with the language. Thanks for the Reuben and the coffee!
---
I leave New York this afternoon, continuing along north.

Next stop: Boston