Hurricane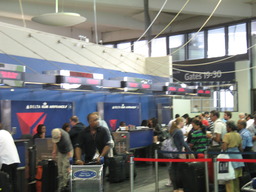 New York, USA
August 27, 2011

Today was supposed to be a day filled with seeing lots of people and eating lots of dim sum. I wasn't supposed to leave New York for another 10 hours, yet. Instead, I'm already sitting at JFK, waiting on a flight out. The approach of Hurricane Irene has caused for a shutdown of the entire city and evacuations of low-lying areas. The airports, the buses, even the subway--everything is closing down in a couple hours.

At least I did manage to get together with a few friends around the city in the last couple days before everything closed up:

Catherine Q. (nee H.) and I met at the St. Mark's Place branch of 西安名吃 Xi'An Famous Foods, the restaurant chain that makes up those lamb-stew crumpets I love.

We took a simple lunch of 回族 Dungan food then strolled a few blocks across to Washington Square Park. I found it unexpected that, despite living in New York for over a year, Catherine Q. was completely unfamiliar with the areas downtown.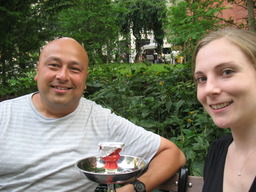 Skulkily Smoking Shishah
in Washington Square Park

"I've never been to this part of the city," she said somewhere as we walked from East Village to West.

"What, you never leave Morningside Heights? Now, that is ironic. You're the one who lives here. Anyway, Washington Square should be the perfect place to set up the shishah," I said.

"We'd better be careful. Things are different now. Sometime this summer they passed some ordinance and smoking is forbidden in all the city parks," Catherine Q. said.

We set up the hookah on a park bench in the most remote corner of the square we could find, in a partially-secluded area set amongst trees. We were using the very hookah that Catherine Q. had brought for me when she moved back to the U.S. after living for several years in Oman: I wasn't going to let some new ordinance interfere with our double-apple-flavored reunion.

We did manage to puff our way through an entire bowl of Egyptian tobacco. But, constantly being on the lookout made the experience far less relaxed than any other time I've shared a shishah:
A passer-by happened along the path between the trees and informed (or, perhaps, chastised) us with, "You two do know that smoking is illegal is in all the parks, now... "
Another passer-by with a camera made no effort to hide his shooting a photograph of the two of us.
"Drop the pipe. Drop it now!", Catherine Q. advised me at one point when she saw a policeman walking in our direction. I complied; he continued along past us without a glance in our direction or a break in stride. Whew.
Another policeman patrolling the park seemed more interested in observing a conga-line (flash mob?) of hundreds that circled the central fountain then snaked into an NYU building across the street. But his pacing about just ahead of where we sat kept both of us on edge.
I wasn't wrong with my initial impressions upon returning here. New York really has become a tamer city.
Despite the sub-optimal shishah re-union conditions, we managed to catch each other up on where our lives are.
It turns out that Catherine Q. is well on her way to becoming Ms. Fancy Attorney. Though she still has two more years of law school left to complete, she's already been spending these past weeks enduring rounds of interviews with firms looking to lock in the creme de la creme of anticipated J.D.'s.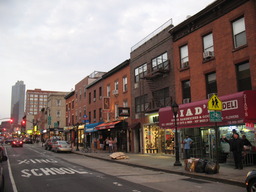 Brooklyn

"It's like speed dating," Catherine described the process. "It all takes place over one day. Each firm has just a few minutes with you."

"Bleah," I said. "Do you have to, 'Describe a time you met with failure and what you learnt from the experience,'?", I asked, picking the lamest stock interview question that popped into my head.

"Just ask me what my greatest weakness is!", Catherine Q. said.

"Okay. What's your greatest weakness?", I asked.

"Cheesecake," Catherine Q. shot back, clearly prepared for inane interview questions.

Catherine Q. has already received several job offers including some from New York's top firms. Shishah is on you the next time we meet up, Catherine!
---
The balance of my time has been with former co-workers Bonnie B. and Marven. They played hosts in their new Brooklyn apartment over this return of mine to New York. (The two quit L.A. a couple months ago as Marven has just landed a sweet new job here in New York.) They were good enough to take me in and offer me a bed even before the hurricane alerts. Then, even after it was clear that the entire city was going to shut down, they were still happy to invite me to stay on a few extra days and just hunker down together.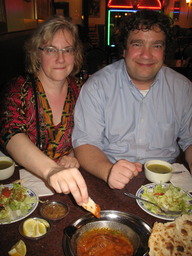 Bonnie B. and Marven
Over Yemeni Food

My second night in town I wanted to treat them to dinner somewhere. Most of the options sounded fairly standard until they mentioned that there were a couple Yemeni restaurants not far from their apartment.

"Yemeni? I've never eaten that. I'm not even sure which ingredients it would use. Let's go to one of those... ", I said as soon as Bonnie B. mentioned the option.

We strolled a few blocks north; I found myself in a deja-vu-like state:

"Is this Atlantic Avenue? I used to come down here to buy LP's of Arabic music. I haven't been here in a long time... though I guess the fact that I was buying records has already dated me."

The food was yummy, though the ingredients not exotic. I had a sort of chicken stew with flatbread; the Yemeni tea turned out to be Lipton with lots of sugar.

Bonnie and Marven would have been willing to let me sit out Hurricane Irene at their apartment. But, I decided I should get out of town before she blows through. I have appointments to keep with relatives in the Midwest.

I got lucky, managing to re-book my evening flight to one that departs before everything shuts down. It's not crazy here yet, but the signs are clear. The airport is getting more and more crowded with longer and longer lines at the information desks. Transport throughout the city was free of charge this morning. Both buses on the route connecting me to JFK, the B65 and the B15, each had a crumpled single-use Metrocard jammed into their fare slot to prevent passengers from paying. I guess nobody can complain about paying for irregular service as the system shuts down...

Hopefully the flight I've rebooked will get me out of New York before all operations cease. Even if I do escape, I'll then have to change planes in Atlanta. Is that airport really out of the hurricane path? It would be ironic if I found myself out of New York yet stranded in another part of the country.

Next stop--fingers crossed--: Chicago