Ex-Roommate in Chicago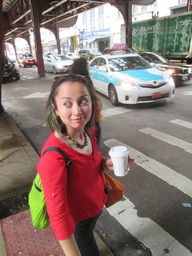 Chicago, USA
June 12, 2014

It was beyond improbable that we would meet up again anytime this year. Yet it just happened and in all places, here in Chicago. I don't live in this city: I'm only passing through for 10 days. Nisagul had far, far less time in town: a two-hour layover en route to L.A.--and this her first trip to the U.S., at that. The last time we saw each other was three and a half years ago on the opposite side of the planet. Somehow, I've managed not just to see my former roommate of long-ago days when I lived in Urumqi again but to share a full day together out around town.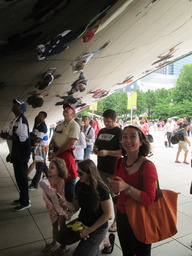 Nisagul Under Bean

Why here? How now? Who knows! Lots of good luck and wishful planning came together to allow us to meet up today.

Nisagul's professional life has been getting better and better. Even back when we began rooming together 10 years ago she had begun working as a tour guide. That's grown from leading tour groups within Xinjiang to tours across China to tours of most countries lying between Turkey and Thailand. She used to envy me my passport; these days mine is largely blank and it's hers whose is filled with recent stamps covering most of the pages.

This is Nisagul's first time leading a tour from the U.S. and her first time anywhere outside of Asia. I was happy to hear how well things were going in her life and hoped that we'd have a chance to meet while she was here in the U.S.. But, as she's in L.A. for training sessions until the end of June and I'm on my way off to Madison, Wisconsin for a course of my own starting in a couple days... it didn't seem likely we could connect.

Complicating our plan to meet anywhere was the need to wait for her visa to be issued by the U.S. Embassy in Beijing. She wasn't able to book a ticket until that was in hand. If the visa did come soon enough she'd be willing to pay for a flight to Chicago herself so we could spend a day or two together. But, that wound up taking longer than hoped. She picked up her passport only yesterday, left China today, and has to make it to L.A. by tomorrow morning.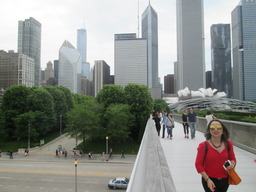 Footbridge to Art
Institvte Rooftop

In what at first seemed another stroke of bad luck for our rendezvous possibilities, once Nisagul's visa did come through the travel agent for her tour agency booked a different itinerary than what she requested. What she got was a simple round-trip ticket from Beijing to L.A.. But, Nisagul had specifically asked to fly into Chicago then out of L.A. on her eventual return back to Beijing: that routing would mean not just saving an immense amount of time to meet up with me but that she'd also have to pay for only a one-way flight between Chicago and L.A.. With a set itinerary from Beijing to L.A. so close to the first day of her training sessions it really didn't seem likely that we could get together. I felt slightly disappointed as I realized that I wouldn't be the first person she'd be meeting up with on her first visit to America.

A glimmer of hope came when Nisagul forwarded her itinerary to me:

June 12: PEK => ORD => LAX
June 27: LAX => ORD => PEK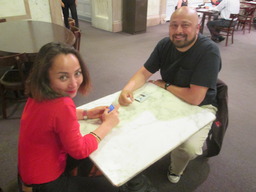 Chicago Cultural Center

I sent an excited e-mail message to Nisagul:

"Did you realize that you have to make a connection in Chicago! It's only for two hours, but maybe you can delay your flight so we can spend some time. Can you call the airline to ask them what the change fee would be?"

Nisagul called the airline. The change fee would cost over $250 USD and allow us to spend only the afternoon together. It didn't seem worth spending that amount for such a brief connection. I proposed an even crazier idea she might try:

"There was one time I had a really tight connection in New York. I was hoping to stay with a friend that evening but it would have cost too much for a stopover. So, I took my time getting through immigration and customs. By the time I got through all the formalities my connecting flight had already left. The airline put me on the same flight the next day at no charge: just what I'd been hoping for. I saw my friend and stayed with him in New York.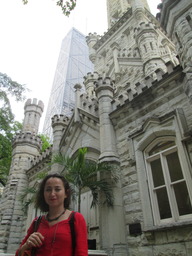 Water Tower and
Hancock Building

"You have a longer connection so I don't know if that might happen for you. Maybe if your flight is delayed or if you just take your time going through all the procedures you'll have to catch a later flight? We won't know until you get here so I'll just come up to the airport when your flight is due, anyway. If you can somehow manage to pay a more reasonable change fee on that date or if you happen to take so long getting through immigration, maybe we can at least have lunch at the airport?"

Nisagul's flight arrived early. When I got to O'Hare this morning she had already made it through security and was waiting on me. I hadn't expected she'd actually be able to make it out of the area of departure gates. We shared loud, excited greetings and hugged hello.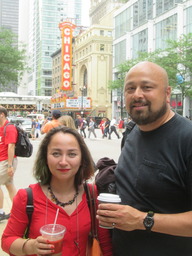 Chicago Theater

I asked hurried questions:

"How did you make it through? Did you have to pay a fee to change your flight? How long do we have to spend together?"

"You'll never guess... my flight to L.A. was cancelled!", Nisagul said.

"Oh. No way! So, you didn't have to pay anything! That one I hadn't expected. That is too perfect... ", I said.

"Yeah, the ticket agent was really confused by my reaction," Nisagul said. "She met several passsengers from our flight and told us how sorry she was that our connecting flight was cancelled. When I heard that I shouted out, 'Cancelled! Really? Yes! Does that mean I can take a later flight?' She looked at me funny and said that she could get me onto one at 3:00 P.M. but I asked her if I could take the one that you suggested leaving later this evening. She was really confused why I was so happy to miss my connection but she did let me pick my flight. We can spend the whole day together."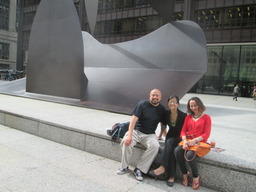 David, Chia-Yi,
Nisagul, Picasso

We made our way into the city. We started with her first meal in the U.S.: cups of coffee and a shared pizza (vegetarian was the only halal option) in the Loop. I proceeded to give what must be a fairly standard tour of attractions for visitors with short time to spend in downtown Chicago: lots of photos underneath the enormous, shiny, metallic bean in Millennium Park. A stroll up the walkway from Grant Park to the rooftop of the Art Institute. A glimpse at the massive Tiffany glass dome on an upper floor and detailed inlay throughout the Chicago Cultural Center. A walk back up the Magnificent Mile--with pauses in a couple high-end stores I wouldn't normally shop at--to visit the Water Tower.

While walking around together I found it charming viewing her reactions to things that are common and ordinary in the U.S. but don't exist anywhere in China. She'd probably seen yellow school buses enough times in American films and TV shows to know what one was when she saw it driving down the street--but she still had to confirm by asking me, was surprised by the dimensions (bigger than it appears in movies,) and took several photos. The Walk/Don't Walk signs that alternate a white stick figure with a red hand had to be explained. (I had the opposite reaction the first time I saw Chinese crossing signals, years before the kind with countdown timers had come to anywhere in the U.S..) At one point Nisagul mentioned how she'd "finally made it to a country where English is the default language" and it was only then that I realized, despite how fluent her language ability, that this was her first time in such a place.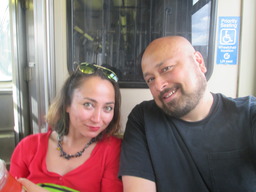 Blue Line to O'Hare

We finished by meeting Chia-Yi outside the WGN studios off Michigan Avenue just north of the river. The three of us didn't have much time together, but as Chia-Yi and I originally met taking Uyghur class together I knew she'd be interested in meeting an Urumqi native. We ordered cups of coffee to go at Intelligentsia on Randolph (Nisagul was in dire need of caffeine by this point) then strolled over to Daley Plaza where we sat and chatted beneath the Picasso sculpture. All too soon it was time to return to the airport.

I just got back from escorting Nisagul back out to O'Hare. She's presently on a flight to LAX. What a wonderful confluence of circumstance. Who knows when and where we'll meet again?

Past Adventures with Nisagul: