Cemetery and Oratory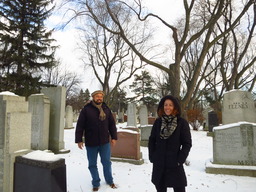 David and Tiffany at
Notre-Dame-des-Neiges Cemetery

MONTRÉAL, Canada
November 20, 2014

A cemetery and an oratory were on the to-do list today. Having two friends come calling has gotten me out to visit attractions around Montréal that I'd previously neglected.

St. Joseph's Oratory is among Montréal's best-known landmarks. I'd never been but had been curious since Professor Gwen once related quirks that she'd found unique when she visited:

"They have this room with all these crutches that people who couldn't walk cast off after making a pilgrimage to the site and regaining use of their legs. There's another room that has the founding priest's actual heart preserved in a jar. Those Catholic traditions sure were strange... Oops! I forgot, you were raised Catholic, weren't you?", she said.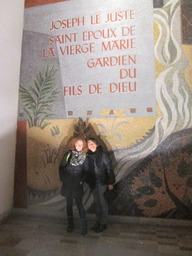 Tiffany and Lisa Visit
St. Joseph's Oratory

"Yes, but even I find all that weird and well beyond anything I remember," I said. "I'll have to visit myself whenever I next have guests in town."

Tiffany herself proposed making the visit to St. Joseph's. We both wanted to see somewhere that we hadn't visited when she came to town last year. Lisa was more than happy to go any- and everywhere: it's her first time visiting Montréal.

Enormous and cavernous (literally, at least at the lowest level) as the structure was, we found all the unusual highlights Professor Gwen had mentioned. There were additionally massive wooden figures of the apostles mounted to line the wall of the main basilica. Those had been carved into unsmiling representations with twisted faces glaring down. Sacrilegious as doing so might have been, it was hard not to chuckle at these stiff figures that were meant to be somber depictions of figures central to Church doctrine. It was all the harder not to giggle when I noticed the Siamese nature of one of the carvings: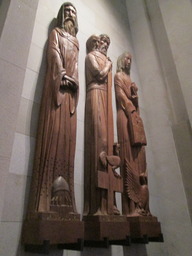 Peter/Paul
and Chicken

"Hey, that dude's got two heads!", I pointed up as Tiffany, Lisa and I stood beneath three figures. The holy man in the center bore an inverted cross on which a full-sized rooster straddled the horizontal beam; the saint's shoulders were capped off by two glowering visages.

The same room was also lined with stained-glass representations of miracles attributed to St. Joseph including one stemming a typhoid epidemic in what is now present-day Ottawa. There was a massive pipe organ that would be wonderful to hear played some day. It certainly was a unique place to explore. I'll likely take any future guests back for a return visit, especially if the timing means getting to hear that pipe organ being played.

At the end of our visit to St. Joseph's Oratory a friend of Tiffany's who lives here in Montréal, Sarah, picked us up to drive us all down the road to the Notre-Dame-des-Neiges Cemetery. I knew less of the background of this destination but somebody in the group wanted to see it and it was right just a few blocks away from the Oratory. It turned out to offer a fascinating glimpse documenting past waves of immigration through Montréal's history and the communities various groups built up.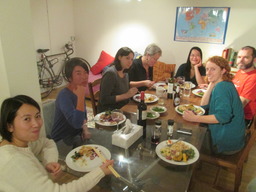 Dinner Party: Siliu, Lisa, Sarah,
Gwen, Tara, Eddy and Tiffany

Tombstones in one patch of the graveyard all bore Slavic names. Next to those was a section of Chinese: mostly Cantonese I'd guess by the roman transliteration next to the characters. Expectedly, the majority of the surnames throughout the cemetery were of French descent. I was initially puzzled by a large monument to men who had died in Australia in the mid-19th century. All the names were common Quebecois names; what was the connection with Australia so long ago? Pausing to think about it I realized that both Québec and Australia would have been under the British Empire at that time. They were probably prisoners or perhaps guards who were sent across the planet when Australia was being used as a penal colony.

With two guests now staying in it my new apartment has transformed into full-on hosting mode. When Lisa arrived I had to find somewhere for each of us to sleep. I already had one spare day-bed; thankfully I was able to bring another mattress down from my landlord's unit just upstairs. It's not crowded but having two simultaneous guests is likely the comfortable limit to host at my new place.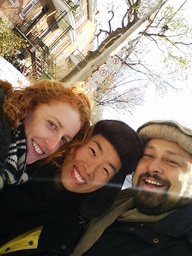 Tiffany, Lisa, and David

Furthering the apartment into its new role as social locus Tiffany proposed a potluck. That was fine by me. She and Lisa cooked up the main dishes. They took some of the buckwheat I'd bought at the local Russian market and turned it into one of the ingredients filling out a fish pie. We declared a vague "Russian/Central Asian" theme to the meal in order to complement the buckwheat based central dish. Professor Gwen cooked up a batch of her recipe for Xinjiang-style polo (a.k.a. pilaf, a.k.a. pulao.) Low-ceilinged student apartment this may be, somehow it worked to accommodate eight people--the majority of whom were in some way connected to Tiffany. I was happy to host a dinner for the first time in years. I've been living in this place only a few weeks and already feel so settled.

Tomorrow, our catch-up will take us to other places beyond both my apartment and even all Montréal. I've rented a car and will skip class to drive the three of us out to Québec City. Neither of them has been out there before; I'd like to share the non-metropolis side of Québec with them. I confess that, in addition to wanting to show my guests around thoroughly, I still have more affection for Québec City than Montréal. I lived there longer than I have in Montréal yet far and forged closer friendships over that time than I have here.

Next stop: Québec City