Michelada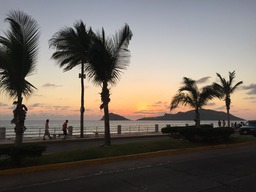 Sunset over Pacific Ocean

MAZATLÁN, Mexico
October 30, 2016

Maybe it's the salt air. Maybe it's the encircling, blue horizon. Maybe it's the powerful sunshine. Whatever the case, I am so happy to be here.

I've reached the Pacific. I don't know why arriving at the ocean feels like the major fork in this journey rather than changing direction of travel. Last week in Oaxaca I began making my way north rather than carrying on south as I had been doing over the previous 7 weeks. I'd expected that change in cardinal direction to have felt like more the departure in course. Rather, it's only here upon reaching the water that it's felt like my journey has reached the point where it changes direction.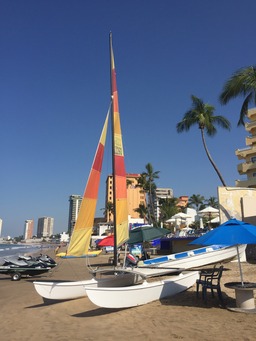 Whatever it is that accounts for my good mood, I'm happy to while away a couple days along endless stretches of sandy beach. The old city of Mazatlán is small but has more character to it than I'd expected: sleepy mid-20th century bars with sidewalk seating; cute, colorful plazas lined with restaurants offering seafood; dune buggies ferrying tourists along the shore up to the developed beach zone in the north.

In the short day and night I've passed here I've already met far more visitors from other countries than the entire previous three weeks I've been in Mexico put together. Fellow tourists from the USA, Canada, Ireland... most of whom seem to have staked out their own long-term personal niche here in Mazatlán. The ones I've met largely fall into one of two age ranges. They're either 30-to-40-somethings who are spending a few weeks here or retired 60-to-70-something-pluses who are spending a few months here. Unusually, I wouldn't describe them as travellers. They've flown from their home countries straight to Mazatlan and are going little beyond the beach, even to other points within Mexico, over their entire time away.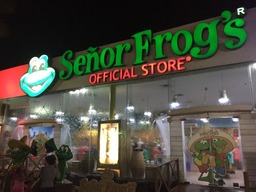 Señor Frog Shop - Mazatlán

Different as our itineraries are, it's been enjoyable to converse in English again for my first time in several weeks.

I've thought of something else that might be contributing to my present good mood: the "drink of death" is everywhere here. I've spent this afternoon in old Mazatlan atop a bar balcony overlooking the Pacific. I've just finished off a michelada: a drink that holds a certain significance in my family. When Grampa died eight years ago we toasted him with what we saw as a new and bizarre beverage we'd come across in the local grocery store. When Mom died two years later we brought the drink back for her "real fun" (not "funeral") celebration. The version we know appears to originate in this part of Mexico.

If how the michelada I just drank was served to me was served traditionally it should evidently be mixed like this:
one cheap cup filled with ice
one large, colored straw
one liter of weak, Mexican beer on the side
200 ml of Clamato
Dip rim of cup into mix of sticky, sweet chile paste.
Pour remaining ingredients together and sip.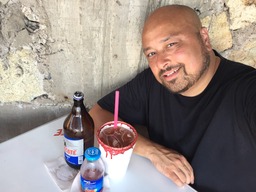 David with Michelada
Nursing a michelada/"drink of death" beachside seemed the appropriate way to while away this afternoon. Day of the Dead festivities were coming into full force back when I left Mexico City. Given that my family's gatherings around the death of a loved one have been less somber affairs so much as whimsically cathartic events spent together (which is also my sense of how Dia de Muertos is celebrated here across Mexico) it feels like the right drink for this hot afternoon.
Next stop: The Copper Canyon