2005.01.20 Beijing, China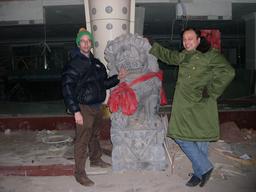 Life continues to go well. The party I had at my place before leaving Urumqi drew perhaps twenty people. The hookah room was well received though I've already managed to scorch the new carpet with dropped lumps of coal.
I'm back in Beijing. I've spent a couple nights here so far, staying at the flat of Aaron and his girlfriend, Susan. I arrived here the afternoon of the 18th and was received by Joyce at the airport. We went straightaway to the dim sum restaurant we ate at in May--that one which shapes mango pudding into the form of a huge goldfish.
After lunch we met up with Aaron and Susan at their flat on the campus of Peking University's medical school. The four of us spent time chatting, catching up, and getting acquainted with one another. We all took dinner at that same Korean restaurant Joyce and I used to frequent--which turned out to be walking distance from their place at the medical school. I had actually eaten Korean barbecue the previous night in Urumqi with a large crowd and was disappointed with the results. Before trying it I was so excited to have finally found a place in Urumqi that offered the style of cuisine I enjoyed while staying here last year. However, the Urumqi location just didn't have the same variety of pickled vegetables and fermented soybean paste. Coming back to Beijing I felt almost obligated to correct that experience by returning to a place I knew would be delicious.
The rest of the evening was spent in a Beijing bowling alley with a crowd of expatriates who work for the Xinhua news agency. I don't know why it always comes around to bowling in China. I've gone bowling a total of three or four times in the U.S.--my number of games in China is surely double that. It wasn't a bad night--we bowled three games--in each my score was comfortably over 100.
Yesterday Aaron and I decided to take the afternoon together. After snacking on pot-stickers (锅贴) we browsed a bookstore down in the Wang Fu Jing part of town. Being in Beijing makes me realize how different existence is out in Urumqi--the selection of available titles at the bookstore seemed huge. The stock of average pharmacies is laden with goods that are hard to find in Xinjiang. It was hard for me to resist stocking up on items I would use back there (e.g. baking-soda toothpaste and hand cleansing gel) while at a local Watson's, despite that I'm heading on to America so soon.
Dinner was the four of us again, this time boiling hot pot. We capped off the night with a foot wash and massage, then wandered home. I have one more day here before going back to the States. It doesn't seem enough.