2005.02.07 Spokane, USA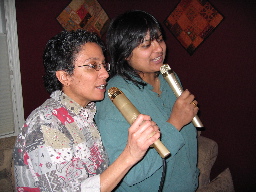 Vega and Mala
I'm back on the road. My first stop has been Spokane--about as far as one can get from Seattle yet still be in Washington State. This not only in terms of distance but local outlook and culture as well. Western Washington is lush, with evergreen trees and rain forests. The eastern side of the Cascade mountains is desert. Seattle aims to be cosmopolitan and liberal--Spokane has more of a country music and church-going atmosphere.
I've spent a couple days staying with Jhana, a friend I got to know while we were working together in Tokyo. We've both been in the process of applying for permanent residence in Canada so spent much of yesterday filling out forms and writing letters. It's good--I've been procrastinating the process far too long.
My last week in Seattle was busy. I was double or triple-booked every day, meeting up with friends and loved ones. Also, I shifted across town from the home of my sister's family to stay with Mala and Vega. Mala and I met when taking Hindi class together in University. Vega is her partner of many years. They have a large, lovely house in Seattle's Wallingford area. I figured it would be good to stay at different locations to spend more time with friends and not impose too terribly in any one place. My stays at both locations were wonderful. With my busy schedule I would probably have wound up just meeting for coffee or dinner with Mala and Vega, but the proximity meant for lots of impromptu catching up.
The first several nights of my stay found us spending several hours around their home karaoke machine. I guess it's no longer strictly an East Asian past-time. The previous times I'd sung karaoke in the U.S. it was always somewhere more public: a restaurant, bar, or bowling alley. The box approach is the standard around Asia, where friends crowd into a private hired room. I was surprised that Mala and Vega had decided to get a machine to connect to their television set--another popular approach across Asia.
They were evidently so taken with nights of home karaoke that they bought a new machine when their first one broke. Mala casually complained to me one day about how the song selection on the original machine was superior. I figured there was a good chance there wasn't anything seriously wrong with it, so had them get me a screwdriver. Sure enough, the battery terminals were covered with corrosion from a leaky cell. I tried unsuccessfully to clean off the green cruft, but success came only when bypassing the circuit with the metal wire of a garbage bag twist-tie. Fixing the original machine meant not only a new song library, but two more microphones: duets!
Many more hours and nights of karaoke ensued.