2005.02.09 Malad, USA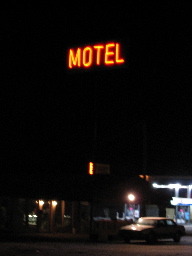 The Village Inn
I doubt that any readers of davidwong.com would ever plan on passing through this remote town, let alone stop for the night. But just to ensure nobody has the same experience:
I drove from Spokane to Malad near Idaho's border with Utah. I hadn't intended to stop but started getting drowsy. Then it began to snow. I had just balked at paying $60 for a night in Blackfoot, the last city I passed through. I figured I'd better take whatever came along just to be safe. The next town turned out to be Malad.
Malad has one hotel: The Village Inn. The rates weren't that much cheaper than up in Blackfoot. Pulling in at 9:30 P.M. found the front office already locked, with a sign out: "Ring Night Bell". I pressed the bell firmly. Then again. After trying to ring the bell three times I went around the corner and rapped on the window of the office.
A dog started barking, and an old man came angrily up to the counter. "That's the first time anybody's done that--knocked on the window!" he yelled at me. "I'm sorry, I don't think the doorbell is working," I responded. "Oh, it works fine--see," he said, pressing the button to no effect.
The rest of the conversation got worse. He repeated no less than three times that, "Nobody else ever knocked on the window." At points it seemed like he was trying to chat and be friendly, but would then get angry. When filling out the vehicle information on the registration card he asked me which part of Washington State I was from. "Seattle? Why my wife's up in Redmond right now," he replied. "That's just across the lake," I said, continuing the empty banter. "I know where that goddamned city is!" was his response.
When the credit-card slip showed my name, he asked me suspiciously, "You've got a weird name. Now where are you from originally?"
I won't waste time rehashing the entire experience. There were many other unpleasant points. After paying and driving across the parking lot to my room I could see him peering through the curtain during the multiple trips it took me to unload the car.
So, this could have been:
Deaf grump
Random, old, creepy guy
One of Idaho's fabled neo-Nazis
Small town paranoid suspicious of anybody resembling a potential terrorist.
Bleah.