2005.02.16 San Francisco, USA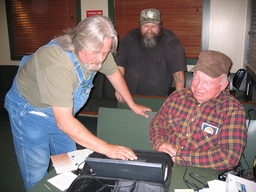 Leaving Las Vegas Saturday morning was an interesting experience. I drove Hidetada to the airport, dropping him off at the curb to check-in. I then parked the car in a garage to return and say a proper farewell. When I came back he wasn't around the check-in counter so I wandered throughout the terminal trying to locate him. No luck. I came back to the area where we parted ways, sat down, then opened up my laptop to send him an e-mail message. (McCarran has free wireless Internet access throughout the airport.)
While I was typing, a young woman sitting a couple seats over tried to strike up a conversation. She started by asking the time. I replied that it was a quarter of noon and went back to composing my message to Hidetada. Even though I was plainly ignoring her, she continued on: "Guess that means I've got twenty hours before my flight." I wasn't really paying attention to what she was saying until she practically burst into tears: "I was supposed to get married today, but I'm not going to."
When she carried on explaining her situation I asked if she'd rather chat over breakfast somewhere. We drove into town and sat down at a basic American diner: Coco's on Tropicana.
Her name was Christy. She had come to Las Vegas from Oklahoma City a couple days earlier with her fiancee. Excepting Texas, it was her first trip outside of Oklahoma. He had disappeared the night before, not returning until 9:00 A.M. on what was to be their wedding day. When he did come back he was drunk. Christy was sure he had been with another woman as well.
An argument ensued, which grew loud enough that somebody called the police. The couple were supposed to fly back together the next day but Christy decided to just get out immediately, take the bus to the airport, and try to catch the same flight a day early. However, there weren't any flights on Saturday, so, with no money in her pocket, she had a full 24 hours to kill at McCarran.
I mostly listened to her story but tried to sound supportive between bites of bacon and eggs. I doubted she was really in a state of comprehending what anybody had to say. Still, I tried to sound positive, telling her that she'd made the right choice by calling off the marriage. She claimed that she would never give him another chance, but it didn't ring true. I encouraged her to write down whatever she was feeling and to go consult that if she ever considered taking him back. She thanked me repeatedly for listening and for the meal, and promised she would send me a postcard to my address in China.
I dropped Christy back at the airport and continued on I-15 to Los Angeles. Mid-way I pulled off at a truck stop just west of Barstow, attracted by the sign that they were now a "Wi-Fi Hot Spot". I sat at a table inside the drivers' lounge to see if I could contact Zach in L.A.. For the second time that day I was interrupted by a stranger the moment I opened my laptop. "Oh, this must be a guy who can help you out," an old lady exclaimed, looking alternately at me and the man sitting in the booth behind me.
It turned out this fellow was trying to use a computer for the first time in his life. His brother had given him an old, bloated laptop. He was trying to figure out how to install a wireless network card he had just purchased without much success. I guided him through the process but failed to get it to connect. As we were trying to make it work I soon realized how disconnected he was from the Internet era. He asked me what I did. Rather than initiate a discussion on all things Uighur I replied that I was last working for Amazon.com. His response was utterly blank--I might as well have told him I was studying Arabic calligraphy in China. "Huh? What's that?" I explained that it was a store that sold its products via a website. He didn't seem to understand the concept.
I suppose we were equally ignorant of each other's world. I really had nothing to say when he told me that he raised horses on a ranch some miles from Barstow.
As with so many times when a computer needs configuration, a crowd of guys gathered around, each offering up their two-cents on how the machine might be made to work. I had been surprised enough that the local Flying J was offering Wi-Fi access at all. I felt somewhat ashamed of my pre-conceptions when a huge hillbilly from Tennessee offered the rancher some fairly good suggestions on how to get the wireless card working. When chatting with him a few minutes before I'd presumed him to be, like the rancher, utterly disconnected from the wired world.
I'm not sure where the third guy in the photo was from or what his story was. I did notice that he got pretty nervous when he realized I'd just snapped a photo. He had disappeared completely from lens range by the time I took a second picture.
When leaving the truck stop and walking back to the car it dawned on me that perhaps the woman at the Vegas airport was pulling some sort of scam. Wouldn't it be a great story to spin to departing passengers, who would probably give her a few bucks to make a long-distance call or even a hotel for the night? But all I had done for her was buy a plate of biscuits and gravy, which went for $2.50. I was pondering if her ordering of the cheapest item on the menu was proof enough she wasn't pulling some sort of con. Right at that moment I popped open the trunk and again felt silly for being judgmental about somebody I didn't know. When I took her from McCarran into town we'd left her luggage in the trunk. I saw that she had forgotten to take her umbrella, which was sturdy, brand-new, extremely large, and now a happy addition to my road-trip. If she was some sort of grifter, she wasn't a very good one.
I'm having a great time around California. Zach and Lisa are both well--their new apartment is one block off of the sands of Venice Beach. Lisa's now an attorney with a firm in Beverly Hills, Zach is at Apple's Santa Monica office. Wandering along the shoreline and smoking the hookah two consecutive nights in their new flat was a great way to re-connect.
While in L.A. I got together with Kim L. for an afternoon. She was supposed to take care of my cat and apartment when I left for Kashgar in September of 2003. However, she had a difficult time in Seattle and wasn't able to stay more than a couple months; I wound up flying back from China at the end of that year to find a home for Mango and move my belongings. Since then she's been wonderful about squaring away that situation, repaying all of the rent and money she couldn't afford to pay before. She gave the balance of what she owed me in person, which felt like the right way to finish things. We strolled around the Santa Monica Pier, chatting, catching up, and enjoying the view of the water and beach.
Kim has had an interesting year since we last saw each other. She's moved down to L.A. and is now Nanny to the Stars, taking care of the children of actors so famous even I have heard of them. She will also appear in an upcoming episode of Survivor, solidifying my notion that everything in L.A. must revolve around Hollywood.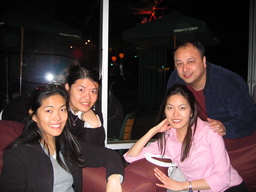 Cousins: Jenny, Joyce,
Cindy, and David

L.A. was also my place to re-connect with relatives. Monday night I took dinner with twin cousins Cindy and Jenny. (They paid, which has been one of the benefits I've found visiting the country and catching up with folks this month.) We had barbecue at a place in Venice, then took dessert with our second-cousin, Joyce, a Hong-Konger who has been studying in the U.S. for about a year.

Yesterday afternoon I finished my time in L.A. by taking dim-sum with first-cousin-once-removed Martha in Monterey Park. I was again pleasantly surprised to have somebody buy me a yummy meal unavailable in Urumqi.

I pulled into San Francisco yesterday evening after a six-hour drive from L.A.. I'm staying at the Embarcadero Hyatt with cousin Tina. It's a great situation for me, staying in a swank, central hotel. It's not so wonderful for her, though. She's been here over four months already: the condo she recently bought has developed water and mold damage and is currently uninhabitable. Tina may come along with me up to Seattle--it'd be great to have company on what I thought would be a solo road-trip.