2005.03.02 Beijing, China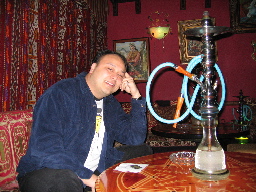 It feels like I'm home again. I've spent the past few days around Beijing, splitting my stay between Joyce and Aaron's respective apartments.
I'm not yet back in Xinjiang Province though it is fun to be in Beijing visiting friends, shops, and restaurants unavailable in Urumqi. I feel energized being back in China--this seems like the right place for me to be over the next year or so. I'm a bit surprised how comfortable spending time back in the U.S. was yet how at ease I feel with life here. There's been no sense of culture shock making the transition between the two--not what I anticipated.
I had intended to spend my entire stay with Aaron and his girlfriend Susan. Not long after Joyce picked me up at the airport it came out that she'd been frequently quarreling with her fiance who lives in the U.S.. They had just broken up the day before. I spent the first couple days of my stay at her flat, listening, giving her a chance to vent. Within a couple days he apologized, so the two of them seem to be together again.
I chatted with Nisagul this morning. She and Rahila have been housesitting my Urumqi flat over my absence. Before leaving in January I told them they would be welcome to stay there through the end of the school year as well, provided we spoke in English no more than half the time. Nisagul said they have indeed decided to stay on. This doesn't surprise me, given the bleak atmosphere of the campus dormitories. It sounds like party-in-the-desert to me: all the language and culture benefits of staying with a host-family, but reversed, living with cool, fun, friends.
I fly back to Urumqi tomorrow night. I had considered taking the train, a two-to-three day journey. When I found that classes had already begun on Monday I decided to return more quickly. Fortunately, Joyce helped me find a heavily discounted fare, so cheap that it will actually cost less to fly.
I'm excited.