Whither Winter III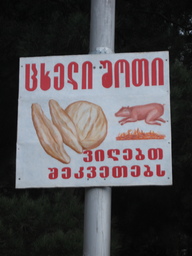 Sign in
Georgian Script

TBILISI, Georgia
December 20, 2007

I'm still crashing at Leah's hotel but it's no longer the Yerevan Marriott. We've changed not only hotel location, we've changed countries. Her project in Armenia has finished, right in time to begin another project across the Caucasus. A four-and-a-half hour drive this Sunday brought the two of us up from Yerevan--the capital of Armenia--to Tbilisi, the capital of Georgia.

Since arriving, I have made some effort to get out and see places around town: the fortress above the city, the churches, the old town. Tbilisi feels different from the other places I've passed through over this trip. The architecture has a European air, more so than what I just saw down in Armenia. Georgian cuisine is unique. Dishes seem centered around salty cheese. Another point in Georgia's favor: the region has centuries of experience making wine. After several years in China, seven dry weeks in Iran, and recent months crossing a region perhaps most aptly named "Shish-kabobistan", the prospect of wine and cheese available at every meal excites me.

While I've not ensconced myself in the hotel room to the degree I did down in Yerevan, I'm not getting out and exploring as much as I usually would. It's cold. Snow fell today. It's just not the right time of year to play the tourist. This combination of bad weather and having a warm, free place to hole up inside simply isn't conducive to getting out to explore.

Leah and I are still trying to figure what comes next. Our timeline and next destination seem to change every few days. Until about an hour ago, our plan had been to spend the next couple weeks traveling together. Leah's journalism training project was to finish up this weekend, we would then cross Turkey together. Based on these travel plans I've been hanging on in Georgia, waiting for the day we set off.

Lingering hasn't been a problem as I do have a free place to stay (i.e., Leah's hotel). However, word came today that Leah's project has been extended. She will stay on in Tbilisi at least one additional week. Her work might even keep her here through the elections early new year. Knowing this, I'm presuming that I'll make a move soon, going on solo to Turkey. We're both excited about the possibility of exploring Turkey together, but I don't feel like spending another week or two in Tbilisi--even rent-free--would be an option.

Leah should come back to the hotel within the hour. We'll talk about our travel possibilities then.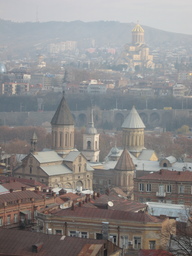 Tbilisi

I've once again met up with somebody through CouchSurfing. My first two nights in Tbilisi were actually not spent at Leah's hotel, rather at the home of Dion, whose profile I found on the CouchSurfing website before I left Armenia. Dion moved from England to Tbilisi recently to volunteer for environmental projects. It was great to connect with somebody who not only knew good places to go around town for food and drink, but was an interesting and fun person to chat and hang out with. We're planning on getting together again before I leave. We should take dinner together with Leah tomorrow. We also have plans for a day trip this Saturday to Mtskheta, the town Georgians regard as having the most historical significance in their culture. I really should see something more of Georgia before racing along to Turkey.

I'm hopeful that as I continue along west there will be more and more people such as Dion who I get to know through the CouchSurfing site. I'm certainly happy to have places to spend the night for free, but feel it's the connecting with locals which most enhances my travel. Advice directly from somebody who both lives in and who is familiar with the place I'm visting is so obviously superior to relying on some outdated edition of the Lonely Planet. Best of all, I feel that I've formed genuine--if physically distant--friendships with people I've met through CouchSurfing. I still maintain regular correspondence with most of the people I hosted back in Urumqi.