Cast of Characters V: Finale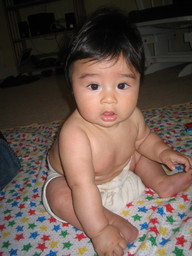 Vinh Robert

DIYARBAKIR, Turkey
January 1, 2008

No, I'm not having some grand reunion in Turkey with all the people I spent time with around China. I intended to post one final update of what the people I'd regularly profiled in past entries were doing before leaving China at the end of summer 2007. I never got around to putting it together. It was only the realization that it has been an entire year since my last "Cast" update that spurred me into finally composing this long-overdue entry.

I've dubbed this episode Finale as I no longer live in Urumqi. With the exception of Michael, none of these friends will be proximate to where I anticipate living.

Most photos were taken the last time I saw any of these people, the final week of August 2007.

Mike

Michael is still in Seattle, more permanently so, it would seem. He and Minh Chau became parents this past spring. Their first child, Vinh Robert, weighed in at 8 lbs, 12 oz.

After Vinh's birth, both Michael and Minh Chau cut their work schedules to part-time hours to alternate the days each parent would play the caregiver.

I'm sure Vinh is a fair bit bigger now than he was in this photo, which was taken half a year ago. Vinh started daycare recently, which should allow Michael to return to full-time work.

---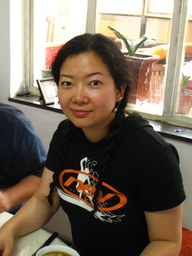 Joyce
There has been a lot of change in Joyce's life this past year. The executive position with the Beijing investment group went sour when Joyce found that she was being cheated by her employer. She took the extreme step of litigation to recover back wages and personal funds of her own she had invested. She took the case to court. I don't know what the outcome of that was.
In recent months Joyce has taken a full-time job as an editor at the Chinese travel magazine World Vision. She is presently contemplating a trip of her own this winter, flying to Sri Lanka, then making her way back to Beijing by land and sea, crossing India, Sikkim, Nepal, and Tibet.

---
Zhi Shuang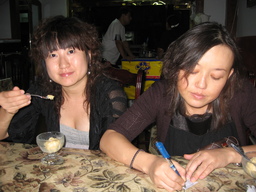 Zhi Shuang and Bahar
I saw Zhi Shuang several times before leaving Urumqi this past summer. Logistically, much is the same in her life as what I wrote about Zhi Shuang's life one year ago. She is still living in the same apartment off of Urumqi's People's Square, though her parents have moved out and back into their own home. She's still working at the same news corporation, she's still single.
For whatever reason, the times we met up before leaving, Zhi Shuang seemed quite happy. She didn't talk about change: no more talk about wanting to study elsewhere, no complaining about her single status. The times we met, her closest friend--Bahar--was often along. In related news, Bahar became a mother this autumn.

---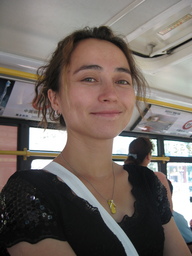 Nisagul
Nisagul continued working as a tour guide through 2007. When I left Urumqi, Nisagul moved from our place into a small apartment with her friend Amina, a former co-worker at the Fu Bar.
Nisagul's reputation as a guide who would leave foreign tour groups extremely pleased got around; her services were in high demand by several different agencies. That didn't necessarily mean decent wages--the only money she made was essentially whatever her customers happened to tip her.
Just today Nisagul sent me an excited e-mail message, announcing that she passed a major test and now has official tour-guide accreditation. She had taken the exam before, but passing the exam is more a matter of connections and payment to the right people than knowledge or ability with English. She finally managed on her own merit.
Now that she has this certification, Nisagul will have far more freedom to work--legally--as she pleases, with or without dodgy travel agencies.

---
Rian & Laura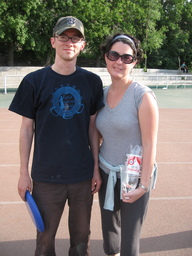 Both Rian and Laura returned to Urumqi for several months in 2007. Rian is yet in Xinjiang continuing his research into the traditions and history surrounding Islamic shrines throughout the region. Laura accompanied over much of the summer. She returned to Boston just before the start of the academic year both to teach a class and to defend her dissertation.
Rather than establishing themselves in a flat once again in Urumqi, Rian and Laura spent the summer of 2007 in hotels, hopping from one historical Silk Road city to another: Kashgar, Hotan, Yarkent, Opal...
Laura managed to return to Kashgar for a two-week visit in December. Rian himself will return to Harvard in early February.

---
Shahnaz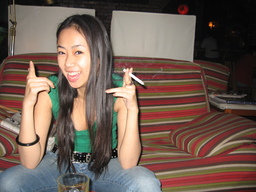 Shahnaz is yet in Beijing. We chatted on-line this evening, she now says that she will be moving to Paris in just under a month.
As ever, Shahnaz continues to go through boyfriends, though it sounds like there's been something fairly steady over this past year with at least one, a student from France who lives in Beijing.
Shahnaz made return trips to Xinjiang more than once in 2007. This photo is from when we met at the Fu Bar mere days before I left. Her French seems to be getting pretty good, but I never had any doubt that would improve. She has native fluency in Uighur and Chinese. And even after my years in Xinjiang, Shahnaz probably still speaks English better than I speak either of her native languages.
The next leg of my trip will take me all over Europe. I don't have specific plans to visit Paris on this trip, but will probably call on Shahnaz if I happen to pass through. I'm certainly curious to see what life in France does to her. Or perhaps, it's what Shahnaz does to France that I should be watching out for.

---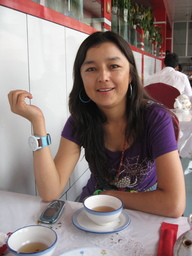 Shamsiya
Shamsiya is still working at Uncle Bob's Cafe. For awhile over 2007, Shamsiya's younger sister Mavluda was also working alongside her at the cafe. In summer, the cafe moved to a smaller location just down the street. Mavluda started studying at a small language school; Shamsiya wound up staying on as the sole worker.
Long before I left Urumqi, I offered Shamsiya first dibs if she wanted to stay on in the flat. A three-bedroom apartment, it would have been perfect for her and the two of her sisters who live in Urumqi. They all wanted to move in, but rent was 700 RMB per month, about $90 USD. Even with the three of their salaries combined, they wouldn't be able to front that much rent: the landlord insisted that whoever move in pay the full year's rent in advance.
Shamsiya instead wound up moving with two of her sisters and a friend into a small room near Urumqi's TV station.

---
Rahila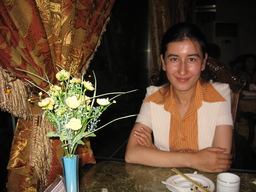 Rahila was still working at the Urumqi Mercedes-Benz dealership when I last saw her in late August. She's managed to sell a few cars, but is still unhappy with the work. When we met over dinner in late August, Rahila speculated about transfering into customer service to get out of the sales department. Nisagul mentioned to me not long after that final meeting that Rahila called Nisagul with a proposal that they open a custom bridal boutique together. I wouldn't be surprised to hear that Rahila has moved on to something, anything else, by now.
I didn't see Rahila as frequently in 2007 as I saw her in previous years. Her job was on the other side of town, a commute of an hour by bus each way, every day. She and her older sister, Mahira, did manage to make it fairly regularly to Frisbee matches on the Xinjiang University campus.
In related news, Mahira was married this summer. I wish I could have attended, but the ceremony took place over the time I was traveling in Pakistan.

---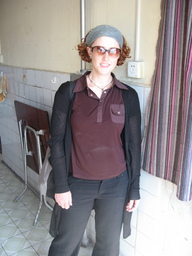 Tiffany
Tiffany and I seem to have been experiencing an identical Xinjiang timeline, if in tandem. She moved to Urumqi short months after I arrived in 2004. Tiffany left three months after I left, at the end of 2007.
Over her last year in Xinjiang, Tiffany decided to forgo the Kazakh language classes in which she'd been enrolling to focus exclusively on study of Chinese. She took advantage of the summer months to get out on many hikes through Xinjiang's mountains, many organized through a local Chinese nature organization.
At the moment Tiffany is back in her home state of California, earning some money. She is set on returning to China this spring, though is burnt-out on life in Xinjiang. She's been considering between graduate programs that would allow her to study in Beijing or Nanjing.

---
Previous entries in this series are at these locations:

Cast of Characters
May 28, 2004

Cast of Characters II
April 17, 2005

Cast Reunion
June 10, 2005

Cast of Characters MMVII
January 1, 2007