The Sutlash Line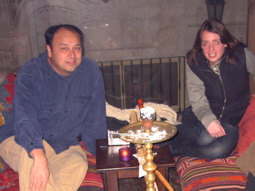 David and Penny

ISTANBUL, Turkey
January 12, 2008

I've spent the past few days in Istanbul staying with Penny, a friend from Urumqi. When we met, I was studying at Xinjiang University, Penny was teaching at English First--a chain of language schools with locations in countries across the globe. About eight months ago Penny transferred from the Urumqi location of English First to a branch here in Istanbul; it's been great to see a familiar face.

I've come a long way since my last update, the one in which I detailed my experience in Diyarbakir upon returning from the village of Mardin. Diyabakir is way out in the southeastern corner of Turkey. Istanbul is on the opposite end, in the northwestern corner--there's a lot in between. I would have liked to have stopped and explored around so many places between Diyabakir and Istanbul. However, my time allowed me to stop only at a couple points in between. From the dozens of places that sounded worth visiting, I settled on just two: Cappadocia and Konya.

I took four days to explore the Cappadocia region, basing myself in the village of Goreme. Covering a large part of central Turkey, Cappadocia is famous both for its gorgeous natural geology as well as the practical formations the people of the region have been sculpting their landscape into. Across the region, soft rock has naturally eroded into small peaks which cover the landscape. The rock of these peaks is so soft that many of them have been carved hollow by people for habitation. Since ancient times, these peaks have been carved--not just into cave-dwellings--but also elaborate churches, even entire underground cities--some of which descend ten stories beneath the earth's surface.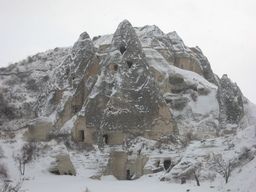 I first took in the site closest to Goreme. The best cluster of carved-out peaks have been turned into an "Open Air Museum". My first thought was, "What a rip-off!". To visit, it's necessary to pay to get a ticket, then feed it into a turnstile, to enter an area where the caves of most historical interest have been fenced-off.
The Cappadocia region is so vast that I debated whether I should bother to visit the "open-air museum". In the end, I figured that even if I could find examples of similar architecture, I'd have to walk for long hours through snowfall just to save a relatively small amount of money--10 Turkish lira is equal to about $8.50 USD.
The money was well spent. Not only were the structures near Goreme some of the best-preserved of the caves, there were also explanations in English that provided detailed background of each cave, enhancing my visit. My ticket also allowed entry to a nearby church which had been carved inside a peak many centuries ago. Inside, colorful frescoes depicting Bible stories adorned smooth rock carved into columns and arches.
Before leaving the area, I also took in one of the nearby underground cities. Delving ten storeys beneath the town of Kaymakli is a well-preserved network dug in ancient times. It's possible to walk through the upper five storeys today. The Cappadocia region has seen so many invaders pass through that its local people (starting with the Hittites, finally, the Christian population) often used this network of burrows to hide whenever another wave passed through. It's mind-boggling to see how well-engineered the underground cities were, complete with ventilation shafts, communication holes between walls, and--in the event of an invasion--large stones that could be rolled in front of entrances, blocking access to the underground city.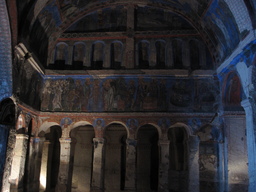 Church Carved Inside
Stone Peak, Cappdocia

From Goreme, I next spent a few days in Konya--one of the cities with the richest history in Turkey. The main attraction for me in Konya was the tomb of Rumi, the Sufi saint. I wasn't making a pilgrimage, myself: I went figuring there would be some nice architecture and calligraphy.

The ambience was better than I'd hoped for. I've visited many tombs on this trip, but Rumi's was the one that most encouraged lingering. The interior housed the sarcophagi of a couple-dozen saints. Naturally, Rumi's was the largest. Much of the building was given over to a museum housing various old artifacts, many of which (e.g., 19th-century clocks) were manufactured well after Rumi's time. I ignored much of what was on display to spend time taking in a manuscript collection which had some wonderful pieces. Glass cases housed beautifully scripted Korans set alongside manuscripts of calligraphy--the former decorated with blue and gold detail, the latter decorated with miniature illustrations.

What made the visit so pleasant was not just the manuscript collection, nor was it the well-kept decor gracing the walls. What made the tomb a comfortable place was the traditional ney (flute) music that was playing from speakers hidden somewhere high-above. The day I visited, I spent hours exploring the main tomb and adjacent buildings and exhibits (the site also housed a Sufi school). Nice as the collection and ambience were, I believe that if the music had not been playing while I was visiting I would have spent far less time inside.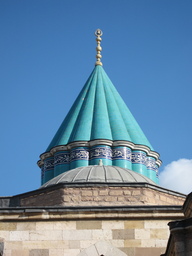 Spire Capping
Rumi's Tomb

My last leg getting to Istanbul was by overnight train from Konya. Penny received me at the old Hayderpasa railway terminal, the end of the line. Since then we've been catching up: going around town, eating out, and chatting about what's taken place in our lives since we last saw each other in Urumqi nearly a year ago. Penny lives in Cahangir, a central, busy neighborhood just off of Istiklal, a bustling pedestrian thoroughfare. All of Istanbul is modern and developed, but Istiklal is especially built-up. I've found it strange to be somewhere that I'm seeing brand names and chain stores from the west I haven't seen in months--years, even.

With so much on offer--western chain or traditional Turkish--it's great to be staying in the thick of somewhere with so many options to explore. We've been going out; as opposed to the present situation in Iran, the teahouses across Turkey still serve up hookahs. We've come home with a large box of baklava both nights I've been here. One of those nights we additionally brought home a dessert I hadn't previously known: sutlash.

Sutlash is pretty much the same as rice pudding: rice, sugar, milk, raisins, and cinnamon. That such a concoction exists is a true indication that I have left Asia and am entering Europe. People in China seemed confused or disgusted the times I would describe rice pudding or share some that I had prepared myself. In China, rice was perceived as something taken plain with a meal--occasionally fried up with spicy or savory ingredients. It was never considered something that could be eaten sweet, as a dessert.

I did want my initial descriptions of Istanbul to avoid all those cliches about this being the city where east meets west. I hope the topic of sutlash is exempt from cliche status. I assume that nobody has properly delved into the topic of just where this divide may lie, at which exact point rice pudding becomes incomprehensible. Perhaps I should do some research into mapping such a boundary: the "Sutlash Line" would be my idea of the true line separating Orient from Occident.