Around Sultanahmet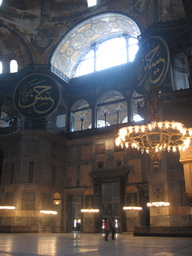 Hagia Sofia

ISTANBUL, Turkey
January 17, 2008

I've switched locations for the remainder of my week in Istanbul. I've left Penny's Cahangir flat for the Sultanahmet home of Deidre.

Deidre is neither an old friend of many years, nor is she a CouchSurfing host. She's an Australian I met traveling a few months ago, back in Samarkand, Uzbekistan. We were both staying at the Bahodir Guest House where we chatted over dinner one evening. It was further down the road when we truly got to know each other better, after leaving Samarkand. A couple days on, we happened to be on the same train to Bukhara. After arriving in Bukhara, we went out for kebabs and dessert--and have kept in touch via e-mail in the months since.

About eight years ago, Deidre ran off to live in Turkey. Evidently, this was not meant to be more than a quick jaunt around Europe. However, on that initial visit, something about Istanbul grabbed her. She gave up her life in Australia, in the years since she has bought two houses in Istanbul's central Sultanahmet quarter. I've spent my past few days staying as a guest in Deidre's main home, a beautiful building with views of everything.

It's been fun to catch up with each other, comparing where we've gone and what we've done since parting ways back in Uzbekistan. The weather in Istanbul has been fine; we've walked around the neighborhood a fair bit. Sultanahmet is where all the architecture I'd ever heard about before coming to Istanbul is: Deidre's house is next door to the Hippodrome; a five-minute walk uphill finds the Blue Mosque. Hagia Sofia is a couple minutes further on, just across a plaza. To the west side of the Blue Mosque is the Museum of Turkish and Islamic Art, a museum I was keen on visiting.

I figured the Museum of Turkish and Islamic Art would have a collection heavy on calligraphy, manuscripts, and miniatures. While there indeed were pieces representing those categories, the dominant work on display was traditional carpets. They were beautiful--but not what I like best. I had been hoping for more works of ink and beautiful scripts.

I returned home somewhat let down, but somehow fate intervened. The very evening I visited the Museum of Turkish and Islamic Art, Deidre happened on a description--on-line--of a museum devoted exclusively to calligraphy. She'd never heard of it before, but it wasn't far--located in a traditional madrassa in the plaza just outside Istanubul University. This afternoon we took the tram up together and visited.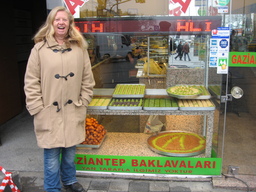 Deidre and the Baklava

The calligraphy museum held exactly the collection I was looking for. Beautiful Korans, huge pictures of words--or sole letters--which were in turn formed from hundreds of lines of finer script, too small to read. The collection was neglected. Both wings of the museum were dingy and dim. I don't feel this poorly kept setting detracted from the beauty of the calligraphy. However, I know that if the building and displays were better maintained it would have so enhanced the experience. The building surrounds an old courtyard and would be a pleasant place to visit in its own right if there were more attention to its upkeep.

My time in Istanbul will be up in a few minutes. I would have liked to have had more time to spend with friends (Penny and Deidre) in Istanbul, and more time to explore the city. This was my first visit. I've spent only one week: just enough time to scratch the surface.

I don't know just when I'll be back out this way, though am certain I'll pass through again. At the moment, I'm on the platform at Istanbul Gar: the railway station on the European side. I'll be taking the overnight train from Istanbul, arriving tomorrow morning in Thessaloniki, Greece.