Familia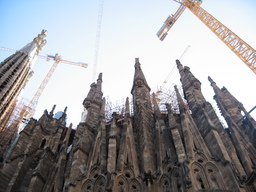 BARCELONA, Spain
January 27, 2008

I had a sense of my bearings even before we arrived into port. I have visited Barcelona once before, on a trip with Michael exactly ten years ago. Coming into the harbor this time, I recognized the statue of Colombus set atop a high plinth at the end of the Ramblas. It was a short walk past the statue into the Gothic Quarter. There I found a decent hotel, an ATM which gave me money, and wireless Internet access--all in under an hour from the moment I came ashore. Being back in the first world everything feels so easy.

I arrived into Barcelona a couple nights ahead of Mom's arrival, just to be sure there wouldn't be any problems. She's here now. We've been taking it easy. The agenda yesterday was a visit to the Sagrada Familia, the ornate cathedral that has been under construction for over one-hundred years.

The building was the main attraction for Mom in Barcelona, so we lingered for several hours. I did visit the Sagrada Familia that other time I came to Barcelona together with Michael. I was impressed with the structure then, but am now wholly amazed. Mom brought along a book detailing specific aspects of the architecture--I had realized that it was an ornate building with lots of embellishment, but had no idea the level of complexity. Most of our time was spent observing the different gargoyles and carvings on the exterior of the building: salamanders, cryptograms, and other seemingly random details are everywhere around the structure, all placed with deliberate significance. We did explore the interior as well, taking an elevator to the top and descending down a spiral stairwell back to street level.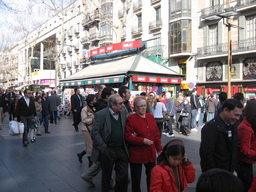 Las Ramblas

Today was spent running errands. I let Mom explore on her own while I attempted to buy train tickets and do laundry. I was unsuccessful at both: being a Sunday, even the self-service laundromats around town were closed, a computer malfunction at the railway station station prevented everybody from buying advance tickets for travel on future dates.

We're hoping to take overnight train to Granada tomorrow, spend time around Andalucia, then work our way north to Madrid. I had been hoping to get out reservations in taken care of in advance, but presume it shouldn't be a problem to buy a ticket the day we leave.