Day Trip II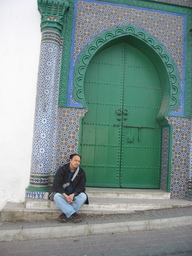 TANGIER, Morocco
February 01, 2008

I can fly again. After five months of traveling by everything but air: rail, sea, bus--I've reached a point where I feel it will be appropriate to get on a plane again: Tangier, Morocco. I've made it from China to Africa without taking one flight.

Though I'm calling Morocco my ultimate overland destination, the journey is far from over. Just now, Mom and I are at the ferry terminal, about to board a catamaran back to Spain. Tomorrow, we'll take a bus up to Madrid. The next day, my brother, Ben, will fly in from Seattle. The three of us will spend a few days together visiting Madrid. Then, Mom will fly back to Seattle and Ben and I will come back down here to explore Morocco more fully.

It might have been simpler to have made only one journey to Morocco, coming down here after Ben arrived. However, Mom and I were nearby anyway: Alhambra in Granada was one of the specific places she wanted to visit in Spain. I figured it would be fun for Mom to say that she's been to Africa, and I've been ready to finish the overland portion of my journey. Ben and I will fly right back down to Morocco in a few days, then take about three weeks exploring the country.

As with yesterday, which we took in Gibraltar, Mom and I have made a brief dash to another country for a short afternoon and evening. We took lunch at a restaurant off Plaza Mohamammed V, walked uphill through the marketplace to a nice park, then back down again through the old medina. At the edge of the medina we found a cafe, where we finished our visit with a few pots of mint tea.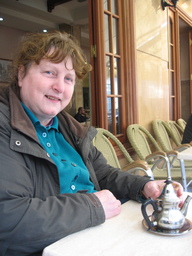 Mom and the
Moroccan Mint Tea

I had heard about sweet Moroccan mint tea before, but as this was my first visit to the country, this was the first time I actually tasted it. Moroccan mint tea is delicious. I peeked inside the small kettle in which my tea was served up and was suprised to find big sprigs of fresh mint inside the pot. That might seem the obvious way to prepare mint tea, but I guess my default concept of tea fixed in my mind must be as something that comes after steeping dried, prepared leaves.

After finishing our tea, we strolled back to the waterfront to catch the ferry across to Spain. While waiting at immigration, an older American couple joined the line behind us. The woman asked me, "How much did you pay for your guide?" I told her that we'd just been exploring on our own, though we did have a few people approach us offering guide or taxi service when we stepped off the ferry.

She went on to relate that they had just been through the very sort of experience I was hoping to avoid on our day-trip. The couple had hired a guide who approached when they arrived in Tangier. They agreed to a price of forty euros EUR for the day, with the understanding that the cost of lunch would be included. After eating lunch, the couple were stuck with the bill for their meal as well, adding another 24 EUR. 64 euro is about $100 USD.

I had actually considered hiring a guide who offered his services when Mom and I arrived. I suspected that it wouldn't be that hard to find all the places he mentioned (e.g. market, old city, good place for lunch) on our own. However, I had no guidebook and wasn't sure how easy it would be to make our own way. The rate he asked was 20 EUR, which didn't sound too bad. But, aside from not really wanting his services, I was pretty certain that 20 EUR wouldn't be the final cost.

So, I ignored the potential tour guide who approached Mom and me when we stepped of the ferry. As with most touts, he was hard to get rid of. I've found the best approach to get rid of unwanted attention from beggars, street children, carpet sellers, and all manner of touts is to just ignore them and continue along my way, never engaging. Say one word and they'll double their persistence. So, I just said nothing while he followed alongside. He kept up for about 10 minutes, repeatedly trying to offer his services. I finally looked him in the eye and told him, "We're not interested," speaking in standard Arabic. That was, fortunately, one of the few sentences I could recall from language classes taken many years ago.

I was surprised by the conclusion he jumped to from my speaking one sentence of Arabic: he presumed I was from somewhere else in the Arab world. "Which is it?", he also replied in Arabic, "Are you from Lebanon? Or is it Syria?" I repsonded that I was an American and still not interested in his tour.

He eventually went away, telling a taxi driver that he could try his luck with us but that, "He speaks Arabic." The cab driver tried for a few minutes and gave up: we were already at the edge of the medina.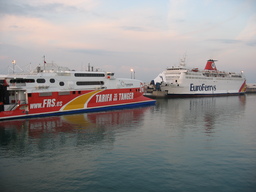 Tangier Ferries

In the end, random strolling found us in all the places the tour guide offered to take us: the market, the old city, and a good place for lunch. That was more than I'd been hoping to experience in a short day-trip with Mom.

I believe what surprised me the most about Tangier was how much nicer the city was than what I had expected, and how much tamer the scams and hustles were from what I'd heard. I had heard horror stories about what a nasty pit Tangier was. Our stroll around town found clean, maintained parks and not too much hassle from people focusing on western tourists.

This is a point when I expected to be road-weary, ready to end my long trip. However, getting a little taste of Morocco, I now feel recharged, taken by how different things are here. For example, I've seen many men wearing beautiful cloaks that look to me like some sort of religious garb: a long, ankle-length gown with a hood, all sewn from heavy material. It's just an ordinary thing for a man to wear around here, but I haven't seen it in any of the places I've been through. Mom says she thinks that kind of cloak is called a caftan. Seeing something unexpected and different from what I've seen in my previous months of travel (i.e., caftans), gets me eager to return back down here and continue the trip. Ben and I will be back in just a few days; hopefully our time will be enough to feel we've gotten a proper taste of the country.