Communicating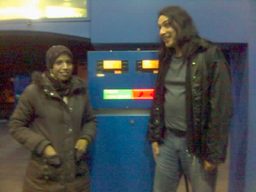 Khadija and Ben

CASABLANCA, Morocco
February 16, 2008

Ben and I stayed on a couple days longer in Essaouira than we had initially planned. We found it an ideal place to linger for several reasons. Small and sleepy, Essaouira is a comfortable place to just hang about and unwind. Beach, sun, and surf: right on the Atlantic. Essaouira's medina, the old city center, is yet vibrant. Many of the shops and restaurants do now cater to the tourist trade, though the area bustles most with locals going about daily life: buying produce, carving wood, walking home from school.

Above all, what kept us on for extra time in Essaouira were the people. The first morning we were in town, Ben and I became acquainted with locals with whom we met up and hung out together over each of the next several days.

After spending too long unsuccessfully searching for a laundromat listed in our guidebook, Ben and I gave up looking and took our laundry to a nearby full-service cleaners. The woman behind the counter, Khadija, was fluent in three languages: Arabic, Berber, and French. However, she had no ability in English.

We started in the pidgin-mix of Arabic and French I've been defaulting to. Even from that first exchange, Khadija was encouraging in my attempts to speak Arabic. When one of her co-workers tried to accelerate the transaction by addressing me in French, Khadija waved her off, prompting me to continue on in my broken attempts at standard Arabic.

We managed to establish the critical details: my name, the price, and the time our clothes would be ready after several more minutes than it should have taken. Even so, I felt positive--it was the first time I'd managed to communicate as much as I had solely in Arabic. I turned to Ben as we walked away from the laundry. "That was so good! That was the exact type of exchange I need to get myself into speaking Arabic," I said. "She was patient and willing to listen. I don't believe I've spoken that much Arabic in my life."

Not twenty paces on, I heard a voice calling my name. I turned back to the laundry. Khadija was outside the door.

"What's she want?" Ben asked when I returned to his side.

"Well, if I got it right, we've been invited to dinner. We're to meet her back here tonight at 8:00 P.M.."

We spent each of the next evenings--and a couple of the afternoons--going out somewhere for a meal together. Sometimes it was just the three of us. More often, Khadija's shy friend Tuwiya joined along. The first night was tajine, the next couscous, finally pizza. Ben could speak only English. Tuwiya could speak only Arabic. Somehow it all worked.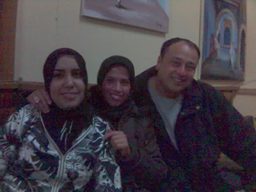 Tuwiya, Khadija, and David

I've found that no matter how poorly I speak a language, no matter how little I can express, it needn't be awkward. As long as both parties are interested in communicating, time spent together is comfortable. There are usually a lot of gestures. Smiles are frequent, expressing inability to either comprehend or communicate. Ben got into the game too, pulling phrases out of the Moroccan Arabic Phrasebook we've been carrying. Other times, he strung together words which he thought might be French into sentences. We communicated.

Time spent together not taking meals was mostly spent somewhere near the ocean. Essaouira has tall ramparts lining the shore which we climbed about on. Atop the ramparts we sat on cannons left over from the city's days under Portuguese rule several centuries ago: hanging out, just chatting. We found the beach a fine place for the four of us to stroll one night after dinner.

On our last night in Essaouira, there were gifts exchanged. Khadija gave Ben a bracelet. She then gave me a ring with a floral seal. Finally, she placed a necklace into an envelope. Before handing it over to Ben, she wrote across the envelope in French, "A souvenir from Essaouira for your mother." There were invitations to return. "If you should come back to Morocco for a second time, you'll have to visit my family's home in the village and have dinner there." We gave the same gift to Khadija and Tuwiya: a compass for each, drawn from the batch I'd been carrying since China. Chintzy, in comparison to what we'd received, though I didn't feel too bad: we'd paid for most of the meals out.

We've been in Casablanca for a couple days now. Tomorrow, we'll move further along: to Fez. We do have another week left in the country, but both Ben and I suspect that we've already experienced the highlight of our visit to Morocco.