Day Trip III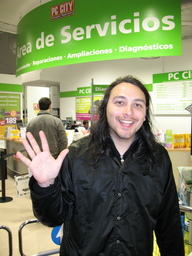 Ben Shops for
Cameras in Algeciras


GIBRALTAR
February 21, 2008

Ben and I are back in Europe. From Fez, a six-hour bus ride brought us to Tangier. Two-and-a-half hours aboard a ferry crossing the Strait of Gibraltar brought us to another world, entirely.

I've come again to Gibraltar, this time with Ben. I thought this might be a good place to shop for a replacement camera. There are indeed plenty of shops along Main Street selling cameras, iPods, mobile phones and other electronics. However, the prices aren't so good. Before leaving Algeciras (the city in Spain in which we're staying) this morning, Ben and I researched prices at various stores. Everything costs a lot more here in Gibraltar. We'll probably pick up a replacement camera when we return to Spain this evening.

We did take in some sights which I didn't visit when I came here with Mom last month. Ben was keen to get all the way up the Rock of Gibraltar; we've just spent our afternoon taking in views from atop the Rock.

Truth be told, my motive for a second trip to Gibraltar was not solely from a desire to camera shop or to Rock-hop. It came more from a desire to make a return visit to the cafe where Mom and I finished our day trip: Cafe Solo. Ben and I also concluded our Gibraltar visit with an evening at that same cafe off Casemates Square.

Ben agrees: the chocolate brownie at Cafe Solo is one of the best he's ever had. That alone is well worth the trip to Gibraltar.