Solo Again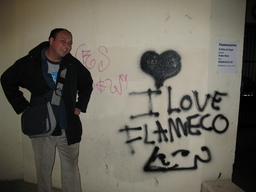 ♥I Love Misspelled Graffiti


SEVILLE, Spain
February 25, 2008

Seville is just as I imagined: narrow cobblestone alleys, flamenco, tapas. Or perhaps, I've just sought out the stereotype to manufacture the experience I wanted.

Whichever the case, I do hope to move here. Living in Seville has been a plan of mine for many years. It's not going to happen anytime soon. I have other directions and plans which come first. However, a year in Seville has been on my list of "things to do" for some years now. I should get around to it sometime before long.

My time in Xinjiang was originally one such plan. I hoped to study calligraphy and languages in Kashgar for one year. Rather than Kashgar, the location wound up being Urumqi, and the one year stretched into four. But that plan has finally been crossed off my list.

Also on my list of things to do "some day" is to spend a year here in Seville studying flamenco guitar. This is my first visit to the city, but it's alive in exactly the way I imagined. It seems like plenty of other people have the same idea. There are flyers posted everywhere advertising courses in Spanish language, courses in guitar instruction. Some day, before long...

Seville is not the next place on my list to move to. The next city I've been hoping to move to is Vancouver, in western Canada. I've been in the process of getting papers to make residence there legal and as permanent as I wish. However, that has been in the works for years. I'm hoping it will yet come through sooner than later.

I'm on my own again now, for the first time in a month. I just saw Ben off at the Seville bus station. He's on an overnight bus back up to Madrid, from where he'll catch a flight home to Seattle. I must be accustomed to traveling with family now: the simple, single room of the pension where I'm staying now seems far too small.