Açorda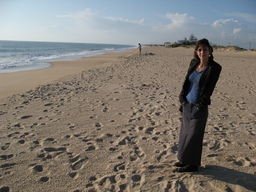 Maria-João on Faro Beach

FARO, Portugal
February 28, 2008

Maria-João picked me up in Spain and brought me back to Portugal. She met me in Huelva, the next city farther west from Seville, then drove us back together to her hometown: Faro. It's a short drive, and faster now that there is no longer any border control between the two nations.

Maria-João was one of the people I hosted through CouchSurfing over my last year living in Urumqi. She's a Portuguese journalist who has called Beijing home for the past several years. The timing of our meeting up a second time fell together perfectly. She happened to be visiting Portugal for a couple months right when I was in the area. Aside from a chance to meet once again (and swap roles as guest and host) I'm glad Maria-João happened to be in town. Faro was one of the cheapest places in southern Iberia to catch a flight up to my next destination: London.

I've spent only a few days in Portugal and seen nothing outside Faro--unless the road along the drive in from Spain counts. I have to come back some day and explore the country more fully. I've found the people to be among the friendliest, among the most laid-back, and among the most open I've ever met.

Portugal differs from Spain more than I had expected. The language sounds wholly unlike Spanish. The only elements around me which I find familiar are those that were also present on the occasions when I've visited Macao. Most striking of these differences are the sidewalks around town. The pavement forming a pedestrian walkway is laid-out mosaic-style, formed from many flat, rectangular, stones set deeply into paths. In both Portugal and Macao I've seen the occasional pattern or design--flowers, a shrimp, a message in Portuguese--arranged when these stones were set. I haven't seen these sidewalks commonly elsewhere, though presume that perhaps Brazil--as a former colony of Portugal--may also employ this sort of design.

Maria-João found me an apartment to stay in the first night I was in Faro. As she's here on a short visit from China herself, she didn't have a flat of her own to offer. Fortunately, I made another connection through Couchsurfing, spending my last two nights with another couple: Veralisa and Daniel.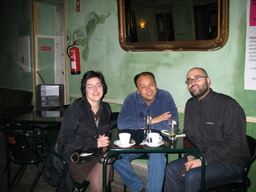 Veralisa, David, and Daniel

My limited experience with people from Faro--all of whom I've met through Couchsurfing, or friends of theirs--leads me to believe that Faro must be the top place on the planet for producing nice, hospitable people. In the past, I've made great connections with people whom I've either hosted or stayed with through CouchSurfing, but Veralisa and Daniel may be the two with whom I felt most immediately comfortable, most at-ease right away. With them, I found conversation meaningful: neither small-talk nor pretentious. Their apartment is filled with books, musical instruments, and lots of hardware manufactured by Apple.

Veralisa works at a museum. Daniel works in tech. Both are among the sweetest people I have met. My first evening staying at their place, Veralisa prepared a full, traditional meal in the tradition of Algarve province: açorda. I had never heard of açorda before. I found out that it's a type of soup which uses bread as its base. The way Veralisa prepared it that night, she also included soft-boiled eggs, spinach, and cheese. I always find something new every place I visit.

I'm at the Faro airport now, waiting on my flight. I'll be in London in just a few hours.