Kitchen Cravings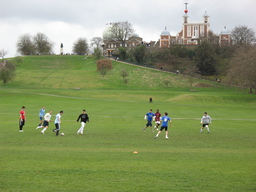 LONDON, United Kingdom
March 15, 2008

It's the middle of the month again, so that means another deadline for that Chinese travel magazine I've been contributing to, World Vision. This will explain why I've been slow to update my travelogue recently. When a deadline rolls around, I always meet it. But up until that point, I'm a master procrastinator: I not only put off working on the item at hand, but put off working much on anything else.

This piece focuses on the food that I missed while living in Xinjiang. Having no photos of the subject matter, I've posted a unrelated placeholder image, a photo I shot a couple days ago while visiting the Royal Observatory in Greenwich.
---
I have a friend who once made an international trip for the weekend. She wasn't flying somewhere on business. She wasn't going shopping. She flew to Seoul with the lone intention of eating as much as she could. Though she had never previously visited Korea, both she and one of her friends so loved Korean cuisine that they decided to make the trip. Over two entire days they gorged themselves on food. The authenticity, the lower costs, and the greater variety of dishes than would be available back where she lived were reason enough for her to justify making the trip.
One of the most immediate differences apparent to anybody traveling is the difference in what food is available. When away from home, new menus and exotic flavors can be part of the appeal, as it was for my friend who made that weekend trip to Korea. However, being away from familiar food can be a double-edged sword. Different flavors and cuisines may be exotic and intriguing--but favorite tastes may be difficult or impossible to find.
I've often seen people away from home who fixate on finding familiar food. Regardless of whether somebody is traveling for a short vacation or living abroad for many years, it's common at some point to want to eat something familiar. A journey doesn't even need to extend outside of the neighborhood for people to begin missing favorite dishes. Every time I asked a local in Urumqi where they considered the best place for laghman (la mian) or polo (zhua fan), they invariably answered, "My mother's kitchen." Though the response was often delivered with a smile, they weren't joking. Even among people who are adventurous in trying new foods, when a favorite meal doesn't taste quite as accustomed, it will be a disappointment.
I would like to think of myself as fairly adventurous when it comes to eating. I've tasted many things in China for the first time, things which we normally don't eat in the west: The first time I ate snails was while on a boat sailing from Guangzhou to Wuzhou. I've found that dog jerky is commonly sold at small shops across the country. These dishes would be impossible--or illegal--to find in the U.S.. While I may not have been impressed by my first taste of dog meat, I do love the variation in the cuisines found across China. I've become familiar with so many dishes I do like around this country. Some years ago, sitting at a small restaurant beneath the enormous Buddha in Leshan, I tasted mayi shang shu for the first time: it's still one of my favorite dishes. I now know the best places to get polo and kebabs (kao rou) in Urumqi. I've seldom passed through Beijing without having roast duck at least once. Dim sum is a meal I seek out in Chinatowns across the world. I do love the cuisines of China.
All that said, I must confess: love Chinese cuisine as I might, I too will often crave something from back home, something unavailable in this country. Just as with all of my local friends in Xinjiang whose memory of their mother's polo sets the standard, there are times when I want to eat food cooked the way I remember it. This can be a challenge. The dishes people away from home frequently savor are those which remind them of home in some way. Finding such familiar dishes--let alone finding dishes cooked just the way they would be cooked back home--can be difficult for westerners anywhere across China. For us westerners living in China, it's a treat to have some meal which we regularly ate before coming here, tasting flavors which we associate with times past. Even dishes which might not have been among our favorites back home can be exciting to find in China, if they're something we haven't eaten for a long time.
What do we do to satisfy cravings for familiar food? Those Westerners who live in China's cosmopolitan eastern cities will have various shops and restaurants to choose from. There is a small chain of shops around Beijing renowned in ex-pat circles, Jenny Lou's. Jenny Lou's would not be considered a special shop in most western cities, but in Beijing it's a nexus of foreigner food shopping. Items that would be considered basic in an American market--cheese, tortillas, olive oil--are available. Grocery shopping, ordinarily an unremarkable errand not given much thought, becomes something much greater to many foreigners living in China. Locating scarce ingredients necessary to cook a favorite dish can take on the sense of a quest. Jenny Lou's fills a niche for many of the westerners living in Beijing.
The city may be cosmopolitan, but even in Beijing not everything will be available--in either shops or restaurants. The version of western food people from China will most likely find familiar, fast-food chains such as McDonald's and Kentucky Fried Chicken, are certainly abundant. However, the "comfort food"--the tastes which foreigners living in China most miss--are seldom such fast-food items as cheeseburgers. Even in our home countries, fast-food restaurants are not ordinarily the type of place where we westerners eat everyday.
Many of my foreign friends who live in Beijing eat regularly at what would be considered a mediocre diner in America: The Steak and Egg. Why? Because the menu offers something they miss: big breakfasts cooked American-style. Even with so many options to dine on from among the cuisines of China--and of the world--available in Beijing, the times when I pass through town I'll occasionally eat at The Steak and Egg, myself. Eating familiar food is like taking a brief trip home, for the cost of a meal.
This difference in the dishes on offer and the ingredients available to cook with in China has created, at least among many expatriates I know in Urumqi, a cult of improvisational cooking. Attempts to replicate dishes from back home are frequent, social affairs: dinner parties of westerners doing what they can to create a lasagna or to pull together an entire Thanksgiving dinner. I truly believe that these meals taste better because of the effort and difficulty involved in preparing them. Essential ingredients are scarce. Many of the spices which are commonly used in western cooking--such as cinnamon and oregano--are never used in Chinese cooking.
Preparing a homemade western dinner in Urumqi often requires spending a fair bit of time shopping around to find all necessary ingredients. I've often taken a day out with friends, going around town to shop for ingredients in one of the various neighborhoods where rare and imported items are available. Even ingredients that are available in other parts of China can be hard to find in Urumqi: there's no equivalent here to Beijing's Jenny Lou's, no shop that caters exclusively to the tastes of western expatriates.
My friends and I often start at Xinhua Nan Lu, the road running along the south end of town, to buy spices and goods for baking. There are several restaurant supply stores along Xinhua Nan Lu. I am glad that these shops exist, but don't know which restaurants around town are buying these imported spices westerners use. I know of only a handful of establishments operated by westerners around Urumqi, few serve meals that are quite to our tastes. From Xinhua Nanlu, we often make our way to another of Urumqi's main roads, Yan'An Lu, forking off to the southeast around Xinjiang University. This is the area where petty traders are centered, people who have come from nearby countries which were part of the Soviet Union. Signs in the Cyrillic script are everywhere; there are many restaurants and shops catering to people who have come from the lands just west of Xinjiang, such as Kazakhstan and Kyrgyzstan. Yan'An Lu is the street where my friends and I go for a heavy loaf of Russian brown bread, dill pickles, or large blocks of mozzarella cheese.
The activity along Yan'An Lu is largely centered on the traders: people bringing not food, but goods across the border, out of China. There are shops selling clothing, automotive parts, and other material trade items everywhere along Yan'An Lu. The restaurants and shops that sell food are secondary, catering to the largely Russian tastes of the traders. Though the food options are not the main activity going on, it's worthwhile for us westerners to make a grocery shopping trip to Yan'An Lu. There are always ingredients available that would be difficult to find elsewhere in Urumqi. For example, Yan'An Lu would be the best place in Urumqi to shop for items such as lemons and cream.
No single shop stocks everything. My friends and I sometimes will make an afternoon going from store to store, finding which place has which items in stock. This may sound like a hassle, spending so much time shopping for what we consider common groceries. In reality, it's often fun: shopping for items takes on the sense of a mission. The reward of a meal made from all the ingredients makes the search enjoyable. The food tastes all the more delicious, having taken such effort to find.
When cooking up some western dish as a foreigner in China, finding the right ingredients is only the first difficulty. Preparation can also be an issue. Many of the kitchen utensils I would use in the west are impossible to find in China. A further complication: baking. An oven will be standard equipment built into any western kitchen, but I've seldom seen them in flats around China. Westerners I have known around Urumqi sometimes struggle with the decision as to whether it is worth the expense to buy an oven. On many occasions I've had oven-less friends come to my flat to bake cookies, pies, or some more elaborate meals that they miss.
Despite the effort necessary to shop, prepare, and cook, I have managed to host the occasional dinner party at my flat, attempting to make a familiar dish that foreign friends living in Urumqi won't have tasted for a long time. Americans today are familiar with cuisines that originated well beyond their borders, so what I make might not be the type of food which is associated with the U.S.. There have been nights when I've attempted Vietnamese soup or Indian biryani. I have had pizza parties on occasion. More often, I cook a dinner with a Middle Eastern theme: hummus and Moroccan couscous.
Though I've cooked and hosted often at my flat, the western food gathering I have most enjoyed in Urumqi was one I attended at the home of another foreign friend. It was Easter. It's a long-standing tradition in many western countries to paint eggs with bright colors and designs on Easter Day. While egg-painting is an activity that normally only children would engage in, we all had fun with the brushes and dyes, decorating hard-boiled eggs after finishing our brunch.
The food was wonderful, though not because it was some complicated menu crafted from rare ingredients. The dishes were all simple and easy to cook: coffee, pancakes with jam, scrambled eggs, and hash browns. The food wasn't even exceptionally-well cooked. Rather, what made the meal so good was how familiar it was. These were the exact dishes that would be served in America: sipping on coffee over a plate of scrambled eggs and pancakes was something I did often for breakfast in America. It was the ultimate comfort food. Together with the Easter egg painting activities, I found it hard to believe that I wasn't enjoying a holiday back home, taking a meal somewhere in the U.S. that morning.
---
TRY IT YOURSELF
Want to taste some of the dishes I've cooked in my kitchen? Below are several recipes, all of which I--or foreign friends of mine living in Urumqi--have improvised for the Chinese kitchen. Some ingredients--such as chickpeas and cardamom--may take a bit of time to find in China, depending on where you live. The preparation for all three is fairly simple and should be possible in any kitchen. A blender or food processor would useful for the last recipe, though is not required.
American Breakfast
Fried Eggs


Fry eggs in a low layer of oil


Hash Browns


Grate 2-3 potatoes into small thin strips, shape grated strips into small cakes, fry


Pancakes


1 c. flour
1 tsp. soda
1 tsp. baking powder
3 tbsp. sugar
2 tbsp. oil
Pinch of salt
1 egg
1 c. milk
1 tbsp. vinegar

Mix ingredients together in a container which can be used to pour
batter onto a greased pan. Makes 10 to 12 pancakes.


Coffee or Orange Juice
David's Kashmiri Chai
This is my attempt at tea made in the style of Kashmir, north India. I don't know what's actually inside tea made in Kashmir, but I think my recipe is close. Regardless of whether I'm missing some key ingredients, the tea tastes good and is a favorite of many of my foreign friends.

Boil up 1/2 kettle black tea
Dissolve several spoonfuls of sugar
Add ground-up seeds from 5 or 6 cardamom pods, several dashes of black pepper
Add milk, bring tea back to boil, be careful to avoid scalding
Serve

Hummus
Hummus is a common dish in many Arab lands as well as other countries of the Mediterranean, such as Greece. It's main ingredients are chickpeas and sesame paste. It is often eaten by tearing off pieces of flatbread and dipping them into the hummus. It's not usually the sole dish, but an accompaniment to a larger meal.

1 1/2 cups dry chickpeas (garbanzo beans)
1/4 tsp. baking soda
3 cloves garlic, minced
1 1/2 tsp. salt
Juice from 2 fresh lemons
3/4 cup sesame paste
1/4 cup finely minced coriander
Dash cayenne
Dash soy sauce
Freshly ground black pepper, to taste
1/4 cup minced green onions

Soak the chickpeas with the baking soda in water to cover
overnight. Drain and rinse several times. In a large pot, cover
chickpeas with fresh water, bring to boil, cover and simmer 11/2
hours. Drain.

Combine all ingredients except green onions in a food processor bowl,
and process until smooth. Chill thoroughly. When ready to serve, stir
in green onions, reserving a few for garnish on top.

Addresses of restaurants mentioned:
Jenny Lou's
4 Ritan Gongyuan Bei Lu
010 6586 0626
The Steak and Egg
5 Xiushui Nanjie
010 6592 8088