A Good Day on Metro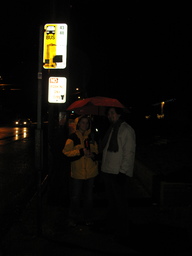 Alan and Devon
Await the 48

Seattle, USA
January 10, 2009

The last 24 hours have come together in an impromptu fashion. Somehow, they've gelled into my fullest, most sociable day in months--even taking into account the recent big family holiday gatherings.

This morning, it was Metro route 106 that was supposed to take me downtown, followed by a connection to Seattle Center. I don't know if I missed the bus, or it just didn't come. After wasting 15 minutes at the bus shelter, I found myself striding briskly up to Beacon Avenue to take the route 36 instead. I didn't want to be late to my only pre-scheduled event of the day.

A week ago, I asked Mike's mom if she wanted to attend a documentary screening and discussion. Travel guide Rick Steves had been recently to Iran and was presenting a program chronicling his time there. When Mike's mom and I met up a couple weeks prior there had been an unrelated mention of Rick Steves. Good friends of hers were about to embark on a tour of Turkey through his travel agency. When I heard about the discussion and screening at the Seattle Center everything fell into place. Plans blossomed into an afternoon with several of her friends joining us as well.

We all met up at Sushiland for a round of kaiten zushi. It was then an easy stroll to the Rainier Room on the Seattle Center grounds. I made the decision to keep my mind open to the experience that would be presented, though have to confess a certain smugness I tried to not let off. Thoughts ran through my head such as, "Well, Steves spent only two weeks around the country. I was there for seven. Most of the places he visited were ones I spent time in as well: Tehran, Isfahan, and Persepolis. But he didn't make it to Yazd, Mashhad, or the islands of the Persian Gulf--hands-down the highlights of my trip."

Forcing myself to keep an open mind, I did come away from the presentation with a sense of respect. I don't think that I could have worked with a a camera crew to produce a documentary as thorough and compelling as he did. I hadn't been familiar with his line of guide books, tours, or videos before, but felt he did a fine job connecting with an older audience that would be unlikely to see themselves traveling independently anywhere at all--let alone to Iran. Respect to Rick.

When the presentation was over, I decided to stroll over to Brother Ben's: a ten-minute walk from the Rainier Room. I've disconnected myself from the cell phone world since returning to Seattle. I wasn't sure whether Ben would be happy to have an unexpected guest drop in.

Ben is so good-natured. He had me up right away, even though I buzzed him in the middle of a nap.

We went out for coffee together and chatted. I've been trying to convince him that we should take a road trip down the west coast together next month. He seems game. It's just a matter of getting Grampa's car (which he inherited) licensed, insured and in working order. I also asked Ben along to my evening plans. I had just been invited myself to a karaoke birthday party for Christine. But, as Ben had a prior engagement I resigned myself to going it alone. We hugged goodbye on Roy Street; I took the 2 back downtown.

I thought that I was having the worst luck with buses. When the 2 finally reached downtown I missed a connection--by one minute--to the express bus which would have zipped me up to the birthday party. The next bus would have to be a pokey ride over Capitol Hill on the route 43--which was not to depart for another 20 minutes. I delved into a book while waiting. After the bus finally came, I kept my nose in-between pages all the way up to the intersection of Broadway and John. That's where a familar voice called out from the aisle next to me: "Dave!"

It was my brother Alan and his girlfriend Devon. Their evening plans hadn't yet been firmed up. They were talking about dinner, perhaps a night at the Improv'--though nothing had yet been set in stone. I easily convinced them to tag along to the event which I myself had only just been invited to: Christine's birthday party. Alan and Devon seemed open to the option from the beginning, though I think it was the added spin of drinks, food, and karaoke that swayed them.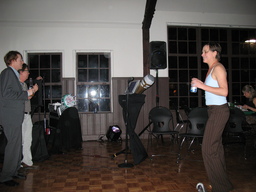 Thatcher on Mic
Christine Across Floor

We had a blast. Christine is the wife of my old grad' school pal Thatcher. I'd been feeling guilty that I hadn't yet personally called on them in the two months I've been back in Seattle--only dropping them a Christmas card to let them know I was in town. They were kind enough to invite me to this milestone birthday party of Christine's: an energetic, close, heartfelt celebration--with lots of dance. This was a gathering that included friends and family who had come from across the country.

I was the first of our crew to get on the mic, feebly attempting Louis Armstrong's What a Wonderful World. I can never stay in key but always get myself up on the karaoke mic by convincing myself that I will not be the worst person performing any given night. (Which invariably does turn out to be true. I hope.)

Alan followed on later, getting the whole hall in motion with his karaoke rendition of Bust a Move. Alan certainly had the moves, bopping about on the dance floor, sharing the vocals with any stray dancer who could hit the high refrain.

Devon... Devon blew everybody away, sidestepping and turning on her toes while belting out Fever. I didn't know my brother and his girlfriend could dance like that. I didn't know my brother and his girlfriend could sing like that.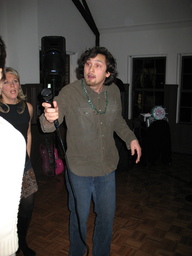 Alan Busts a Move

After kissing our hosts goodbye, Alan, Devon, and I walked over the hill to a bus stop where route 48 headed south. Alan and Devon got off not far down 23rd Ave. I stayed on until the end of the line--from where I had to transfer to the 42.

At the 42 bus stop a young woman and man were chatting in Chinese. The woman held a Rubik's Cube. She occasionally twisted one face or another, though wasn't making any progress toward completion. I was feeling unusually sociable and chatty but wasn't sure which angle to get in on: the Cube or the Chinese. I settled on the former.

"Hey!", I shot directly at the woman during the middle of a break in their conversation. "Can I see that Cube?"

She was restrained: "Uh... sure."

I understood her hesitation. Seattle is one of the least chatty cities I've lived in. Only random nuts make conversation in and around Metro.

"Are you good at this?", she continued on, perhaps unsure what else to say.

"Yeah, my father forced us to learn a pattern for this when we were kids. I haven't tried to solve it in forever: I want to see if I still have the steps."

A tall black man strolled up from the bus shelter.

"You are never going to finish that!", he declared.

Being directly challenged, I of course had to shoot back: "I'll solve it before the next bus comes!"

Which I did, with two minutes to spare--upon which the 42 pulled up.

I got off at Myrtle Street and wandered over to Safeway. When Cousin Tina was visiting us from California she gave all of us several coupons for the product line she works on at Nestle: Juicy Juice. I don't think I had ever tried that product before and probably won't buy it again once I've exhausted the freebie coupons. But, I've found that picking up large jugs of juice is better than free right now. That product happens to be on sale this week at Safeway, giving an added bonus. Here's how it works:

I noticed that when Safeway scans the FREE! coupon, rather than applying the coupon only up to the discounted sale price, the regular price is entered into the register. The difference between sale and full price is credited to whatever else is in the cart. It's only a buck-and-a-half, but that's still enough to motivate me to pop by every few days. I grab something small (tonight it was a dozen eggs) and have the entire tab--juice included--total just a few cents.

Even I am not brazen enough to try buying nothing else and requesting change, though I think that would be how the tab would be rung up with the way Safeway applies coupon credit. I fear they might somehow get wise and stop subsidizing my eggs.

I have lost all shame in another area, though. The checker in the line I fell into that evening turned out to be someone wearing a nametag with some pin-yinesque name--something with an X in a place where it wouldn't fall in any language other than transliterated Chinese. I slipped into Mandarin: "Hey, how's it going? Got a coupon here for this fruit juice... No, I don't need a plastic bag." Yes, I have become that language leech I so disparaged in Urumqi. I now seek practice anywhere I can to exercise my spoken languages. Even from that hapless Safeway employee who is required to smile and be nice to customers.

When walking up the hill back home (I'm at Mala and Vega's once again) I reflected: I view myself as so much more reserved, so unlikely to strike up a conversation with somebody out of the blue. I certainly hadn't had a day like this in the two months I've been back in Seattle. What made me operate so differently today?

Whatever the motivation, I hope today wasn't unique. It was a good, full day. Even riding Metro.