Dance Class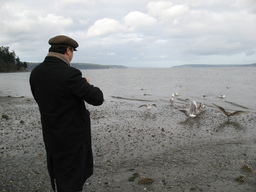 Feeding Seagulls:
Whidbey Island

Seattle, USA
January 28, 2009

I planned ahead for this one. The next time around I'll be ready. I just got back home from my second dance class.

Two events have compelled me to finally sign up for dance lessons: the last wedding I attended here in the U.S. and the next one I'll be going to.

When I was in town this past August I spent a single evening out with Naomi. She was briefly visiting Seattle, in town for a couple days for a wedding. Though I was busy participating in another wedding that same day, the only time we could meet was during the wedding she was here to attend. And then when we got together, the inevitable happened: I reluctantly stepped myself out onto the floor. The suggestion to dance sure wasn't mine. Once again my thoughts were identical to others that raced through my head when attending so many previous social functions. "Oh, God. Why? No. Please. Can't I just stay here sitting on the far side of this table and keep on sipping wine instead? Oh, please. No. I never learnt how to dance..."

After leaving the dance floor that night I again resolved--as I had after every previous other time--to take dance lessons. I didn't want to endure that frantic moment ever again. And--as with every previous other time--I immediately forgot that resolution. I did not sign up for those dance lessons: until now.

The catalyst came from American friends I know from Urumqi. Laura and Rian are getting married in New Orleans this March. They sent out a general "Save the Date" e-mail message last autumn. I booked a flight as soon as I knew their wedding date. But, when the formal invitation arrived a few weeks ago I noticed a detail added onto the printed version, a detail left off of their wedding website: "Crawfish boil, dancing, and pool party to follow...".

Oh, no. I still hadn't signed up for those dance lessons. There were yet two-and-a-half months before Laura and Rian's wedding. Maybe it wasn't too late? A web query turned up a lot of expensive dance studios and a handful of cheap group lessons. One of the cheapies was to be held over four sessions at some location on the Eastside. That sounded okay. Despite the blandishment of "Singles and couples welcome!" woven into the class description, I still didn't feel I could go it alone.

Who could help me through? My last dance partner, Naomi, lives in Washington, D.C.--I'd have to sign up with somebody local. It would have to be somebody I knew from Seattle. Who here could I be comfortable going dancing with? I immediately sent e-mail to Kim.

Kim and I were closest throughout college, long years ago. We have managed to keep up even over my recent transient years, seeing each other the winters I've visited Seattle. Those meetings were essentially one-offs with lots of catching up: coffee, strolls around Greenlake, occasionally dinner. "And what have you been doing over the year-plus since we last met?" Those catch-up conversations are no longer necessary: we now have dinner and dance on our calendar together every week this month.

I don't know why I felt attending dance class with somebody I haven't been close with in decades would somehow be preferable to going it alone. But... it really is more comfortable for some reason. I can allow myself to be clumsy and awkward in front of somebody I know. Our initial session last Wednesday involved a couple of partner changes. I had no idea how to lead, no idea of even the most basic steps. I suppose it wasn't actually all that bad tramping forward-and-back with perfect strangers. I am certain though, that without a steady partner I would have been far too anxious to absorb any of that night's lesson.

Even after tonight's lesson I still lack form. The instructor consistently pressed down on my shoulders--telling me not to bounce--the moments we received individual attention. However, I am starting to develop some sense of movement through pattern repetition. Could actual rhythm be on its way?

Ironically, Naomi--that friend whom I spent one awkward night on the floor with last August--has been back in town over the last few days. This time she's come to attend a funeral. Is it only bad news that has been drawing people back to Seattle?

Naomi Rides the
Washington State Ferry

At least neither Naomi nor I can complain about this unexpected opportunity to spend time together. We spent the entire day (before my evening dance class with Kim) re-connecting, picking up where things left off: An early morning drive to the ferry slip. A boat to Whidbey Island. A stroll along the beach beneath the town of Langley. There I confessed that I had just begun dance lessons, largely inspired by that one evening this past August. We tried again. Naomi patiently responded to my questions while we stepped about pebbles and seaweed. "How is it I'm supposed to lead? Do I direct you by pushing one way with this hand then pulling to the opposite side with the other? No? Well, how then?"

Naomi was again forgiving this second time of ours out on the floor: encouraging, even. "Oh, you seem like a natural lead. The way you carry yourself: you'll be perfect." Whether she was just saying that to boost my confidence or whether there was actually some truth behind her words didn't matter. I felt a lot better.

The day carried on: Lunch farther-on up the island at a greasy-spoon in Oak Harbor. A pause at Deception Pass before the drive along the mainland back down to Seattle. Somewhere I asked Naomi if she wouldn't accompany me, to be my invited guest to the wedding in New Orleans. Somewhere she accepted.

Bring on the elaborate dancing at the wedding this March. I won't care if it's a dance I don't know. I won't care if the moves are beyond my ability. This will be the first time I won't have a knot in my stomach just stepping out onto the dance floor.