Sunday Dinner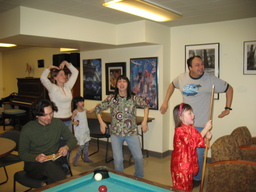 Karaoke Moves:
Alan, Devon, My Hanh,
Jen, Robin, & David

Seattle, USA
February 8, 2009

My throat is absolutely raw after all the karaoke and hookah this weekend.

Just before I returned to Seattle this past autumn my family began a regular ritual: biweekly gatherings over dinner. It's always a potluck. Who hosts rotates, depending on which family member has the free time and energy to open their place up.

This time it was Ben hosting in his building's community room. Unusually, I hadn't planned in advance what dish I would contribute. Unusually, that lack of planning turned out to be fortunate. I came into huge bounty from another party.

Zach is in town this week to visit his family. Evidently, they have some kind of huge bash recognizing Groundhog Day every year. Extended family flew in from all over the country to celebrate this weekend. That left dozens of dishes and bottles of booze his family didn't know what to do with the next day. When I stopped by their home this afternoon, I was given two overloaded grocery sacks full of food--hummus, tabouli, salads, pastries--for our fest. Big thanks to Zach's mom!

Thanks are also in order to Mala and Vega. On impulse, I borrowed their karaoke mic knowing that it would plug into the TV in Ben's community room. There wasn't any karaoke theme to our dinner; I just figured it might be a good activity to spend time together. I underestimated the potential. Tonight, Sunday dinner ran a couple hours beyond any other.

There's something I've noticed about karaoke: invariably, somebody who has never tried before (often that person who sits aside while everybody else sings over the first hour) turns into the last person who wants to get off the mic, insisting on number after number until the end of the night.

I was surprised that tonight was Jen's first time at karaoke: I've known for years she has quite the singing ability. Dad went solo for about half-an-hour straight when everybody else got distracted playing word games across the room. Much of the available selection was pop tunes from the '70s and '80s, though the most-requested tune of the night was far older: Over the Rainbow. The young girls, Robin and My Hanh, got excited after I keyed the song number in and the opening strains came out. "I know this song!", Robin declared. "So do I!" said My Hanh, next to her.

"Want to sing?", I asked them.

They took over as a duet. They then sang that same song together once again some minutes later. Then Robin decided that she had to sing it once alone. My Hanh insisted that she too had to be allowed to perform solo.

In spite of the repitition, I was impressed. The karaoke machine spits out a rating based on how well the singer keeps in key and follows tempo. My Hanh got a score in the 90s for her final rendition.
---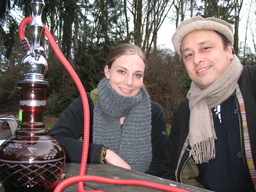 New Hookah Pipe
in the Arboretum

More thanks in order: Catherine H., I love my new hookah!

Catherine H. is passing through, visiting from her home in Oman for a few days. She's come back to America just to take the LSAT. When she let me know she was going to be in town briefly I made a request: could she bring me a new hookah? The models she could find in the Middle East would have to be better than any I could find in Seattle, I reasoned.

She's already on her way back to Oman, but we did manage to get together twice: once before her test, then once again afterward. Both times we ate at the same Ethiopian restaurant, my new favorite: Ras Dashen. Both times we followed up Ethiopian food by firing up my new gift: an inauguratory smoke in the Arboretum; a social evening spent with Catherine's sister and fiancee--both of whom live here in Seattle.

It's a beautiful pipe, a ruby-red glass with clear patterns tracing around the base. I love its beauty. I'm even more excited by the dull case it came in: a solid box with handle and combination lock.

Bringing a hookah along my travels is going to be so much easier now. Ooh... I can't wait!