Blacklisted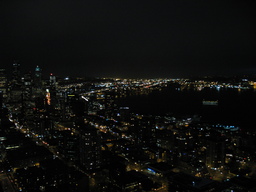 View from Space Needle

Seattle, USA
March 03, 2009

I think it was Jen who proposed that we siblings go in together to donate blood. Mom underwent several blood transfusions in November: giving back seemed the right thing to do.

This afternoon all five of us, along with Jen's kids (Nick and Robin--who are yet too young to donate) gathered at the Puget Sound Blood Center headquarters on First Hill. Alan was the only first-time donor. Or would-be donor--he still has yet to give. Neither he nor I were allowed to donate.

Greg was allowed to give--though technically, what he donated was not blood, but platelets. Greg had given just a few weeks prior so was ineligible to make a regular donation. However, he qualified for apheresis. A blood center technician strapped him into a machine which drew his blood out, extracted the platelets, then pumped what fluids remained back into his arm.

Alan was prevented from giving because he had been traveling in a malarial area. He'll be allowed to give next month, after a year has elapsed since the end of his travels. I was barred on similar grounds--but for life.

Each of the previous times I've donated blood the intake process has been lengthy, but in the end I've always been permitted to donate. There are numerous screening questions which I think most other people breeze right through: "List all the countries where you have traveled over the last three years." "Have you ever been to Africa?" "Have you ever contracted malaria?" Answering affirmatively to any of these leads to many more questions. The intake process usually takes me around 45 minutes to get through.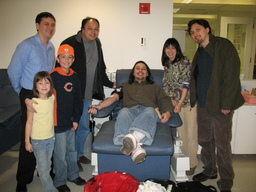 I expected the usual rigmarole: looking up country data sheets in a 3-ringed binder, asking how long I stayed and which areas I visited. All seemed well until analyzing information on the last country I left before returning to Seattle: Cambodia. It turned out that spending any time at all in Cambodia made me ineligible to donate for a full year. Then, it was only after finishing the convoluted process of reviewing malaria fact sheets for two-dozen countries that we discovered the task was entirely moot: I'm permanently barred from donating blood.
The next question after reviewing the fact sheets (which really, really ought to have been asked before looking into details for each country) was, "Have you ever contracted malaria?" When I answered that I had, the woman handling my intake followed a flow chart of follow-up questions:
"When was it? Where did you contract it? Have you had any relapses?"
"I guess it's been 16 years now. I probably contracted it in Nepal... though the symptoms broke when I was in Pakistan. I stayed for several days at a hospital there. No, no relapses. The doctors there said I was 'cured'. They also said it was 'falciparum' if that means anything."
Each previous time I had been through these questions--including "yes" to malaria--they ultimately determined that my blood was safe to donate. Instead, my forms were this time filled with a code: M48. The next line, stating "The date you can next donate will be:" was marked with an ominous 999999.
Happily, Alan and I were not barred from access to the juice and cookies. We snacked and made silly conversation with Nick and Robin while our siblings had their blood sapped out across the room. Alan seemed relieved to be found ineligible. I'm not fond of needles either, but felt both disappointed and bewildered. What had changed in their screening process to now reject my blood? Could I have passed malaria along to somebody who received my blood in recent years?
---
After leaving the blood center, Ben and I parted from the others to take dinner downtown. When we arrived at the place where we had planned to eat we found it closed. We weren't sure where else to go. "Why don't we decide on an alternate restaurant on top of the Space Needle?", Ben suggested.
It wasn't a wholly spontaneous idea. A couple weeks ago, Ben heard that the Space Needle was running a promotion offering a steep discount on an annual pass. He paid only $29 for a card that allows him and a guest to visit the top as many days as he pleases over the next year. As his apartment is a mere 15-minute walk from the Space Needle I'm sure he will exploit that pass far more frequently than anybody at the Space Needle expected.
I hadn't been to the top of the Space Needle in years. When we stepped off the elevator we found the sun had already set, the winds were high, and cold rain was splattering about outside. Nonetheless, we had a great time. We darted back indoors after just one lap around the outer deck. There were few other people anywhere on the observation level so we claimed a pair of chairs around a table next to a window and hung out for a couple hours chatting and trying to orient ourselves. "That must be Mercer Street. There's Aurora. Is that your apartment over there?"
It was a good place to just be, spending time together. Given that it won't cost anything to go again for the next year we're already contemplating regular return visits.