Day Trip V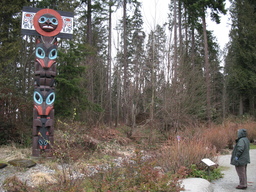 VANCOUVER, Canada
March 4, 2009

Mom and I have--again--taken a day trip to a neighboring country. This time it's a short drive up to Vancouver, Canada.

Mom doesn't have the stamina to take too much on. Going to just a few places around town has made for a full day.

We made it into Vancouver just before noon and started with lunch. The Punjabi part of the city is in the area around 50th and Main Street. We gorged ourselves on dal and butter chicken at a place offering lunch buffet. Then, on our way out of the restaurant I stopped by the sweets counter. I had come prepared with several plastic tubs to put the more syrupy sweets into; barfi and gulab jamun are my favorites. I had already eaten more than my fill of sweets from the dessert platter at the buffet but filled a few cartons up to bring back to Seattle to share with siblings and their families.

From lunch we cut through downtown to spend the afternoon around Stanley Park. The weather was too cold to spend long outdoors--and Mom probably wasn't up for much strolling around, anyway--but we did take a couple hours around various areas. One site in the middle of the park has a fine collection of totem poles carved by peoples indigenous to British Columbia. We walked from pole to pole, craning our necks up and down with each stop. From the totem poles we meandered across the main road to sit on a bench and chat for some time, taking in the skyline towering above us across the water. We eventually drove slowly out of the park, pausing anywhere with a view.

We're now in the Kitsilano corner of town. We're finishing our day up with hot chocolate (she) and a butterscotch latte (me) at a cafe on 4th Ave, "The Wired Monk". Before stepping in, Mom and I debated whether "wired" referred to Internet access or caffeine buzz. Inside we found both wi-fi and a wall bearing a story written out in Gothic script about sleepless monks learning to brew coffee: the name must have been chosen for its dual-reference.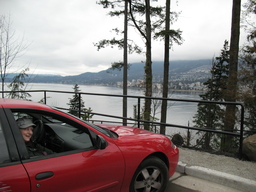 In Stanley Park

Even though we're away on a trip of just a few hours we've both decided to send postcards to Aunt Kathy. We just finished writing those up and are getting ready to leave. We'll find somewhere to send those out, then start the trek back down south. It's only 5:00 in the evening, but it's been a full day. If we make good time and there is no wait at the border, Mom will be back home right at her bedtime. She's been turning in early these days, usually sometime between 8:00 and 8:30.

I'll surely stay up later... I'm taking advantage of having an address to receive mail, something rare for me in recent years. Happily for me, Netflix was sued recently, giving former customers--myself included--several months of free DVD rental through the mail. Perhaps I'll try to finish off season 3 of Lost. I've been trying to get myself caught up to the current season (5) over this long stay in the U.S....