798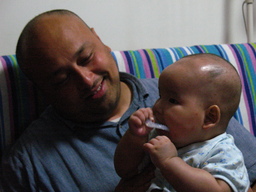 David and Xiao Q

BEIJING, China
June 27, 2009

I've been spending most of these final days in Beijing catching up with Lisa. She and I are still talking about meeting up further down the road in Tajkistan--though it's probable that we'll just miss each other. Lisa is currently enrolled in a writing class that won't finish until mid-August: she can't leave Beijing as soon as I can. Even if she does leave as soon as her class finishes, mid-August will be right around the time I'll be finishing my trip up, traveling along from Tajikistan to some other country. Perhaps if I go back to Xinjiang from Tajikistan we could meet in Tashkorghan, the Tajik town on the Chinese side. But a rendezvous anywhere in Central Asia is still nebulous.

I've been staying at her and Erik's hutong apartment over the last three days. Erik's working hours (he's an architect) are flexible. That gives the three of us time to chat and take a long breakfast before he goes in to work. After Erik leaves, Lisa and I have been going out for lunch and spending lazy afternoons together somewhere about town. Yesterday it was dim sum at that 24-hour place near the Yonghegong Lama Temple. This afternoon we went to see a photography exhibition at 798.

798 is a formerly industrial part of Beijing where huge factory buildings have been converted into galleries and exhibition spaces. I guess it's been in this current hipster art incarnation for several years now; I had never gone out there before.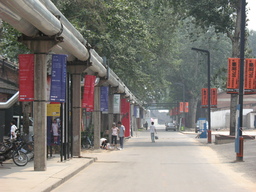 798

The exhibition Lisa and I specifically went to see at one of 798's galleries was a collection of photographs shot by westerners on a recent visit to Xinjiang. I'm not one to critique photographic composition. But, based on subject-matter, I suspect that this must have been one of the photographers' first trips to the area. The display included close-up shots of muqam singers, a cut watermelon, and a photo of a rusty pair of shears. The collection struck me as a common representation of Xinjiang as some sort of timeless, unchanged part of the Silk Road.

Xinjiang does maintain a traditional regional identity unlike the rest of China. But I'm not sure what's gained by cropping out all signs of modernity. Truth be told, I think my main thought was that the portrayal and choice of subjects was similar to how I myself would have photographed the area on my early visits to Xinjiang: emphasizing elements of the romantic history of the region and masking the reality on the ground.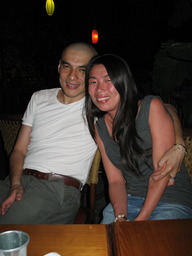 Erik and Lisa

I finally managed to track Joyce down. She seems to be doing fine, about the same as when we last met in April. She's wholly embraced her role as a new mother, mostly staying in to take care of Xiao Q. Her family's flat is way out in the nether reaches of Hai Dian district. Getting there means transferring from the central Beijing subway to suburban line 13, then taking a taxi from the Xi Er Qi station out to Joyce's apartment block. I can see why she hasn't been getting out much these days.

I made the trek out to her apartment last night, where we caught up over Szechwanese delivery. Joyce's son, Xiao Q is super-cute. When I visited in April, he started to cry as soon as I held him. This time around we played well together.

I'm at Capital Airport, now. My flight back to Urumqi has been delayed. Whenever I get there will begin a week calling on folks around town before heading along to Jochen's wedding in Bishkek. I can't decide which route I'll take to Kyrgyzstan. Should I head south to Kashgar and cross the border directly? Or, should I transit Kazakhstan and take a day in Almaty? I got a transit visa at the Kazakhstan embassy here in Beijing to keep both options open. Either would be fun; I guess I'll decide which way I go after I've returned to Xinjiang.