Menu II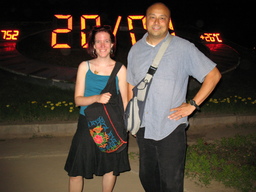 DUSHANBE, Tajikistan
July 20, 2009

Tomorrow morning Friederike and I will leave Dushanbe. The route we'll follow will take us along the River Panj (a.k.a., "Oxus") forming the border with Afghanistan. The road will follow the river east into the Pamir mountains; we hope to stop off at several villages along the way. We'll eventually arrive at the far eastern end of the country where the Pamirs spill over into China and Pakistan.

At that point we'll have to first cut into Kyrgyzstan to cross over to China. I'd love to cross directly: there is even a border crossing between Tajikistan and China which is open. However, it's open only to people with either a Chinese or a Tajik passport. For many years I've contemplated just showing up on one side or other of the border and seeing if waiting and patience might be enough to get me through. Unfortunately, this probably won't be the trip I try. In light of the Urumqi riots a couple weeks ago it doesn't feel like the right time to be lingering at crossings into Xinjiang and asking for exceptions from Chinese border guards.

We spent our final day in Dushanbe running errands to prepare for our move along. Both Friederike and I needed a visa for Kyrgyzstan. Between paying our visa fee at the bank and returning to retrieve our passports from the embassy we took lunch at the Rukhat Tea House. The Rukhat is a large outdoor restaurant built up back in Soviet times. It has a pleasant upper level that overlooks Dushanbe's central avenue. The style attempts to mimic traditional architecture and typical painting of the old Persian empire--but is done so in a blocky, communist way. I loved it.

Even better than the atmosphere was the menu. For the second time in Dushanbe I found printed descriptions of food that had me laughing so hard I could hardly eat: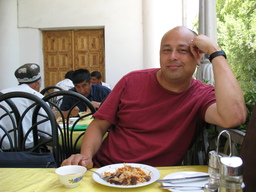 Eating Polo at Rukhat Tea House
Rukhat Tea House: Dessert
I cream «Moscow»
I cream
Air chocolate
Bread-Crum
The National "Nobody"
Fruits (4 as pest)
The National "Cando lot"