Recharging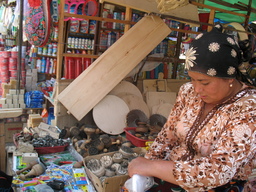 Osh Bazaar

OSH, Kyrgyzstan
August 6, 2009

Osh is so much the opposite of Murghab. We've spent our last 5 nights here, recuperating from our 3 nights spent there.

I suppose Murghab wasn't really all that bad. The arid mountain setting was spectacular; we did manage to take a short morning walk through the nearby hills. But--remote and beautiful as the surrounding area was--the town of Murghab felt far grungier than it felt exotic. Friederike and I spent most of our time there trying to get out, looking for any sort of ride that could take us through the mountains, across the border into Kyrgyzstan.

It's my fault that we were stuck in Murghab for any extra days. We could have been out much sooner: the very morning after we arrived we tried to find a ride on up to Osh. Before heading to the lot where drivers wait for passengers--just off the central bazaar--I asked some of the employees working at our guesthouse how much a ride to Osh goes for these days. The first woman I asked had no idea. Then, a teenaged boy in the courtyard volunteered that it should be 80 Tajik somani--about $18 USD.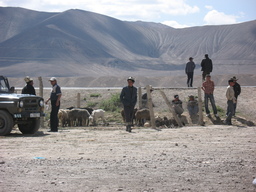 Car Lot off Murghab Bazaar

When we got to the lot off the bazaar I balked when the first driver we asked wanted 100 somani. I'd just been told that 80 was the going rate; I figured the amount the driver was asking must be the opening price, subject to negotiation. But not only did we find no other Osh-bound cars leaving that--or the next--day, everybody else we asked over time stuck in Murghab said that the fare up to Osh should be about 100 somani. Oh well. My mistake.

Our third morning in Murghab we finally did find an Osh-bound Jeep--and two other foreign travelers to share it with: Arjen and Maryke from Holland. The four of us managed to find a place to stay together, in my preferred manner of lodging when traveling through ex-Soviet countries. We rented out somebody's spare flat for a few days. I prefer that so much to staying in some hotel room: anybody's apartment will always offer a so much more open and comfortable space. The four of us took advantage of our setting, spending two nights playing long rounds of anagrams and SET, snacking on baklava from the Istanbul pastry shop, and improvising concoctions from juice and vodka.

Arjen and Maryke headed along up to Bishkek after only two days in Osh. Friederike and I decided to stay on and take it easy in the apartment. It's a nice lazy routine. Our day starts with a breakfast of well too many beverages: tea, coffee, juice, and kefir. The staples we eat are cheese, nan, and jam. During the day we might wander about, exploring the park or bazaar. Somehow--despite that she is from Europe and I from the Americas--Friederike and I agree that being back in Central Asia... just feels right. Part of this comfort probably comes from the relaxed pace of life across the region. Also, we both have some ability speaking Uighur--the shift to Kyrgyz isn't that great of a leap. Osh is an especially good place for communication: much of the population are themselves Uzbek, a language with even more similarities to Uighur.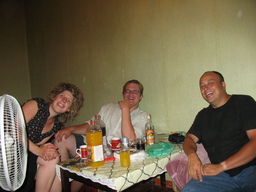 Baklava, Drinks, and Games:
Maryke, Arjen, and David

We usually take both lunch and supper at some chaikhana. The menu is standard Central Asian fare: polo (a.k.a. "pilaf"), samsa, manta, laghman, and kebabs--all the same food as back in Xinjiang. Even though we're on our way back there, I'm still eating Central Asian food, rather than what's on the Russian menu. Dishes are prepared just a little differently here. I am taking advantage of our time on this side of the China/Kyrgyzstan border to order the dishes with slightly different flavors. For example, over the past three days I've been getting my fill of chicken kebabs. For some reason it's always lamb--and organs thereof--I find grilled up everywhere in Xinjiang. Never chicken.

I didn't really sightsee much on this visit. (Not that Osh has all that many attractions.) Friederike did take a day on her own exploring Solomon's Throne. I've mostly stayed in. I've felt that it's enough just to be out of desolate Murghab, to stay in a nice flat, and to have something of a comfortable routine here for some days.

I find it hard to believe that it was exactly four years ago I was last here in Osh. It's been a nice, familiar place to re-visit and to recharge. Then, early tomorrow morning, we have a ride arranged to take us up to the Irkeshtam Pass. Assuming that there are no problems crossing back into Xinjiang, we should make it into Kashgar tomorrow night.