The Letter II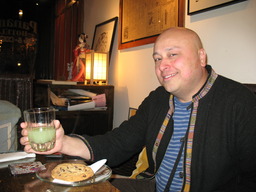 Celebratory Absinthe and Cookie

Seattle, USA
April 9, 2010

Nothing but good news--and lots of it--with this update:
I'm about to start 4-to-6 weeks of work. The U.S. Census Bureau rang, telling me that easy money is mine for the asking. They tell me their next operation will be "N.R.F.U." (Non-Response Follow-Up). This will mean more knocking on doors, talking with people around my neighborhood, "H.H.C." (Hand-Held Computer) at-the-ready. This should be fun...
I applied to a summer program of intensive Uighur-language study. I've already heard back from the university: I've been accepted into their program! I also applied for funding, but haven't yet received word as to whether I can get somebody else to cough up the dough.

I submitted what I believe to be a strong application, so anticipate a likelihood that I'll be off in language-land again--and soon. I hope, I hope.

(On the pessimistic side, I can't contemplate that a program of this nature would reject any applicant. How many people apply for intensive 3rd-year Uighur language study?)

The Canadian consulate sent me another letter this week. It requests that I deliver my passport to their office within 30 days. This, in order that they place inside a visa granting me permanent-resident status. No more interviews to attend. No more criminal checks to clear. No more hoops to jump through. My application is complete. Big whew... Canada, here-I-come.
But, before I settle into Canada... I've decided to have one last hurrah. Later this summer (regardless of whether the Uighur language study comes together) I'll depart on another grand tour. This trip will be the reverse of the one I made from 2007 to 2008. I plan to journey overland from west to east, beginning in Europe and ending up in Somewhere-istan, Central Asia.
Life is good.