Surprising City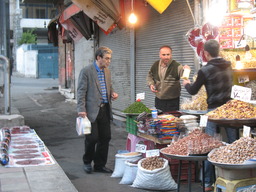 Shop - Enghelab Square

TEHRAN, Iran
March 23, 2011

Tehran brought an immediate difference in rhythm. I realized as I made my way into the city that, exactly half-a-year into my present journey abroad, this is the first city I've come to that has a subway system. I'm gradually leaving behind the developing lands of the East and crossing into more established, more western cities.

I just finished an afternoon of viewing the exhibitions at the Tehran Museum of Contemporary Art. Where I'm now sitting, the museum cafe, is itself another reminder that where I am--sanctions and rhetoric not withstanding--is somewhat more western-oriented. The design of the space has been carefully thought-out: I could be in some cafe in Europe. The menu offers, among other flavors, an M & M milkshake. (Tasty, but I'm not sure it's worth 40,000 rials/$4 USD.)

As for the collection, most works were created pre-revolution. I can see why there would be a decline in art production in Iran since 1979. At least, a couple of the galleries did exhibit more recent pieces--so I suppose the museum can still dub itself "contemporary".

A couple of the works from the permanent collection I liked best were:
Ahmad Esfandari: Resting after Work
Hossein Zenderoudi: Table of Numbers
Another surprise being here: how nice the Tehran metro system is. When I was last in Tehran, the lines weren't that extensive. I seldom used it to get around. But, I've found that what lines are laid now go farther. Most stations are tastefully decorated. Floors are of marble; the corridors spacious and clean. The escalators run, the trains are new, and the signs double in both Farsi and English. Best, the halls and platforms are graced with lots of art done in traditional Persian styles. A station might have nice Islamic tilework and calligraphy or bas reliefs riffing on those of ancient Persepolis. The Tehran metro is far from finished, but what's running is a lot nicer than most other cities' subway systems.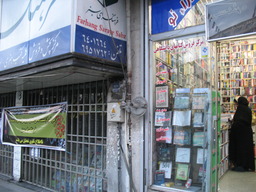 Shuttered Bookstore (Left)

Since the holiday, most businesses around town have remained shuttered. This afternoon I tried going back to the bookstore I liked so well on my first visit to Tehran. Farang Saraye Sabz Bookstore is just across the street from the Tehran University campus. But both university and bookstore were shut. Hanging across a drawn gate, the latter had a long banner which quoted a line of poetry to announce that they were closed for Nowruz.

I might stay on in Tehran long enough to make a return visit--though don't know when the holiday closures will end.

My present impression of the city is probably skewed. I arrived on the night of Nowruz. Tehran's reputation is more typically for being polluted, crowded, far less historic than other cities in Iran, and home to terrifying traffic. But, I kind of like it here. I've found a couple parks in the city, Laleh and Taleqani, that are pleasantly green. Maybe if I do stay on long enough, I will find the city loses appeal once it returns to its usual chaotic self after the Nowruz holiday is over. Though so far... I'm really enjoying Tehran.

Despite its reputation, I wouldn't be surprised if sometime over the next few years, Tehran turns into the next "in" destination to visit.