Generosity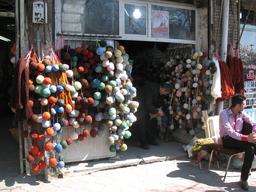 TABRIZ, Iran
April 1, 2011

"I feel not normal here. In Canada to have fun we would have to be spending money... "

I was walking with a local around the lake in Tabiz' Elgoli Park. Well, with a semi-local. Abbas left Iran some thirty years ago to attend college in Canada--where he's stayed on ever since.

I acknowledged that the scene around the park was different from that in so many cities around North America. Entire families were out strolling around the lake and taking picnics together. But, I had to differ with his take on people enjoying themselves in an inexpensive manner outdoors as being "not normal":

"You're right that when getting together with friends back in the U.S. the default involves spending money. Meeting up means buying some ticket, paying for a meal out together, or even spending money just to go out for coffee. There isn't as much of this 'make-do-with-what-we-have' mentality that has brought so many people to the park. But, I think I prefer it this way. You don't have to waste money to have a good time, do you?"

Abbas was one of many people I've met who have been so generous to me as a foreign traveler on this trip through Iran. When happening into a bakery after visiting the Azerbaijan Museum here in Tabriz, I asked the man behind the counter to give me a few of the pastries behind the display case that looked tasty. We carried on in simple Farsi. He asked where I was from. When I responded that I was from the U.S. he said, "American? Well, you should talk with my brother here."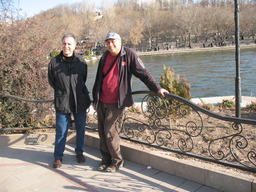 Abbas and David in Elgoli Park

Abbas turned out to be not a fellow American, but Canadian. Thirty years living in Canada have given Abbas a command of English far beyond my rudimentary Farsi. I immediately accepted his invitation to come back the next day to go out to Elgoli Park together. I've enjoyed spending time with somebody I can communicate with more fully.

Small displays of kindness and hospitality come so commonly across Iran: There was the woman working the information desk at the Tehran railway staion who gave me a foil-wrapped ball of European chocolate and welcomed me to her country. There was the barber in Kashan who shaved my head for free and denied my repeated attempts at paying him. But the welcome seems even greater here in Tabriz.

The other night, I had a pleasant conversation as far as my Farsi would take me with the man working the late shift at a small restaurant selling street food. He was in his early twenties, spoke no English, and was clearly fascinated to be communicating with a westerner. He spoke with a slight stammer which I found simultaneously limited and eased my comprehension. (Words came more slowly and were repeated.)

"America and Iran? Aren't we enemies?", he asked a question that I quickly dismissed.

"Maybe in limited ways. Politics. Government. But people everywhere are okay with each other. There's no problem on an individual level, right? We're sitting down across from each other eating the same dish, aren't we?"

Again the hospitality came. When I got up to leave, he insisted that my meal was on the house. My standard approach in Iran when a shopkeeper or restaurant owner says that there's no need to pay is to offer at least three times. While there is so much genuine hospitality throughout this country, on most occasions my insistence that my meal needn't be free is enough to get most people to name the price. It's only when I've had a hand thrust-out holding money rebuffed the right number of times that I feel it's right to accept the free haircut or gratis meal.

I'm pleased to find that, without trying, my level of spoken Farsi has improved to a state where I can carry on conversations far deeper than, "Where are you from?", and "How much is it?" What I can express is still basic yet it's flowing out more naturally.

I don't know the name of the dish I was eating over that particular conversation, but it's everywhere on the streets of Tabriz. It's made from organs (liver, heart, and whatever it is that "ruda" means) minced and grilled up with tomato, onion, and spices. It's delicious, cheap, and I have been washing it down with a large glass of minty, yoghurty doogh on a daily basis over my time here.

There is a lot of other street food around Tabriz that I haven't seen in other corners of this country. Many stalls offer a baked potato mashed up with a hard-boiled egg or two and a pat of butter. The whole mush gets wrapped up in a thin piece on nan. There's also Tabrizi kofta. Enormous boiled beets. Some sort of beans that might be lima beans. I just finished my lunch: a bowl of yoghurt and fresh honey. I like what I'm experiencing here in Tabriz.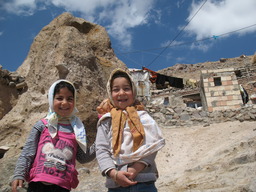 Kandovani Children

I did make a day trip out of the city. I went to nearby Kandovan, a small town where for centuries the local people have lived in homes burrowed out of the soft, craggy peaks in the area. I found the traditional way of life new and curious, but was equally fascinated by exploring a place built up for Iranian tourists. Lots of fashionably dressed people from other points in Iran were also along touring the town, snapping photos at the same time I was. It was interesting to see an infrastructure built up for local tourism. Set across the river were lots of outdoor picnic sites, lots of kebab restaurants, and lots of teahouses providing hookah pipes.

This will be my last full day in Iran. I'm typing this entry up on a bench in Gulistan Park in the city center. This morning I bought a ticket to the border city of Piranshahr. Departure at 16:45.

Two months has been just the right amount of time in this country. I could easily explore Iran longer--but am curious to see what lies on to the west.