Peaceful Reconstruction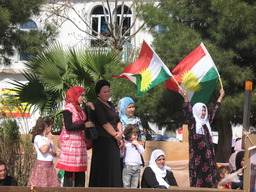 Protester Waves Kurdistan Flags

SULAYMANIYAH, Iraq
April 7, 2011

I hadn't anticipated my own anxious reaction to a simple question from my CouchSurfing host:

"Do you want to come down to the protest rally this afternoon? I've been going every day," Sammi asked me.

"I... I don't know. Some of the places I've passed through on my way here have seen demonstrations and civil unrest. I've learnt to avoid gatherings."

I didn't feel it necessary to expound on the particulars of situations I'd stumbled into while traveling through points farther east. Those included hostile mobs brandishing weapons, political assassinations, and nights that ended with hundreds lying dead on the streets.

Sammi continued to persuade me that the daily afternoon rallies in northern Iraq were generally low-key affairs:

"They're speaking out against corruption within the Kurdish regional government. People gather down at Azadi Maydani every afternoon. It all ends at 5:30. You should come, too."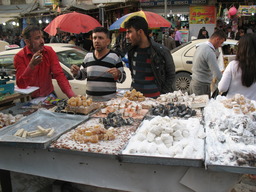 Sweets for Sale at Rally

I still had reservations but was finally convinced.

As we approached, I could see--even at fair distance from the crowd--that the scene at Azadi Maydani was nothing to be nervous about. While in Pakistan a few months ago I encountered demonstrations at least once a week. Hot topics bound up in emotion included a fierce opposition to any amendment of that country's blasphemy law and fury directed at the U.S. over a CIA agent who shot two Pakistanis to death on the streets of Lahore. Based on recollections of those protests I expected to hear slogans shouted and see similarly angry people out marching through the streets.

What I found was a social affair.

A large crowd was gathered around a stage capped with loudspeakers. People throughout were listening politely as speakers, including both men and women, took turns on the mic. Every so often a statement would provoke a collective cheer or boo, but those were the extremes of emotions expressed.

Vendors with pushcarts were out in force selling nuts, sunflower seeds, traditional sweets--all manner of Kurdish snacks. It was behind the speakers' stage where conversations were taking place: journalists and students, many with ability in English, were happy to elaborate on the people's complaints.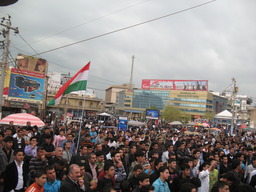 Crowd at Azadi Maydani

A couple of protesters drew inspiration from revolutions past. I saw at least two Che Guevara impersonators decked out in exacting detail all the way down to the scruffy facial hair and shaggy locks, even capping everything off with a beret with red star pinned through its peak.

There were fewer banners and signs than I expected. One hand-drawn sign was in the shape of a double-headed wrench bearing a single word in Kurdish on each side: "RECONSTRUCTION" backed by "PEACEFUL".

Toward the end of the rally everybody in Azadi Maydani raised one hand up in the air for a full minute. No words were spoken. Utter silence in a gathering of hundreds of people felt discordant yet somehow powerful.

Throughout the protest there had been repeated exhortations to keep everything peaceful. The final message was also far from filled with fervor: it was a request for everybody to look about and pick up any litter before returning home.

I think I'd like to attend one of these rallies again before I leave Sulaymaniyah.