Skirting Borders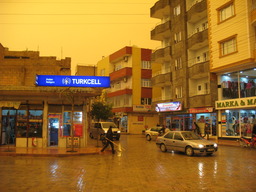 Border Town with Syria

NUSAYBIN, Turkey
April 13, 2011

The weather was weird yesterday. It was hazy on the drive to where I am now: Nusaybin, the border town with Syria. Then after I arrived, while walking outside around 2:00 P.M. it suddenly became so dark I thought there might be a partial eclipse occuring. What light there was was a peculiar mustardy color. Then it began raining. A power outage kept off most other sources of light.

I was glad I had my camera on me: looking at the photos I shot I would assume they'd had some filter applied if I hadn't taken them, myself.

I'll probably have just two nights in Turkey. I would have crossed directly from Iraq into Syria if the northern border separating those two countries had been open. Instead, I had to dip into Turkey just to make my way through legitimate crossing points. I figure I'll have more time to explore Turkey later on this trip, if I do continue working my way west to Europe without a flight.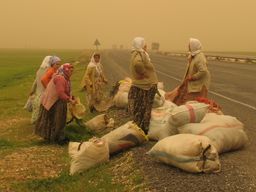 Road Paralleling
Syrian Border

When I came to this town my plan was to cross out of Turkey immediately, spending just one day in the country. But on the minibus from the city of Cizre I asked myself, "Why the hurry?" After I was dropped off in Nusaybin and found it wasn't too sketchy, as border towns go, I decided it would be sensible to tag on an extra day here. I could catch up on e-mail and this weblog. Another day would also allow me to pause to get a sense of what I'll be stepping into. That's not just a matter of orienting myself with maps, but checking up on the latest news accounts of what's going on with current protests throughout Syria. I'm not keen on stepping into civil unrest.

If everything does sound calm enough in the region where I'd enter Syria, I'll stroll down to the border crossing--a 5-minute walk from my hotel--after it opens. (It's about 3:00 A.M. as I write this.)

Even then, I'm not sure I'll be admitted to the country. All the on-line travel forums I've been reading make it sound like travelers, even those with their papers in-order, are routinely denied visas on arrival. With the current political climate, who knows how they'll receive me?

Next stop: ???