Skirting Borders II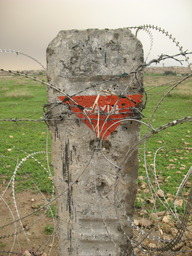 Border Fencepost

DIYARBAKIR, Turkey
April 14, 2011

I was denied at the border crossing into Syria. The only travelers allowed through yesterday were those who held either a Turkish or a Syrian passport.

There was no problem exiting--though I was delayed by a few minutes. Turkish immigration officials were suspicious of my thick passport. The official stamping people out of the country spent a long while scrutinizing the additional booklets of pages inside my passport, then referred it to another officer. What was confusing them was actually one of the benefits to holding a U.S. passport. When pages fill up, rather than replace the document, more blank booklets of pages can be stitched into the same passport at any consulate. I don't know of any other country that allows for this. The border guards clearly found a fat passport with mis-matched visa pages unusual.

I didn't need any ability in Turkish to understand what they were questioning and pointing at. I yawned it off. I asked them in English (which I'm sure they couldn't understand) in an incredulous tone (which I'm sure they could understand) if they'd truly never seen a passport with an additional booklet of pages inserted. That was enough to conclude the process with a straightforward departure stamp.

Out of Turkey, I walked on not even a minute before reaching a chain-link gate. A Syrian border guard asked where I was from, gave a cursory look at my passport and turned me away. He insisted that I needed to apply for a visa elsewhere before entering Syria. I wasn't allowed to even cross out of the no-man's land separating the countries.

My passport is eligible for a visa on arrival. But, I assume that whatever political events and protests are happening on the other side of the border have made for tighter control. There was also a Kurdish family trying to enter Syria at the same time. They were each holding Swedish passports so also eligible for visas on arrival. But, they too were denied alongside me.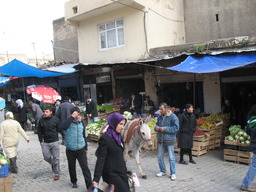 Mardin Bazaar

One of the Kurd/Swedes suspected the border guards were holding out for a bribe. He spoke at length with another person working the border. Our passports were all taken to the immigration hall. But, even the suggestion of money wasn't enough to let any of us into Syria that day.

So, I turned around, got myself re-admitted to Turkey, and continued on northwest. One bonus of not being allowed into Syria: I spent yesterday afternoon in Mardin. Mardin is a small, ancient city with lots of charm. It has narrow streets winding through beautiful old stone buildings, a bazaar that is still supplied by pack animal, and communities of religious minorities following ancient Christian orders. (I was tempted to stick around a few days to attend a service in Aramaic.)

Cute as Mardin was, I decided to come back up to where I am now: Diyarbakir. I spent several days in this city the last time I was crossing this part of the planet. Though far larger and more developed than Mardin, there's still plenty here that appeals to me, foremost the ancient city walls encircling the city.

I guess I'm easy to please. If a city is bounded by tall old walls that I can walk atop of--I'm happy to hang out for a few days doing just that.