Nation or Not II?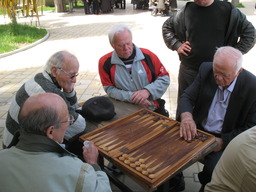 Backgammon Players on
Sokhumi Waterfront

AQWA, Abkhazia
SOKHUMI, Georgia
May 2, 2011

It's been a pleasant, lazy weekend visiting around Sokhumi.

Strolling alongside the seashore (the Black Seashore?) has felt fresh and relaxing. This transcontinental journey I'm in the middle of has taken me across many points over land but seldom near bodies of water.

Dion and I are taking a few days basing ourselves in the small city of Sokhumi: the nascent capital of and the biggest town in Abkhazia. It's a good getaway from Gali. Her NGO maintains a staffed office in an apartment in the city center. The smaller part of the unit is the workspace devoted to desks and computers; the larger part comprises guest rooms, a bathroom, and a kitchen. With employees coming to the office only during the workweek the place is the perfect weekend pied-a-terre.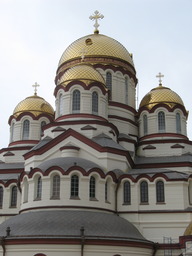 Novy Afon Monastery

We've spent our days casually touring what sights there are around town. Sokhumi is building itself back up from recent years of war; it last had its heyday as a seaside resort during the Soviet era. The town does have a longer history, including a pleasant botanical garden begun back in the 19th century. We were disappointed to find the Abkhazian State Museum closed for renovation--I imagine that would put forth an opinionated viewpoint on local history.

I'm curious if there's some way we can find where the space program is that's based here. Dion relates that Sokhumi had some technical infrastructure back during the Cold War space race. Evidently, there are plans to leverage decades-old equipment to revive that past glory. If what she's heard is true, part of Abkhazia's track to international standing is by re-launching their space program and sending monkeys to Mars.

Today, we took a daytrip up to a nearby town also on the Black Sea: Novy Afon. Novy Afon is set in a lush area in the foothills of the Caucasus Mountains. We'd heard of a monastery set somewhere up in those hills. We found it easily by hiking up a trail which, while not signed, was unmistakable. Several stalls at the base of the path sold religious trinkets, icons, local wine, and honey produced by the monks.

I love visiting all the Orthodox churches, cathedrals, and monasteries that are common in this part of the world. Inside, there's never a shortage of candles or of worshippers kissing icons. The colorful, ornate paintings running up walls and across the ceiling depict Biblical legends which I find familiar--but are executed in an artistic style which I find unfamiliar. My church attendance as a child was to a bland, mid-20th-century structure which lacked any such elaborate decor. I find the script captioning the pictures and quoting scripture in the Orthodox sites to also be unfamiliar yet appealing. The accompanying text is written in an old, ornate version of the Cyrillic alphabet.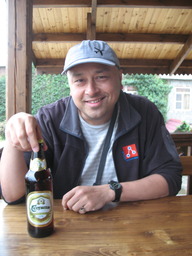 Beer brewed in Sokhumi

Upon starting down the hill away from the monastery we spotted a sign in Russian that read, "Stalin's Dacha 300 m". We followed the path it marked around a hill to a small cluster of old buildings. The first building we approached had a sign with a full sentence in Russian. All I could understand was something about "entry", something about "not", and the big exclamation point at the end.

As we drew near, a couple Russian soldiers stepped out from that building and waved us away. One pointed behind us to another of the buildings. It was that building that was one of the dachas, or vacation homes, that Stalin kept.

The front door to the dacha was shut. We circled around the exterior, peeping through a window into what appeared to have been Stalin's basement billiard table and rumpus room. By the time we'd come back around to the front steps we'd been joined by a large tour group visiting from Russia. All the group members were escorted inside for a talk and walk-through the former holiday home. When the tour leader found us lagging at the tail end she, without a word of English, clutched both of us by the forearm, announced the arrival of us "English-speakers" to everybody else and allowed us free entry to Stalin's house.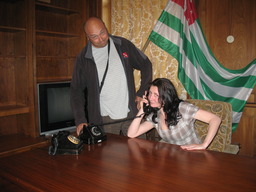 Severely Silly at Stalin's Desk

The home was surprisingly simple. There were two bathrooms, each with plain square, ceramic tiles and simple fixtures. They reminded me of the bathrooms of an old hotel. Some of the bedrooms did have nice wooden panelling. But, none of the furniture and none the design struck me as grandiose or opulent. The part we liked best was Stalin's former operations desk, on which lay two heavy, black, rotary-dial telephones. Incorrectly, somebody had tacked an Abkhazian flag onto the rear wall, rather than the red-and-yellow hammer-and-sickle standard that would have been flying in Stalin's time.

Dion and I didn't care about historical accuracy. We joined in with the other tourists and took goofy photos of ourselves placing stern, imaginary hotline calls to Moscow.

Now, it's time to return to Gali. Tomorrow, I finish my weeklong visit to this country that is not a country. I should cross out of Abkhazia and back into Georgia come morning.