Petty Errands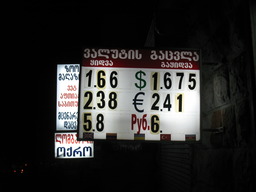 Foreign Exchange Rates

BATUMI, Georgia
May 10, 2011

Batumi is a cute little city on the Black Sea. It's been a good point to pause on my way out of the country. There's a nicely maintained walkway along the water, a Ferris wheel, and quaint buildings built up back in the days before the Soviet Union.

I paused here in-part to see a little more of Georgia, in-part because it was on my way back to Turkey, and in-part because I knew I could run petty errands here at a fraction of what they would cost once I've crossed into Turkey. Adding credit to my Georgian number will give me a functional phone as I continue along west: for less than what the cost of a SIM card alone would be in Turkey. Going to the barber to shave my head cost me 3 lari GEL: about $2 USD. I might as well take care of little errands such as these while here: equivalent services will tax my budget far more as I get deeper into Europe.

This will be my last stop in Georgia. From here I'm taking a bus directly to Istanbul.